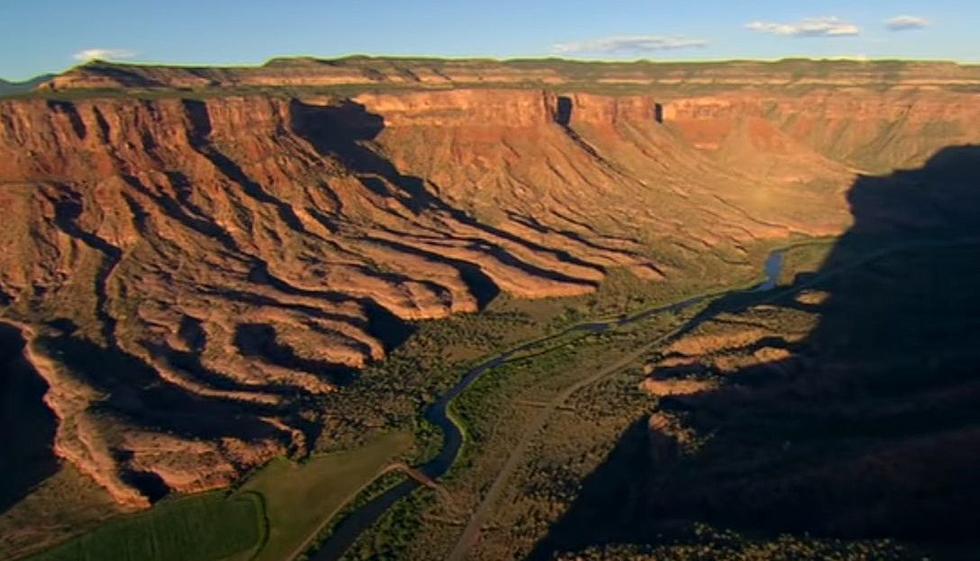 Western Colorado's Unique Canyon Where Water Flows In Both Directions
Gatewaycanyons via You Tube
Western Colorado may be known for its dry climate, but there is a canyon here that is known for the water that runs through it.
Unaweep Canyon, located south of Grand Junction is a very unique canyon because of two creeks that flow out of opposite ends of the canyon. Seems impossible, doesn't it?
A Colorado Canyon of Divided Waters
The term Unaweep is a Ute Indian word that means "canyon of divided waters," or "a canyon with two mouths." You've got the East Creek flowing one way, and the West Creek flowing the other way from a gentle divide within the canyon, according to geoscienceworld.com. Unaweep Canyon is believed to be the only canyon in the world where the water flows in both directions.
How Was the Unaweep Canyon Formed?
There is some debate about how Unaweep Canyon was formed. Could it have been a glacier that cut through the canyon millions of years ago, or was it cut out by a flowing river?
It is widely believed the Colorado River merged with the Gunnison River and cut through the canyon before the lift of the Uncompahgre Plateau, eventually drifting down into the Grand Valley after hitting the high point known as the Unaweep Divide.
ONLY PLACE IN THE WORLD: Colorado's Unaweep Canyon Where Water Flows In Both Directions
Unaweep Canyon is a scenic canyon in west-central
Colorado
, located about 30 miles southwest of
Grand Junction
. One of the most notable features of the canyon is Gateway Canyons Resort which was developed by Discovery Communications founder John Hendricks.
The Colorado River Starts High in the Rocky Mountains
A small lake high in Rocky Mountain National Park is the Colorado River's source. From its start, the Colorado River flows 1,450 miles to the Gulf of California.
Colorado River Bad Google Reviews
These are some of the worst Google reviews, three stars or less, for the Colorado River.
Ten Affordable Places to Go Camping Along the Colorado River
We're out to create an ever-growing list of great places to go camping along the Colorado River. Use our station app to submit your favorite place to go camping (along the river) and we'll add it to our photo gallery.