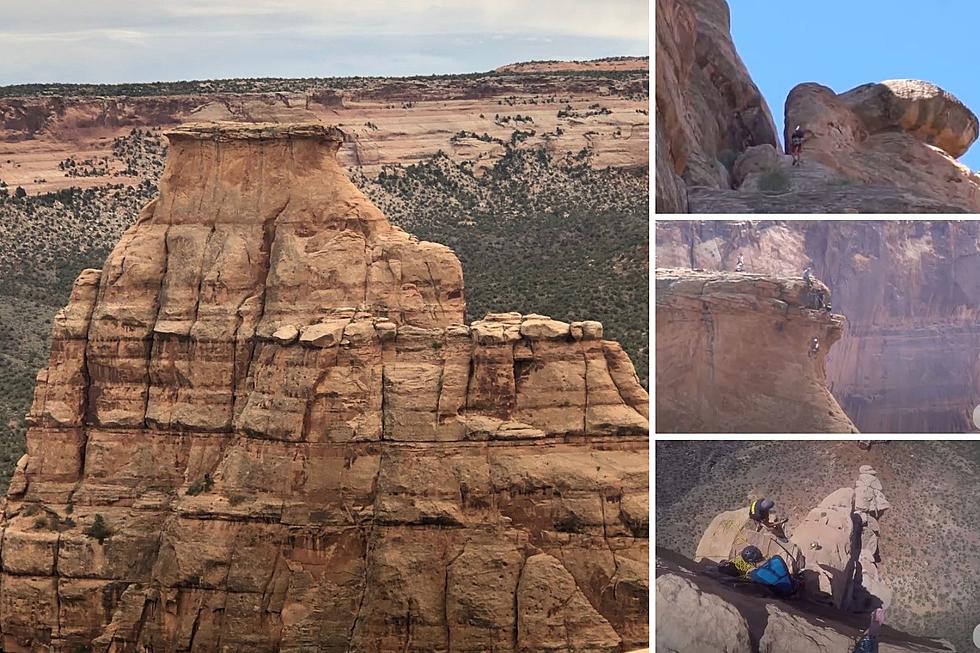 Weekend Climbers Spotted Going Up Independence Monument in Grand Junction Colorado
Canva
This past weekend while walking some of the trails at the monument I saw something I have never seen before inside the Colorado National Monument. Climbers actually making an attempt at going up Independence Monument.
Having moved to Grand Junction at the end of July I have never been in town for a 4th of July climb up Independence Monument. So while taking some photos of it this weekend, I was excited when I noticed some climbers going up as I watch from the overlook on Otto's Trail.
Watching a Live Climb up Independence Monument in Grand Junction
This was one of the coolest things I've seen yet inside the park. I spotted them on the second landing of John Otto's original pathway up the rock and decided to watch them make their attempt.
These climbers moved fast and with precision. I don't know if they were racing what little rain was coming down or if this was spiderman climbing up those rocks so quickly. I had to rush back up the trail to get around to Independence Monument overlook so I could get a few more photos before they reached the top.
Scroll through the gallery below of photos from Saturday along with some amazing shots of the 4th of July climbs from recent years and see just how amazing this climb is right here in the Grand Valley.
Weekend Climbers Ascend Colorado's Independence Monument
While walking the trails inside the Colorado National Monument we spotted 3 climbers making their way up Independence Monument.
'The Lemon Squeeze' on Top of Grand Junction's Mount Garfield
There's a tight spot at the top of Mount Garfield that rewards climbers with an amazing view.
8 Amazing Lakes Famous for Colorado Ice Fishing Each Winter
Ice fishing during the winter months just continues to grow in popularity in Colorado. Today we'll look at 8 lakes perfect for ice fishing this winter.
Check Out Over 200 Ice Climbs at Ouray Ice Park
If you love the great outdoors in the middle of winter you need to check out the ice climbs in Ouray, Colorado.