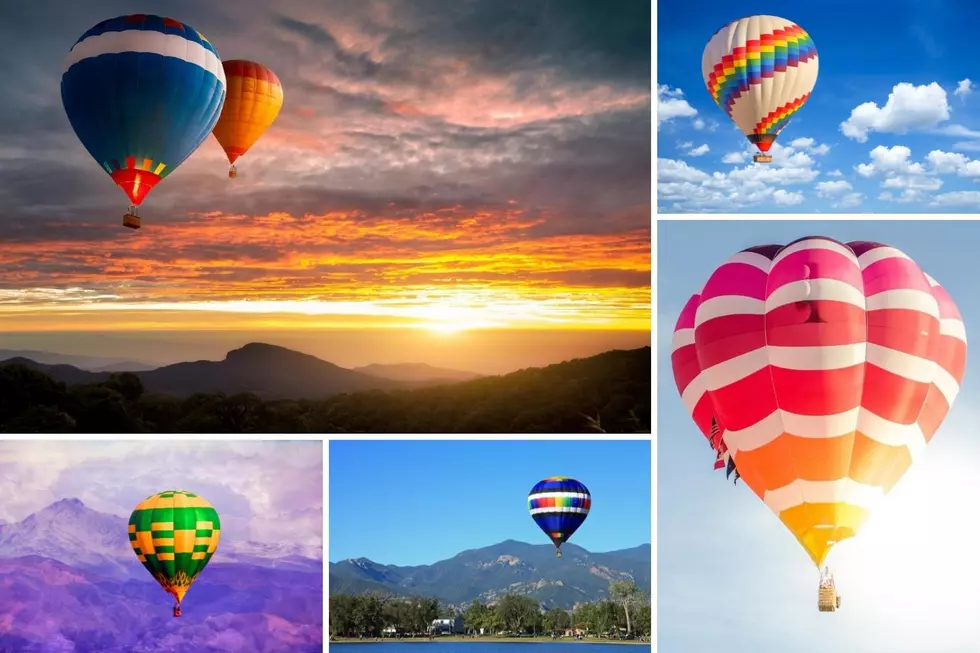 13 of the Best Hot Air Balloon Rides Found Here in Colorado
Canva Pro
If you think Colorado's incredible mountain ranges are impressive from the ground just wait till you get an aerial view of the Rockies from a hot air balloon.
Colorado's incredible hot air balloon attractions offer several different routes and rates. You can pretty much find a hot air balloon experience close to almost all the primary mountain ranges in the state.
How Much Does a Hot Air Balloon Ride Cost in Colorado?
Like everything else these days, this ain't cheap. You are usually looking at a rate between $150 and $500 per person. That's pretty much the basic rate. VIP options and private flights will be more. Most of the places we will check out today offer an experience that includes pre-flight activities, a champagne toast, flight certificates, and additional options like meals and snacks.
What Do You Wear to a Hot Air Balloon Ride in Colorado?
Some of the hot air balloons in northern Colorado fly while there is still snow on the ground while others only lift off during a May to October window. In most cases dressing for the ground temperature will work for a daytime flight. Layers and long pants are recommended. Sunglasses and sunscreen would be good too.
Things to Remember Before Take Off on a Hot Air Balloon Ride in Colorado
Charge up your phone because you'll be taking pictures. Many hot air balloon rides get you near a particular mountain or feature that you may want a photo of, and you may spot a wildlife surprise down below as you glide over the landscape.
Limit how much you drink before the flight begins because there are no bathrooms in the basket.
---
---
---
---
---
---
---
---
---
---
---
---
MORE: Route 66's Quirkiest & Most Wonderful Attractions State By State
Stacker
compiled a list of 50 attractions--state by state--to see along the drive, drawing on information from historic sites, news stories,
Roadside America
, and the National Park Service. Keep reading to discover where travelers can get their kicks on Route 66.
MORE: These are the Highest Mountain Peaks in All of Colorado
Today we're looking at the true titans of Colorado. Behold the fourteen largest 14ers in the Centennial State.