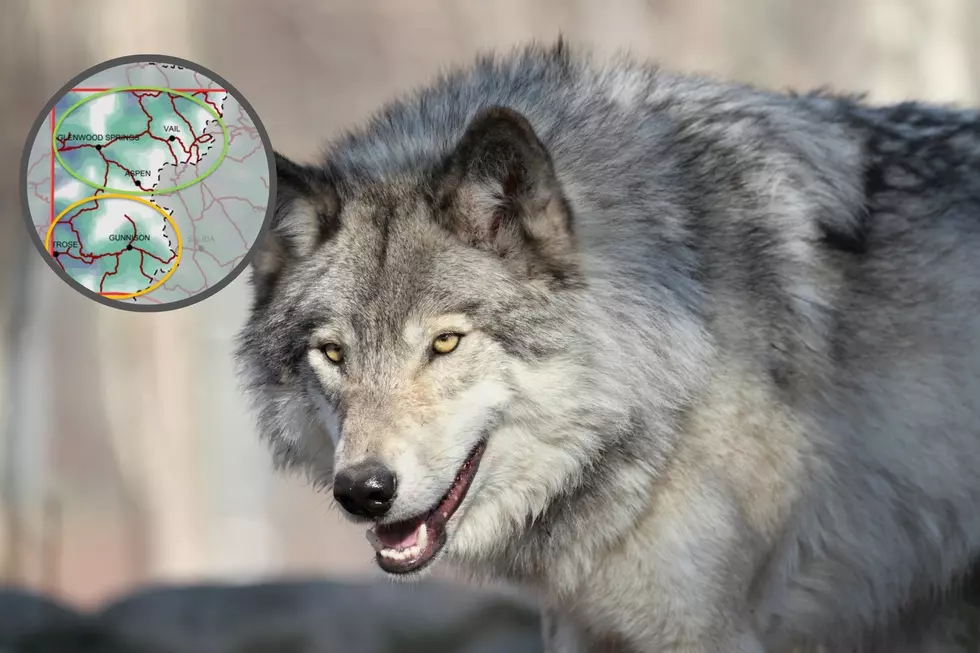 Western Colorado Could See Gray Wolves In These Areas In 2023
Colorado Parks and Wildlife/Canva
Western Colorado could be seeing some new wildlife visitors in the new year.
Where Will Gray Wolves Be Released In Colorado?
Gray Wolves are being re-introduced in Colorado, but exactly where those release points are is a bit of a mystery. According to the plan released by Colorado Parks and Wildlife, the agency could possibly release wolves in an oval area between Rifle, Aspen, Silverthorn, and Kremmling. Specific locations will not be revealed publicly, however, wildlife officials will meet with local landowners before releasing the wolves.
According to a report from the Fort Collins Coloradan, some possible locations for wolves include lower elevations near the Holy Cross Wilderness south of Vail and the Maroon Bells-Snowmass Wilderness south of Aspen.  Another option could be the Gunnison and Grand Mesa National forests southwest of Carbondale.
Wolves Have Been Known To Wander
Of course, where the wolves end up may be a much different place than where they are introduced. Back in the 90s when wolves were reintroduced in the northern Rocky Mountains, officials observed the wolves wandered an average of 50 miles from their release sites. The farthest distance observed was 140 miles.
How Close Will the Wolves Be to Grand Junction?
According to the CPW plan, introductions of wolves can't be within 60 miles of Utah, Wyoming, and  New Mexico state borders. That means would have to be released at least 40 miles from Grand Junction. It appears the release point would be much farther to the west.
What Is the Timeline For the Release of the Gray Wolves?
A number of public meetings to discuss the plan are being held in January and February including one in Gunnison on January 25 and one in Rifle on February 7. Colorado Parks and Wildlife will present a final plan on April 6, and on May 3-4, the Colorado Parks Wildlife Commission will have a final vote on the plan.
10 Amazing Things You Didn't Know About Gray Wolves
In 2020, voters approved the re-introduction of wolves to Colorado's forests.
Colorado Wildlife: Wildlife You Have Recently Spotted in Colorado
Grand Junction has seen bighorn sheep, moose, bears, and more recently in Colorado. Here's a list of the wildlife that you have recently spotted in Colorado.