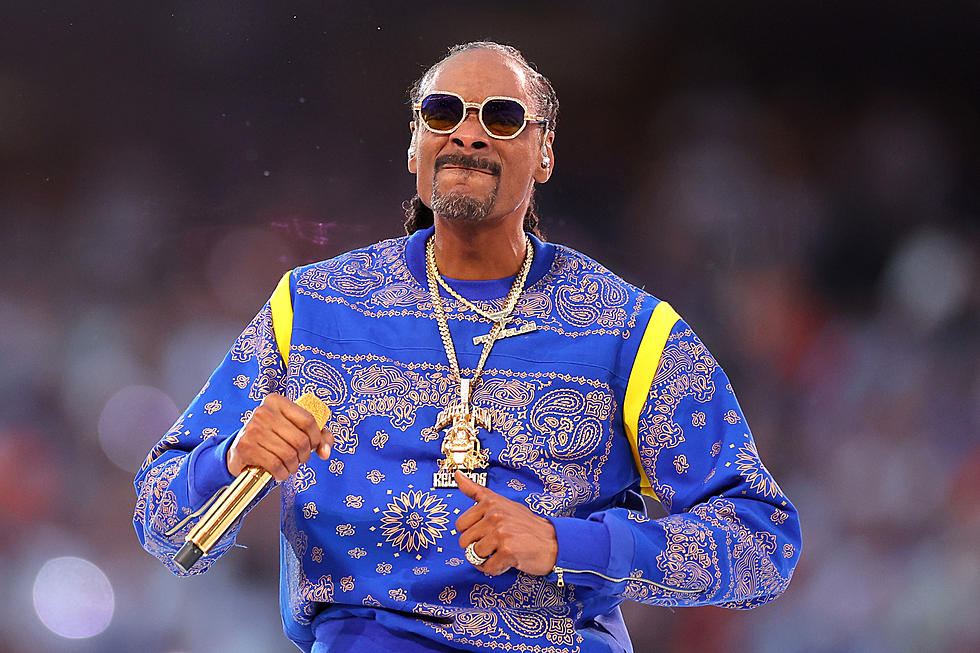 Snoop Dogg For President: What Grand Junction Really Thinks About Snoop Coming To Town
(Photo by Kevin C. Cox/Getty Images)
Snoop Dogg is coming to Grand Junction and that upcoming appearance is bringing some mixed reaction from the locals.
Snoop Dogg is One of the Biggest Celebrities To Come To Grand Junction
Snoop Dogg, a.k.a. Calvin Cordozar Broadus Jr., has been an icon in the music industry for nearly 30 years with no less than 19 studio albums, appearances in nearly 50 movies, countless television shows, commercials, and 14 Grammy nominations. Most recently he was part of the musical lineup of the 2022 Super Bowl halftime show. Snoop Dogg may not be the most popular rapper in the world, but he certainly is one of the most famous - and his appearance in Grand Junction is significant.
It will be DJ Snoopadelic On the Amphitheater Stage
The event at Grand Junction's Amphitheatre at Las Colonias Park on April 3 is being billed as "R & B's Big Badass BBQ". According to Snoop Dogg's Instagram account, the event will feature "DJ Snoopadelic." It's expected he will perform some of his original songs as well as deejaying to some popular music along with some hip hop songs currently on the charts. It's expected there will be "adult content."
A Deep Dive Into the Songs of Snoop Dogg
In all honestly, I couldn't name a Snoop Dogg song without some help from Google. But, I was curious about his songs and his music, and so I looked up the lyrics to some of his biggest hits. It's rap, so I fully expected sex, drugs, and profanity, but, song after song after song, what I witnessed far exceeded my expectations. I was completely shocked by the constant - and I mean a constant stream of profanity, disrespect, and objectifying of women, n-word, glorification of drug use, and explicit sexual content. I found it to be disturbing.
This Isn't About Judgement
Don't get me wrong. I"m not judging people who listen to rap, because it would be hypocritical of me to do so. I believe it's possible to listen to music without necessarily adopting those themes and messages into your belief system. There are plenty of messages in some rock and roll and country music that I don't necessarily agree with and that don't align with my personal beliefs and values - but, yet, I listen to it because I enjoy the music - and tolerate the stuff I don't agree with.
How Does Grand Junction Feel About Snoop Dogg?
I understand that for some people, the themes and lyrics of Snoop Dogg's songs are not the least bit shocking, surprising, or disturbing. But, after reading the lyrics to these songs and seeing what they are about, I wondered how many other people in Grand Junction would have a similar reaction - and how many would be saying "bring it on." So, I put the question on social media and asked "How do you feel about Snoop Dogg coming to Grand Junction?"
Snoop Dogg For President
I can't say I was surprised at the responses. A few people expressed their displeasure, but, a lot were beyond excited about Snoop's Grand Junction appearance. Quite a large number of people seemed to be apathetic and indifferent. There were plenty who said they weren't necessarily fans of Snoop Dogg, but felt his appearance was a positive thing for Grand Junction's concert scene. Here is a sample of the responses.
* "Snoop Dogg For President"

* "Tell Snoop Dogg to stay home."

* "So excited!"
* "Makes no difference to me."
Grand Junction Reacts To Snoop Dogg's Appearance At the Amphitheater
We asked our listeners to give us their thoughts about Snoop Dogg coming to Grand Junction, Here's a look at what some Grand Junction residents are saying about Snoop's appearance in Grand Junction at R and B's Big Badass BBQ event on April 3 at the Amphitheater.
20 Concerts Coming to Grand Junction Colorado for 2022