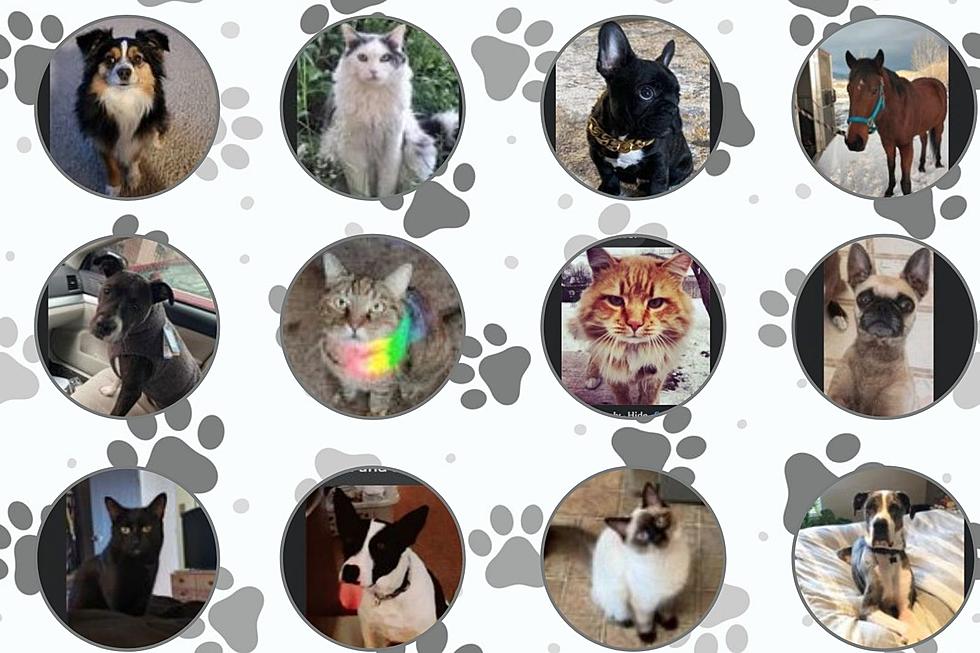 See 100 Adorable Colorado Pets Who All Have Unique Names
Canva
Here come 100 reasons we love living in Grand Junction and Western Colorado...all our adorable pets!
We asked you to send in photos of your Colorado pets who have really unique names. Today we are going to look at most of the photos that got submitted. Be sure to flip through all of them and see if we can decide which pet has the most unique name.
How Did These Western Colorado Pets Get Such Unique Names?
Some of the animals on this list below got their names from popular movies, others are named after artists or celebrities, and some are named after camping and hiking gear. As long as your pet seems happy with its name it's all good. Today we will meet Clarice the tarantula, Freedom the horse, and India Paint Brush the cat who was rescued from inside the Colorado National Monument. 
Check Out Photos of 100 Pets with Unique Names Living in Western Colorado
Find the original QOTD by clicking here. You can add your pet's photo to the list and share their unique name or you can send in a photo with our free station app. 
Enjoy these cute animals and their fun names while you take a break and scroll through the ones with the most unique names in Western Colorado.
See Grand Junction Colorado's Adorable Pets Who All Have Unique Names
See 100 animals with adorable photos and unique names that are all from right here in Western Colorado.
Exotic Pets You Can Own in Colorado
From alpacas to kangaroos, here are the exotic pets that you can own in Colorado.
Animals truly are the best thing ever, it's amazing how they show us, unconditional love. There are surprisingly lots of exotic animals that you're legally allowed to own here in Colorado.
Let's Eat: Crazy Things Grand Junction Pets Love To Eat
Recently, we asked pet owners to tell us what human food their pet is obsessed with and we found out we are not alone when it comes to giving our pets special treats. We received some fantastic responses and we can tell Grand Junction loves to spoil their pets, and Grand Junction pets clearly love to eat some crazy human foods.
Homeward Hounds: A Safe Shelter for Grand Junction Colorado Pets and People
Take a look at the nation's very first temporary housing facility that allows those experiencing homelessness to stay with their fur baby.