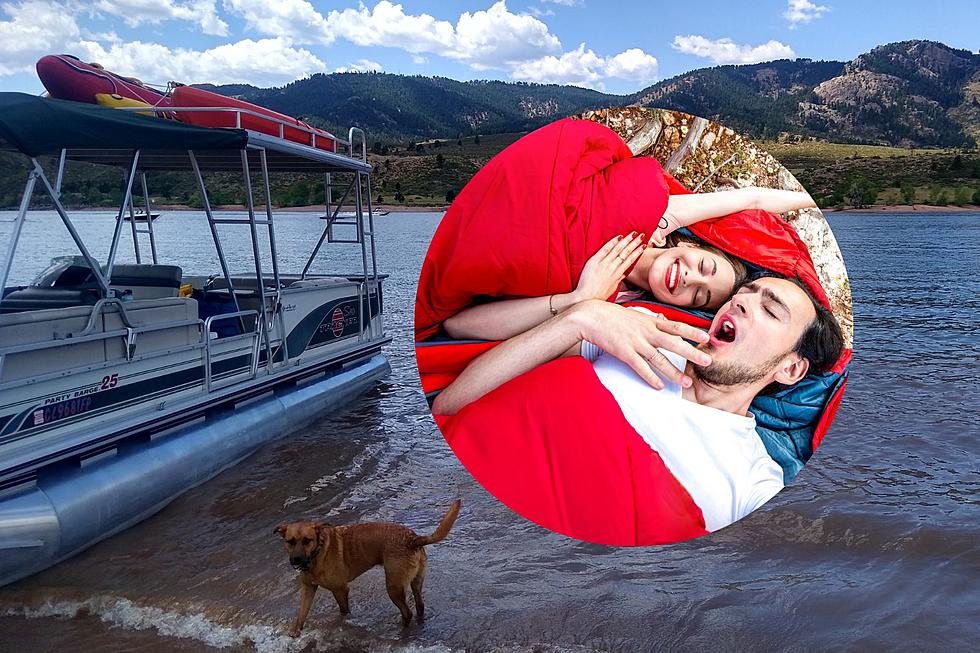 No Campsite Necessary, Sleep on Your Boat at Colorado's Horsetooth Reservoir
Canva and Kama/TSM
Wake up, go fishing, take a swim, enjoy some coffee go waterskiing, eat lunch, take a nap, go swimming, go fishing, and then sleep under the stars. That's what I imagine it's like to live on a boat.
Not sure you can live on a boat at Horsetooth, but you sure can sleep on your boat if that's your thing.
Scoring the waterfront campsites at Horsetooth can be a challenge, but if you have a boat, and don't mind sleeping on it, it's pretty easy to stay overnight.
I spoke with the front desk at the Horsetooth Area Information Center and here's what you need to know. There are 10 boat-in campsites you can reserve online, but turns out you can also just park your boat in a cove for the night. There is a REQUIREMENT though, you must have a 360-degree white all-around anchor light which most boats have, but can also be bought on Amazon for under $20.
Obviously, you need to have a Larimer Parks Pass which is $200 for an annual pass that includes your vehicle and boat trailer or $20 per day for your vehicle and boat trailer.
Horsetooth Reservoir is a really cool part of Northern Colorado. There are six and a half miles of water to play on. The water is surrounded by 1,900 acres of public land.
My family has spent countless summer afternoons, tubing, rowing, and zooming through the waters. We have found treasures on shore, seen rattlesnakes under rocks, hurried to the dock when the storm moved in, and made countless memories at Horsetooth Reservoir.
Whether you have a boat to sleep on or not. Don't miss out on the enjoyment to be found at Horsetooth.
Ten Affordable Places to Go Camping Along the Colorado River
We're out to create an ever-growing list of great places to go camping along the Colorado River. Use our station app to submit your favorite place to go camping (along the river) and we'll add it to our photo gallery.
Best Summer Camping Spots Around Colorado
Summer 2022 is officially upon us. Are you ready for a camping trip? With gas prices hovering around $5 per gallon, most of us don't want to travel far. Check out nine amazing campgrounds in Colorado, each of which is perfect for a summer getaway. These are nine of Colorado's best camping spots according to
Trips Discover
.
Enjoy Free Camping At Western Colorado's Lost Trail Campground
If free camping is your cup of tea - along with everything that goes with it, check out Lost Trail Campground, 38 miles southwest of Creede. If you just need a place to lay your head at night and then hike, fish, or ATV during the day, this is a great option. Here's a closer look at Lost Trail Campground.