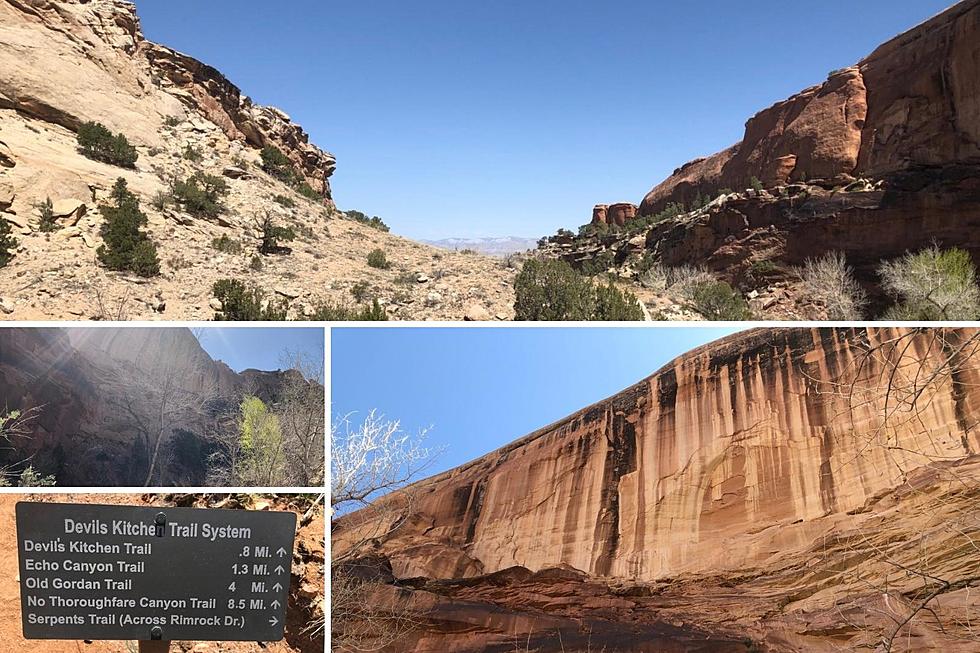 Photos: The Hike Into Beautiful Echo Canyon at the Colorado National Monument
CMN Monument Echo Canyon Trail - TSM W. Adams
Lots of sunshine over the weekend meant a chance to hit the trails inside the Colorado National Monument. After last week's trip to the Palisade Rim, I headed back to the trails at Devil's Kitchen on Sunday morning.
If you are planning a trip to the monument, this short 2.4-mile route will give your legs a workout, but it won't take all day or eat up all your stamina. I recommend hiking boots not gym shoes for this trail, and to take a bottle of water with you. Let's do it.
How Many Trails Start at Devil's Kitchen in the Colorado National Monument?
You can pick up Serpent's Trail across the street from the Devil's Kitchen Trailhead. From this area, you can also access No Thoroughfare Canyon Trail, Echo Canyon Trail, and Old Gordon Trail, which follows the old stock and timber toll road.
How Difficult is the Hike to Echo Canyon in the Colorado National Monument?
Most hikers will consider this an easy to moderate hike. The uphill climbs will have your dogs barking by the end of the hike, and at times near the top of the smooth rocks, the trail seems to fall apart if you have never been there before. Use GPS Nav on your phone or a good trail app will keep you close to the path. Just watch your battery.
Is There a Waterfall at the End of the Echo Canyon Trail?
There is a seasonal waterfall at the end of the Echo Canyon Trail. Sadly, it's been some time since there was more than a trickle of water coming down the sides of the canyon wall. If we get some good spring rains this waterfall will return. We did not expect to see it so early in the year, but as soon as you descend into Echo Canyon you'll be able to tell from the water in the creek if there is water coming into the canyon via the falls.
Scroll through the photos below to check out this trail along with me.
Photos: The Hike Into Beautiful Echo Canyon at the Colorado National Monument
Located just off the Devil's Kitchen trails system, you'll find the path to the incredible Echo Canyon. This beautiful trail sends you up and over several smooth rocks before descending down into a beautiful box canyon that sometimes hides a waterfall.
Enjoy 40 Frozen Winter Photos From Colorado's Window Rock Trail
Enjoy these winter views of Window Rock Trail inside the Colorado National Monument.
THROWBACK: Weekend Climbers Ascend Colorado's Independence Monument
While walking the trails inside the Colorado National Monument we spotted 3 climbers making their way up Independence Monument.