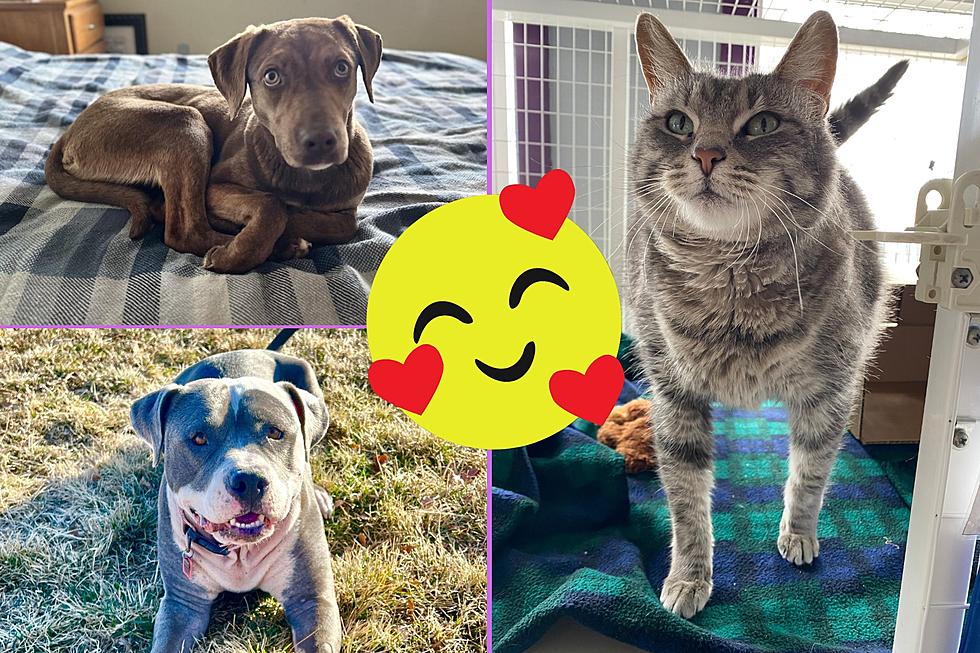 Pets That Love People Are Ready For Adoption In Grand Junction
Roice-Hurst Humane Society/Canva
It may be difficult to look at the pets of the week today without falling in love because all three look absolutely adorable.
A lot of people took advantage of the St. Pawtrick's Day discount special at Roice-Hurst Humane Society and took home a new pet this past weekend. But, there are still plenty of homeless pets in Grand Junction who are looking for a home, and here's a look at today's pets of the week that are ready for adoption.
Olive Is A People-Loving Sweetheart
Today, we start with Olive, a 1-year-old cutie who is very eager to please. Olive came to  Roice-Hurst with two other siblings who have been adopted. Olive is a bit shyer but clearly wants to be loved. She is gaining confidence and is a people-loving sweetheart. Olive also likes to play with other dogs.
Indie Is Ready To Steal  Your Heart
Indie is a 5-year-old pittie that will steal your heart. She loves to play fetch and has quite a personality when she warms up to you. Indie has a skin condition on her chest that will need some ongoing care
8-Year-Old Cat Loves People
For cat lovers, take a look at Missy, an 8-year-old sweetheart that just can't get enough affection. She loves people and has done well around other cats, dogs, and kids.
If you are interested in meeting one of the featured pets, contact Roice-Hurst Humane Society at 362 28 Road, Tuesday through Sunday between noon and 4:00 p.m.
Getting Ready For Kitten Season
Meanwhile, Roice Hurst is preparing for kitten season with their annual Kitten Shower Donation Drive. They have a list of needs for the kitten season which you can see here, or you can simply make a tax-deductible donation. The kitten shower is Saturday, April 8 from noon until 4:00 p.m. Whatever you can do to help would be appreciated.
Why do cats have whiskers? Why do they meow? Why do they nap so much? And answers to 47 other kitty questions:
Why do they meow? Why do they nap so much? Why do they have whiskers? Cats, and their undeniably adorable babies known as kittens, are mysterious creatures. Their larger relatives, after all, are some of the most mystical and lethal animals on the planet. Many questions related to domestic felines, however, have perfectly logical answers. Here's a look at some of the most common questions related to kittens and cats, and the answers cat lovers are looking for.
Grand Junction Shares Photos of the Adorable Pets They Love
In celebration of Love Your Pet Day, we asked our listeners to share a photo of their pet with us that we could put in a gallery. Scroll through the adorable photos below and enjoy looking at the dogs and cats we love to love.