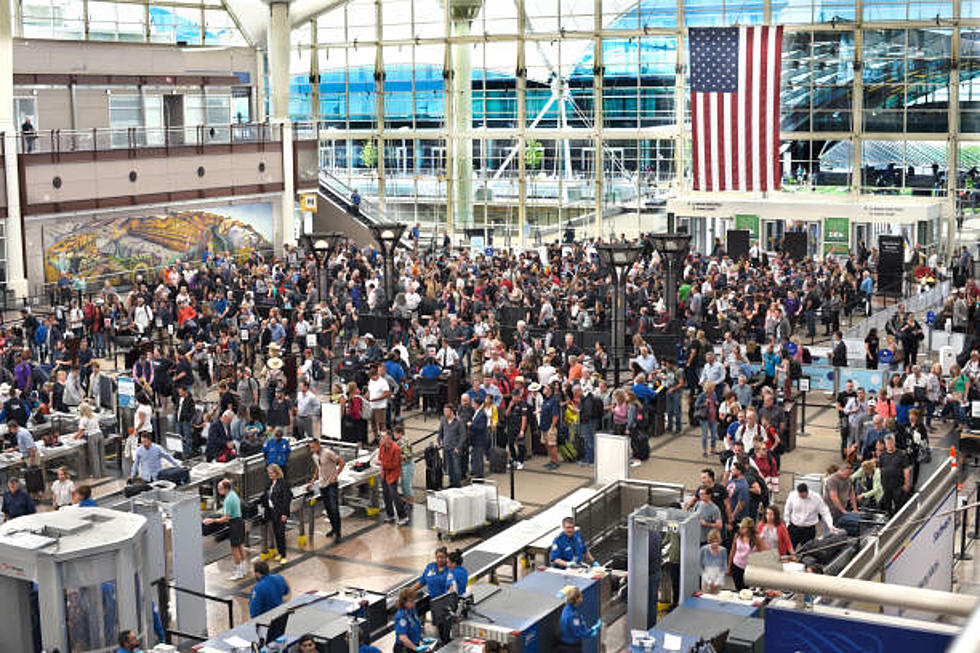 Staffing Shortage At DIA Causes Major Delays Friday Morning
Getty Images
You should always give yourself some extra time to head to the airport for an outbound flight, but if you're traveling, or are planning to travel through Denver International Airport (DIA) Friday  (Oct. 1) you'll need to give yourself plenty of extra time.
Reports via 9News state that security lines to get through TSA checkpoints at Denver International Airport are backed up Friday (Oct. 1); as of 6 a.m. this morning, security lines extended into the baggage claim areas of DIA.
Prior to the COVID-19 pandemic, travelers could check calculated security wait times on DIA's website. In an effort to reduce costs during the pandemic, DIA stopped posting security time estimates on its website; unfortunately, these online wait estimates have yet to be reinstated.
The Transportation Service Administration (TSA), similarly to several other industries, has suffered from staffing shortages because due to the COVID-19 pandemic. As an incentive, TSA even began offering prospective employees $1,000 in an effort to sign on new workers.
The reality is that the amount of travelers passing through the airport is quickly returning to pre-pandemic levels, and airport employers are desperately trying to hire workers to properly - and quickly - accommodate these rapid changes.
Meanwhile, janitors at Denver International Airport are striking; their current contract expired - and now, employees are demanding fair wages and workloads.
According to CBS4, there are approximately 350 janitors that work at DIA; a total of 99% cast a "yes" vote earlier this week to initiate the strike, which began Friday morning (Oct. 1).
"We're here striking for better wages, to support our family. To have food on the table. Pay our bills," Luis Gonzalez said on Friday morning. Gonzalez has worked at Denver International Airport for 10 years.
The janitor's union says their employer, Flagship, refused to bargain a contract with them after weeks of negotiation efforts.
Following the vote to initiate a strike, one janitor said "if Flagship continues to refuse to value our essential work, we will do what it takes to get the respect we deserve and make these jobs good, livable wage jobs in our community", as per reports from CBS4. 
DIA officials are now urging Flagship and the union to come to an agreement quickly, as the airport cannot afford to become any less staffed.
Denver International Airport is actively hiring to fill open jobs around the airport, from open restaurant positions to airport parking lot jobs. Looking for a job? Click here for more information.
Denver Street Art: 50 Murals From The Mile High City
9 Signs You Know You Are From Colorado