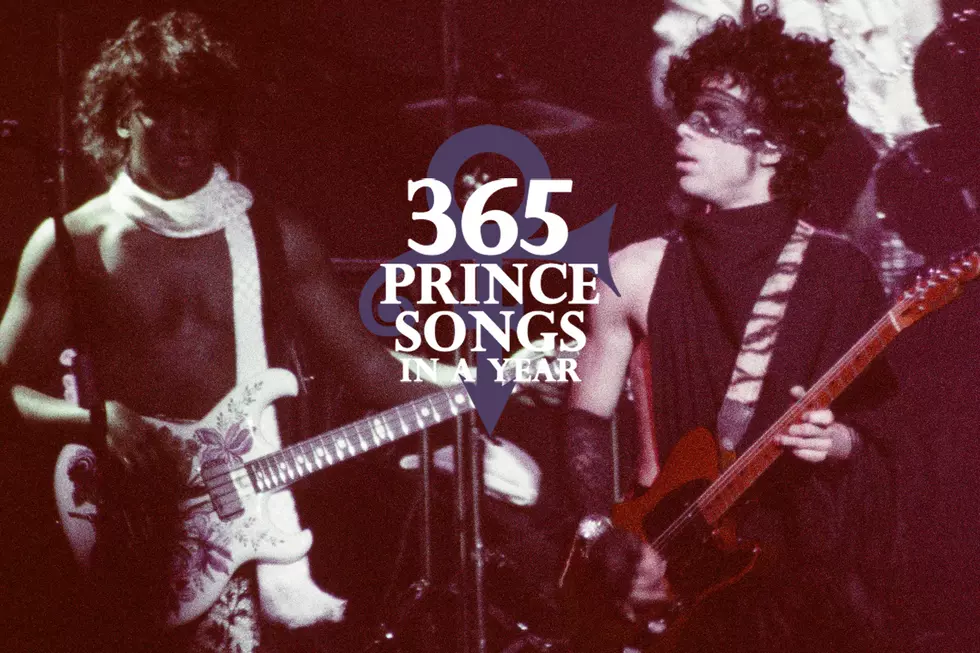 Lamenting a Somewhat Stolen 'Kiss': 365 Prince Songs in a Year
Shinko Music, Getty Images
To celebrate the incredibly prolific, influential and diverse body of work left behind by Prince, we will be exploring a different song of his each day for an entire year with the series 365 Prince Songs in a Year.
There's at least one person out there who doesn't get happy every time he randomly stumbles upon a radio station playing Prince's 1986 smash "Kiss."
"Well, to be honest, every time I hear it – on the radio, in a movie, when Tom Jones covers it – I think about how much money I didn't make, you know?" explains Revolution bassist Brownmark, who says he was cheated out of a promised co-writing credit on the song. "It's a bummer."
In April of 1985, Brownmark was working with his protege group Mazarati on their self-titled debut album, which would eventually spawn the hit "100 MPH." While the record would be released on Prince's Paisley Park label,"Mazarati was 100 percent my group. A lot of people think it was Prince's group – never was, it was mine," Brownmark says. "I kept them hidden from Prince because my relationship with him was very fragmented at that time. His focus was changing. It went from Dez (Dickerson) to me for half a second. Then, when Wendy came along, it went to Wendy and Lisa. So, I started to wonder, with the bass disappearing in some of his music (most notably in "When Doves Cry"), was he phasing me out? Or does he know I'm up to something, and he's preparing himself for my departure? I kind of had a feeling it was one of the two, because I was getting ready to follow my own path."
The "Kiss" saga began when Prince handed Brownmark a tape of a brief demo of an early version of the song, and said he wanted him to work on it for inclusion on the Mazarati album. There was much work to be done. "It was just an acoustic guitar with his voice," Brownmark confirms. "He wasn't singing in his high falsetto, but just in a natural voice. It sounded like a folk song."
Brownmark says he drastically re-worked the song in order to make it fit alongside the other album tracks. "We sang it the same, in more of a tenor voice, but we totally flipped it. I put the drum beat, with the gated reverbs. Everything you hear now, he kept it the exact same way, except he added his guitar and the voice."
The changes worked great – perhaps too well. "I think what happened is, that's the reason Prince took it, he wanted to add a few little variances, some dynamics – and he ended up putting his voice on it, and keeping it. In fact, originally he had done that guitar solo for Mazarati's version."
Hear Mazarati's Version of "Kiss"
Brownmark understood when Prince took the newly re-arranged song back, but he expected his fair share of the credit and rewards. "From a financial standpoint, I knew that I would benefit more from it being with Mazarati – if it hit. But having a co-write on a Prince record? That would be phenomenal. So, that outweighed everything. He kept saying to me, 'We, we, we …. Just think, you put this on [Prince and the Revolution's 1986 album Parade], and we will have a hit.' It was always 'we,' until it came out, and my name wasn't anywhere on it. I never did get royalties on that. That's the way it is though, man. Showbiz."
Released in February of 1986 – and accompanied by one of the best music videos Prince ever made – "Kiss" became a massive hit around the globe, spending two weeks atop the Billboard Hot 100 Singles chart. A highly inventive re-working of the song by Art of Noise and Tom Jones sent the song back to the top of the charts two years later.
Watch Prince's 'Kiss' Video
Naturally, all this popularity also meant that "Kiss" instantly become a permanent staple of Prince's live shows. The problem was, the song's extremely spare, bass-less arrangement relies on a lot of empty space and a borderline-whispered falsetto of a lead vocal, so it wasn't a natural fit for the large venues and loud crowds Prince could fill.
"Back then, it was just a matter of [keyboardists] Matt [Fink] and Lisa really trying to recreate the underlying keyboard chop – because it wasn't really a keyboard. It was an acoustic guitar," Brownmark says. "I just took the original demo that Prince gave me, and added a Keypex gate, which we triggered it off the high hat - and that's where that unique sound came from. That was the hardest part, and the drive of the song. So, if we could get that down for live performances, then the rest was pretty easy."
Except ... they couldn't really get it down. "We had to do it with keyboards, they had to play it manually, and it didn't have the same effect," Brownmark adds. "That's why I never liked the way we did the song live: It was never the same. Plus, in Mazarati, a couple of the boys had a church background, which you can hear in the background vocals [that Prince left on the final version of the song]. The harmonies and things that we selected were very unique, and we couldn't translate that live, either."
If nothing else, it seems Brownmark can take some satisfaction in knowing the song never fully re-captured its original genius without his input. "Long after I was gone, Prince changed that up I don't know how many times," Brownmark remembers. "Last time I was at Paisley Park he said, 'I got a new version of "Kiss."' He's playing it on the loudspeakers, and he put a bass line in it, and I said, 'I don't like it; I like it the original way.' He said, 'I had to change it up a bit, to make it translate better.' And I said, 'Yeah – good luck with that.'"