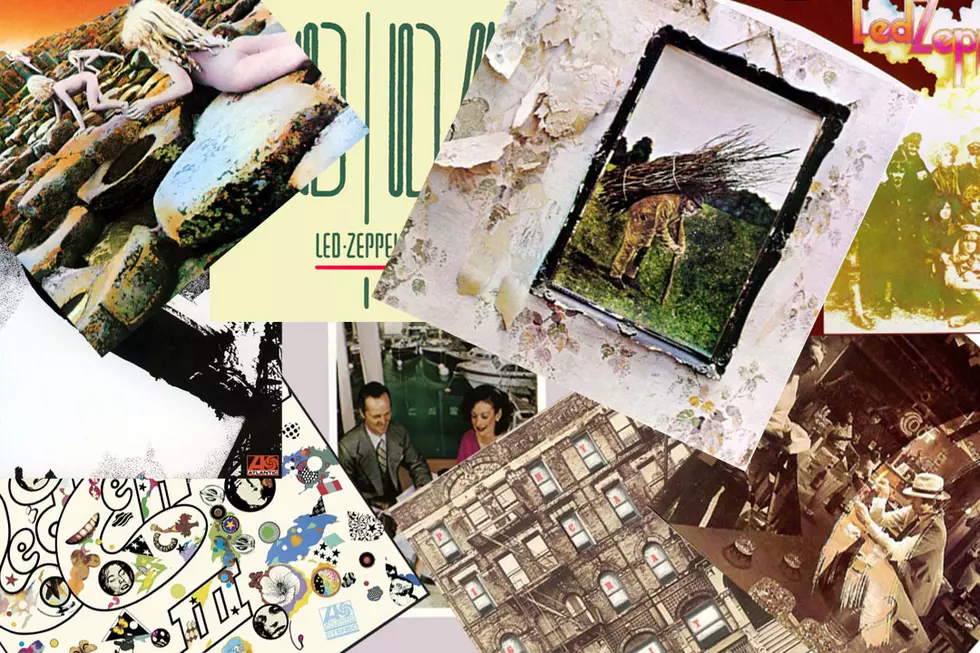 The Worst Song on Every Led Zeppelin Album
UCR
Led Zeppelin rarely released a bad note during their dozen-year career. But like all legends, they stumbled from time to time.
It's easier to find those weaker tracks on lesser albums in their nine-LP catalog (we're including 1982's odds-and-ends collection Coda here) than it is in their first half-decade when they were one of the greatest bands on the planet.
In the below look at the Worst Song on Every Led Zeppelin Album, you'll find some fan favorites for sure. But on their classic albums - and there were several of them - how do you single out one track for inclusion ... or exclusion, as the case may be?
It's all relative, of course. Not every song Led Zeppelin recorded can be everyone's cup of tea (for one). What it mostly came down to was how well certain songs fit or didn't fit within the themes of the albums and whether or not they seemed like they were tacked on to reach an acceptable running time.
Solo instrumentals, another blues rewrite on an LP filled with them and failed experiments - they're all included in the below look at the Worst Song on Every Led Zeppelin Album.
"Black Mountain Side"
From: Led Zeppelin (1969)
It's easy to overlook this slight instrumental on Side Two of Zeppelin's debut album. The song – an arrangement of a traditional folk tune – certainly sounds like nothing else on the record. It was later combined with another instrumental on a superior live version released on the 1990 box set.
"Bring It on Home"
From: Led Zeppelin II (1969)
Led Zeppelin was sued for stealing parts of this Willie Dixon song from Sonny Boy Williamson's version. It wasn't the first or last time. Hardly worth the effort.
"Hats Off to (Roy) Harper"
From: Led Zeppelin III (1970)
Based on an old blues song and named after a folksinger friend of the band, the closing track on Zeppelin's third album sounds out of place following the pastoral mood set by the preceding four tracks.
"Four Sticks"
From: Led Zeppelin IV (1971)
More of a musical novelty than a song, "Four Sticks" takes its name from its concept: John Bonham plays the song with four drumsticks instead of the usual two. Its tricky time signatures guaranteed very few live performances.
"The Crunge"
From: Houses of the Holy (1973)
Not a song but a three-minute attempt at a funk jam a la James Brown. Crunge? More like cringe.
"Bron-Yr-Aur"
From: Physical Graffiti (1975)
Jimmy Page's solo acoustic instrumental from Physical Graffiti originated years earlier, during the sessions for the third album – the same LP that yielded the similarly named but better "Bron-Y-Aur Stomp."
"Tea for One"
From: Presence (1976)
A strained blues number that closes the band's least bluesy album. Mismatched and pretty forgettable.
"Carouselambra"
From: In Through the Out Door (1979)
What's going on here? Heavy-handed synths, incomprehensible lyrics and a groove that swerves into a few different directions ... all of which goes on for an ass-numbing 10 and a half minutes.
"Walter's Walk"
From: Coda (1982)
This Houses of the Holy outtake was most likely left off the album because, unlike almost all the songs that were included, it's little more than a lazy half-riff stretched out to four and a half minutes.
Top 40 Blues Rock Albums
Inspired by giants like Muddy Waters, Robert Johnson and B.B. King, rock artists have put their own spin on the blues.
Denis Leary Doesn't Understand Why Led Zeppelin Won't Reunite