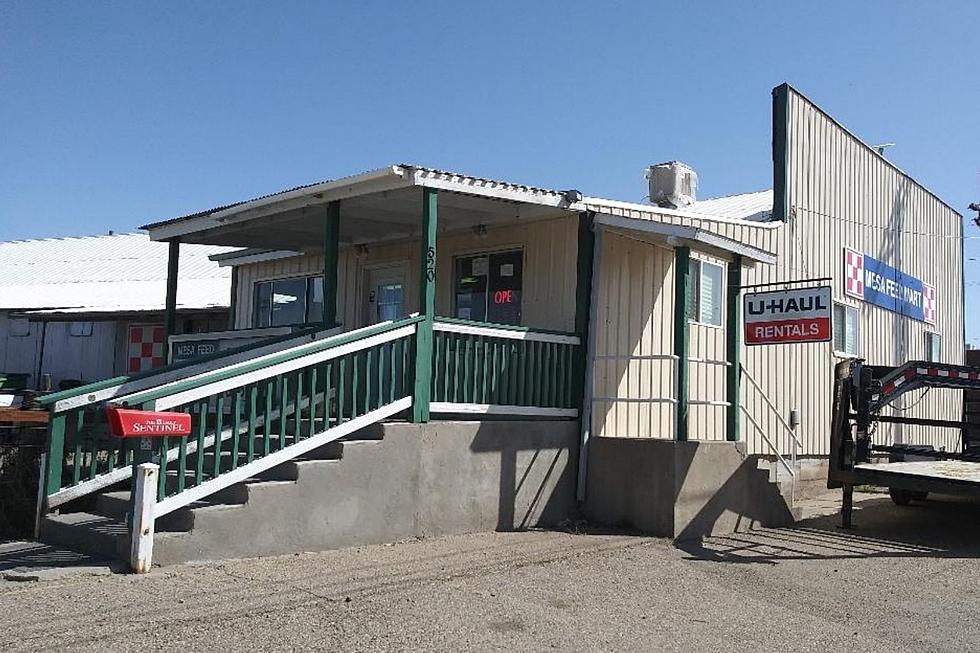 Grand Junction Colorado Business Closing After More Than 50 Years
Waylon Jordan
A locally owned and operated Grand Junction, Colorado business will close its doors after 54 years of service to the valley. Their final day of business will be Thursday, March 31, 2022.
You've probably visited this store dozens of times over the years. Personally, I shopped there in the 1970s. This is heartbreaking news to many in Grand Junction.
Celebrating 54 Years In Business In Grand Junction, Colorado
It's time to say farewell to Mesa Feed Mart at 520 S. 9th Street in Grand Junction. A post on their official Facebook page reads:
Mesa Feed Mart owners are retiring! Please come down and get your favorite chicken, goat, and animal feed before it's gone!! Everything has to go!
A Long History In Grand Junction, Colorado
Mesa Feed Mart's official Facebook page offers a fascinating history of the business. According to their page, Mesa Feed & Farm Supply, established by Dean White and Robert Esplin, was originally located at 5th and South Avenue, offering livestock feeds.
Personally, I don't recall visiting this location. I do, however, have fond memories of the store after they moved to the larger location on South 7th Street. That location was destroyed by a fire on April 9, 1974. Not to be morbid, but I personally witnessed the facility burning. My grandfather was the photographer at the Sentinel, and I was with him when he went to the site to photograph the fire. That fire also claimed part of the Daily Sentinel and the H&M Electric building
During its run, the company even manufactured complete lines of livestock feeds. In 1980, Dean White and Richard Pierle became business partners and continued that vision. Mesa Feed Mart's Facebook page adds, "In 1996, their focus became manufacturing fish food; the line later transferred to Integral Fish Foods. Mesa Feed became retail, distributing Purina and Manna Pro feeds, among others."
The business moved again in 2013, relocating to its present location on S. 9th Street. In 2016 Kathy Singer and a business partner purchased the business.
Great Place For Bird Seed
Growing up on Little Park Road, we used to scatter birdseed for the countless thousands of birds visiting our property. We used to arrive at Mesa Feed in my grandpa's Chevy Custom Deluxe pickup, the bed of which was loaded with old oil drums. They would dump what I guess would be half a cubic yard of birdseed into the truck, the majority of which actually made it into the oil drums. That would last about a month.
This Is a Closing, Not a Transfer of Ownership
I stopped by Mesa Feed Mart on Thursday, March 24, 2022, to speak with the owner. They confirmed the store is closing. In other words, the business will no longer operate after 5:30 p.m. on Thursday, March 31, 2022. During their final week of business they will be open:
Monday, March 28 from 8:30 a.m. to 5:30 p.m.
Tuesday, March 29 from 8:30 a.m. to 5:30 p.m.
Wednesday, March 30 from 8:30 a.m. to 5:30 p.m.
Thursday, March 31 from 8:30 a.m. to 5:30 p.m.
They still have plenty of supplies for sale. If I may, I would like to recommend you pick up some of their awesome dog treats. You'll find there to be a noticeable difference between what they carry versus the grocery store treats. My dog Christmas hates everything. Every family has one... a kid that refuses to eat. That's my Christmas. As it turns out, she loved the treats from Mesa Feed Mart.
This Is Heartbreaking News
I'm a fan of any and all locally owned and operated Grand Junction area businesses. It takes a remarkable person to own and maintain a small business. Doing so borders somewhere between "difficult" and "impossible." For 54 years the owners of Mesa Feed Mart have pulled it off. I wish them a very happy and well-deserved retirement.
11 Grand Junction Businesses Everyone Misses
Sometimes we just don't know a good thing until it's gone. That's exactly how I feel about a lot of businesses that have left the Grand Junction landscape in the last 15 years or so. These are businesses that somehow I didn't fully appreciate when they were here.
Grand Junction Colorado Area Business Signs of the 1940s and 50s - Robert Grant Photos
Take a look at business signs from the Grand Junction area through the lens of photographer Robert Grant.
Grand Junction Restaurants You Need to Show Out-of-Towners
Here's a list of Grand Junction restaurants you need to take out-of-towners to. These Grand Junction restaurants are sure to impress your guests.