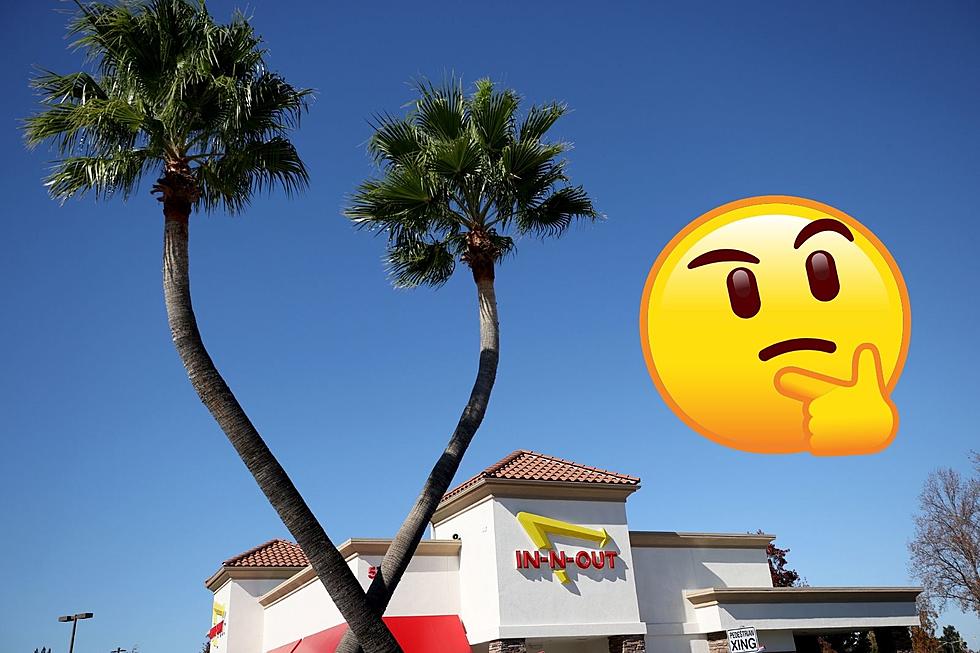 Why Do Colorado In-N-Outs Have Crossed Palm Trees?
Getty/Canva
If you've been to an In-N-Out Burger, even in Colorado, you've probably seen their signature crossed palm trees. Why do they do that?
Why Do In-N-Outs Have Crossed Palm Trees?
When it was announced that California-based In-N-Out Burger was coming to Colorado, most were just excited about the deliciously fresh, never-frozen burgers, fresh sliced veggies, and those freshly cut french fries. Sorry for making you hungry, my bad. One thing I don't think anybody thought about was the signature In-N-Out crossed palm trees. Colorado temps can be pretty brutal in the winter, so the only way most of us see palm trees is by heading to In-N-Out's home state, California, or another warmer climate state. In-N-Out Burger was determined to make it work for their Colorado stores though.
Inspired by the movie "It's a Mad, Mad, Mad, Mad World," In-N-Out founder, Harry Snyder, began using the crossed palm trees to symbolize his "treasures" in sort of an X marks the spot kind of thing. Not only did he use palm trees on cups and in the store's decorative design inside of the restaurants, but he also places crossed palm trees, like an X, at most of the locations.
When building the Colorado stores they went ahead and added the tropical weather trees in front of its 6 new Colorado locations, even though the cold Colorado weather would do its best to ruin their tradition. How did they plan ahead to battle the cold weather and keep the trees healthy? They have built-in heat at their bases as well as heat to the tree trunks through pipe heating cables. Pretty smart if you ask me. We recently went to the Thornton In-N-Out and had a great experience. Here's how long our wait was. 
In-N-Out In Thornton Is Now Open. How Long Are Wait Times?
We went to the new In-N-Out in Thornton. Here's how long our wait time was and how our overall first experience went.
19 Words You'll Need To Learn To Sound Like A True Coloradan
There are certain words that can distinguish a true Coloradan from a transplant, here are a few of them.