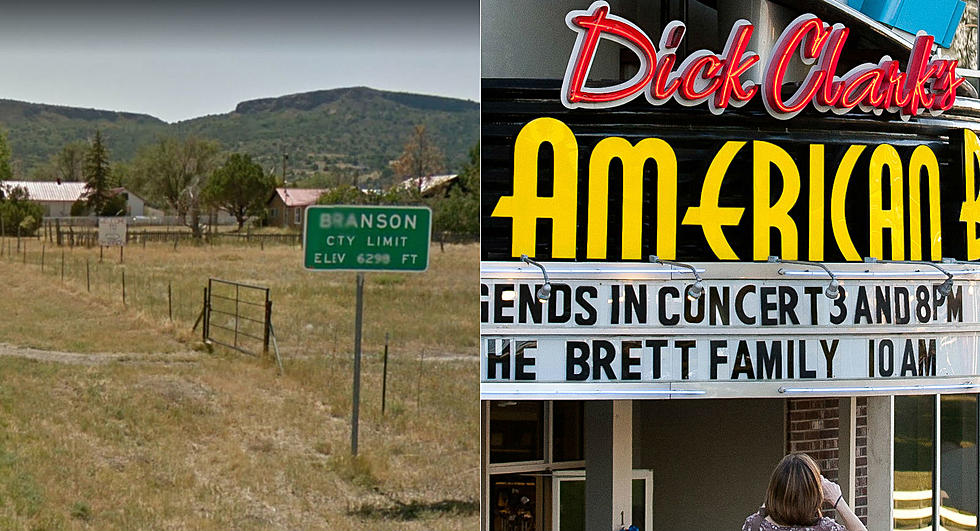 5 Differences Between Branson, Colorado and the Branson in Missouri
ThinkStock/Getty Images
You're not likely to mistake Branson, Colorado for the more popular city in Missouri, but just so you know, there are at least five differences between these two municipalities that share the same name.
These two Bransons are similar in name, but that's pretty much where the similarities end. One of these towns you love to visit, the other - not so much.
Here's a quick, fun comparison of these two "famous" Bransons.
1

While you will find both of these towns in the extreme southern part of their respective states, Branson, Colorado is our state's southern most town.(Could be a future question on Jeopardy!) It sits on Highway 389, 35 miles east of Trinidad, just three-tenths of a mile from the New Mexico Border. Plenty of Missouri towns are farther south than Branson.

2

One of the first things you will notice about Branson, Colorado is it's tiny population - estimated at 67, although in the 1920s the population was a booming 1000. Branson, Missouri, on the other hand, boasts a population of more than 11,000 - not counting the thousands of daily tourists. Not many folks are touring Branson, Colorado.

3

Branson, Colorado, which was first called Wilson, was named after Josiah Branson in 1918, a man who platted the town on his own land.   The Branson in Missouri was named for Rueben Branson who opened a general store and post office in the area and the town was incorporated in 1912. So, in case you ever wondered, these towns get their names from two completely different men named Branson.

4

The elevation of Branson, Colorado is 6,256 compared to Branson, Missouri's elevation of just 778 feet. That would explain a wide variation in yearly snowfall, 46 inches compared to 11 inches, despite having a similar latitude of 37 degrees and 36 degrees respectively. The climate of the two towns is remarkably comparable with average daily high temperatures in the mid to upper 60s.

5

While it's possible to get lost and turned around in Branson, Missouri - especially with all of the development in the past 20 years, nobody is going to be asking for directions in Branson, Colorado which covers a puny area of 0.2 square miles. The big Branson has a total area of more than 20 square miles, and it actually has paved streets, stop lights, and stores.