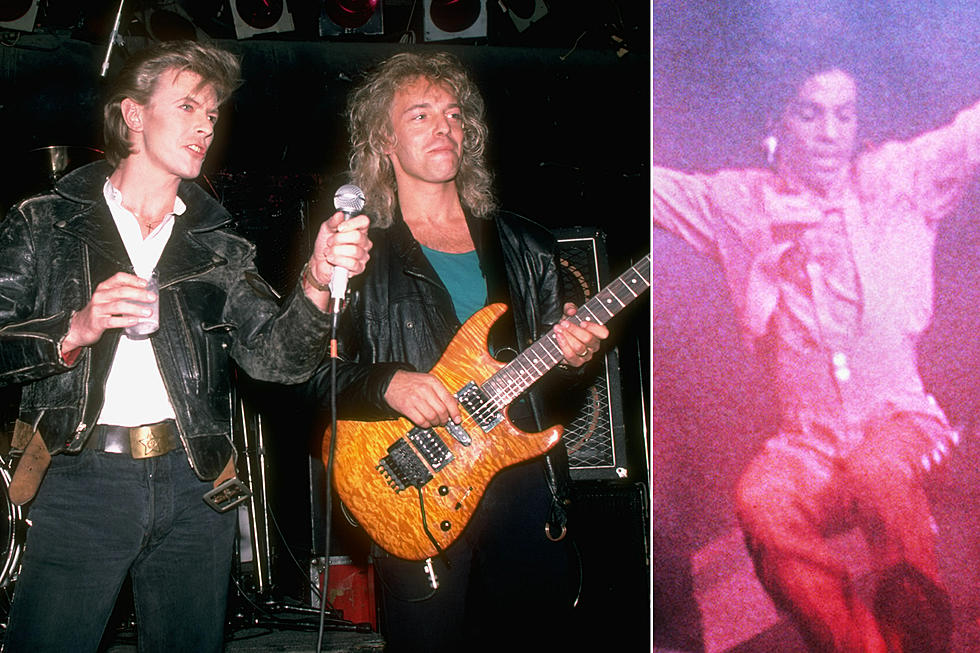 The Perfectly Weird Way Peter Frampton Met Prince: Exclusive
Robin Plazer, Getty Images / MCA Home Video
The only meeting between Peter Frampton and Prince left a distinct impression, though they didn't even have a conversation.
The introduction came courtesy of David Bowie, who asked Frampton to serve as guitarist for his 1987 Glass Spider Tour. Prince attended when they played the St. Paul Civic Center in Minnesota, and then invited Bowie and his team for a private screening of the Sign O' The Times film in a rented Minneapolis theater. A party at Paisley Park Studios followed.
"We're all standing in this very uncomfortable circle around the room, big reception room there," Frampton told Ultimate Prince in an exclusive interview. "And I saw Prince over there, and literally, diametrically, if I just follow the circle straight across, there he is. ... Nobody's talking to him! So I thought, well, you know, always the optimist. As I left the circle, I could virtually hear people going '[gasps] oooooh.'"
While the rest of the team were either too distracted or too shy to speak to Prince, Frampton walked directly over. "I held my hand out, he shook my hand," Frampton said. "And we stood next to each other for a while, and I said, 'I'm a huge fan. Thank you for inviting us here.' He nodded, gave me the Prince nod."
But, the nod was the only response: In his typically enigmatic fashion, Prince didn't actually say anything. Only afterward did Frampton receive word that he'd left any lasting impression.
"The next day, I'm with our production manager," Frampton added, "and he said: 'Yeah, we hung out. We did Prince's work as well, last tour. So we hung out with him after you guys left. And he just kept on going on about how nice you were. And I said, 'What do you mean? We didn't speak!' I guess it was because I had the balls to go over and say hello to him!"
Frampton's newest album, Frampton Forgets the Words is due this month and includes a cover of Bowie's "Loving the Alien," a staple of the set lists for the Glass Spider Tour.
2019: The Year in Prince News