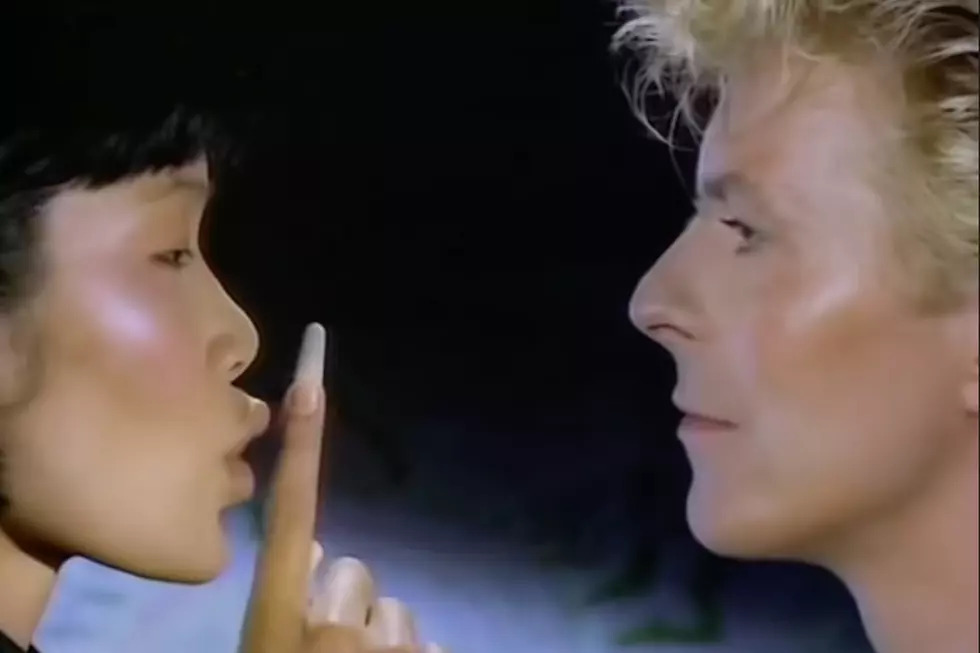 40 Years Ago: David Bowie Reclaims 'China Girl' for Himself
YouTube
"China Girl" made an inauspicious debut in the music world. There was little indication of its future as a Top 10 hit.
The song was written by David Bowie and Iggy Pop, under the working title "Borderline," during a drunken evening at the Chateau d'Herouville in France. Pop included the song on his first solo album, The Idiot, which came out in 1977.
The darkly foreboding lyrics, according to Pop, were inspired by Kuelan Nguyen. She was in a relationship with French singer Jacques Higelin, however, and that scotched Pop's romantic intentions. Bowie later explained on VH1's Storytellers that he felt the song was "sort of about invasion and exploitation."
While celebrated critically, The Idiot was not a commercial success, and that consigned "China Girl" to a kind of under-the-radar status it seemed unlikely to transcend. Then it was time for Bowie to dance.
He signed a new contract with EMI Records in 1982. Stakes were high for his first album under the deal, which would be Let's Dance. While assembling tracks with producer Nile Rodgers of Chic, Bowie returned to "China Girl" – partly to help Pop, who was in financial duress at the time, and partly because Bowie felt that "China Girl" could still become a hit. "In my opinion, 'China Girl' didn't have a real hook," said Rodgers, who like many thought the song was about drugs, specifically China White heroin.
"I didn't think it was going to connect with audiences. I told him it was wacky and wouldn't be easy for folks to get. We ended up having a fabulous discussion. I came up with this [plays the Asian-flavored opening riff] and I'm ready to get fired right there on the spot and he goes, 'That's fantastic!'"
Listen to Iggy Pop's 'China Girl'
Rodgers also smoothed the song's arrangement and texture, while Bowie delivered a more melodically accessible vocal than Pop. As with the rest of Let's Dance, the guitar solo was played by the up-and-coming bluesman Stevie Ray Vaughan, whose debut album Texas Flood arrived alongside Bowie's album.
"I think Stevie only heard 'China Girl' once before he started wailing away perfectly," Let's Dance engineer Bob Clearmountain said in the book Texas Flood: The Inside Story of Stevie Ray Vaughan. "At the end of the section, there's a chord change, and he lands on the wrong note, so it sounded a little dissonant. We played it in the control room, looked at each other and winced, and I said, "Let's fix that.' But David said, "No. It's perfect.' He liked dissonance, and he loved first takes."
Bowie's instincts about the song's lost potential proved correct. "China Girl" reached No. 10 on the Billboard Hot 100, following Bowie's chart-topping run with the Let's Dance title track. "China Girl" also reached No. 3 on the Mainstream Rock Songs chart and No. 2 in the U.K. Let's Dance album would be one of Bowie's most successful, selling nearly 11 million copies worldwide and earning his first platinum certification in the U.S.
Watch David Bowie's 'China Girl' Video
Not unsurprisingly, "China Girl" generated some controversy – and especially its video. Directed by David Mallet, the clip was filmed in the Chinatown section of Sydney, Australia. Bowie and model Geeling Ching acted out an interracial romance, filled with parodies of racial stereotypes and male chauvinism. Some considered it racist, while Bowie maintained to Rolling Stone it was a "very simple, very direct" statement against bigotry. Scenes of Bowie and Ching nude on a beach, recalling From Here to Eternity, led to a ban in several countries so an alternate clip was created.
"China Girl" became a fixture in Bowie's catalog, appearing on several compilation albums and in concert performances from the Serious Moonlight Tour in 1983 through the A Reality Tour some 20 years later. He intended to perform the song at 1985's Live Aid in London but cut it due to time constraints.
David Bowie Year by Year: 1965-2016 Photographs
David Bowie's fashion sense fueled his chameleon-like career, from the early days as a mod and a folksinger through Ziggy Stardust, the Thin White Duke and beyond.
How an Old Beatles Song Connected David Bowie With John Lennon