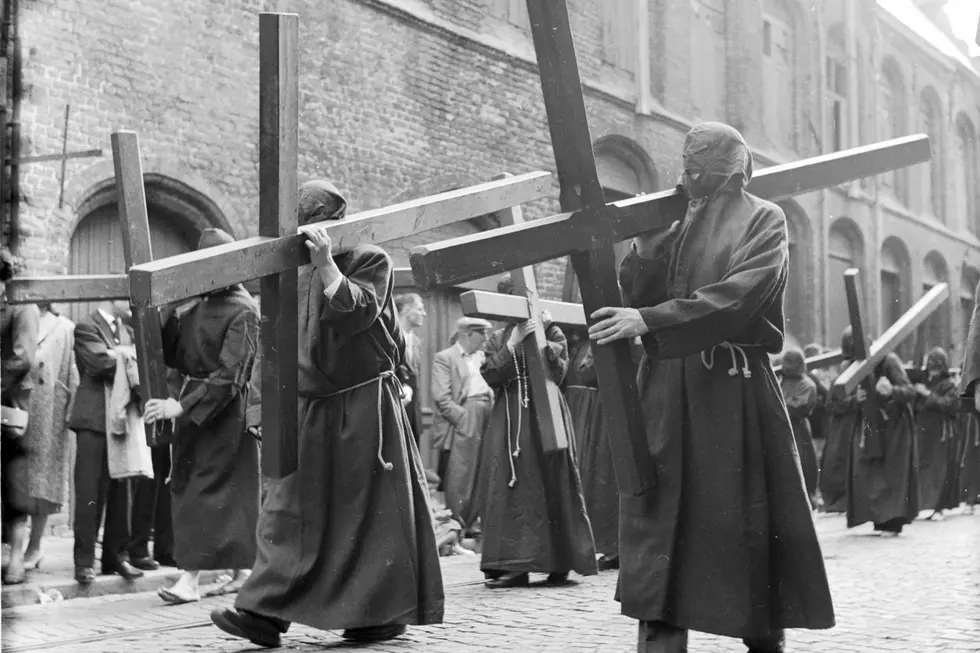 Colorado's Penitente Canyon + Its Mysterious Crucifixions
Getty Images
An area in Colorado, popular since the 1980s for the climbing and hiking it provides, is veiled in mystery with crucifixions and beatings at the center of it.
By itself seems harmless, unless you take into account the fact that they would literally reenact the crucifixion of Christ, including hanging men on a cross and whipping themselves.
Referred to as cultists by many for the strange way they worship, with the deviant practices of self-flagellation and the painful reenactments of the crucifixion, as well as other things they were made to do for penitence from the church, such as crawling around on all fours over sharp rocks and pebbles.
The group finally left the area, though no one is sure when that happened, or why. And, while not nailed to these crosses, the sect's members were lashed to them with leather straps, effectively cutting off their circulation.
Once you get to the area, look up. You will see Our Lady of Guadalupe painted onto the cliffside, apparently placed there by a visitor in the 1940s, possibly during a pilgrimage.
The sect has always been very secretive, so many things that went on there we do not know, but what we do know is the name came from the practices they would perform as penitence for sins or wronging someone in the sect, or community.
Once they left the area, it remained mostly secluded and untouched until the mid-80s when some rock climbers happened into the area and is now a wonderful, if a bit creepy, place to bike, hike or climb.
Climbers can sharpen their skills on the 100-foot walls all around the area. And if biking is your thing, let me give you a few more reasons to check it out.
Within the area are several bike trails, rated with stars on enjoyability and difficulty with five being the highest. There are four trails here with four and one-half stars including Wild Horse, which is the main access trail for the hidden treasure area. A hidden treasure you say?
One never knows what is just around the corner here. But nestled in the area is a history unlike that of any other area. And you can still find the ruts of ox carts that used to make their way through the canyon. A walk into some odd history for sure.