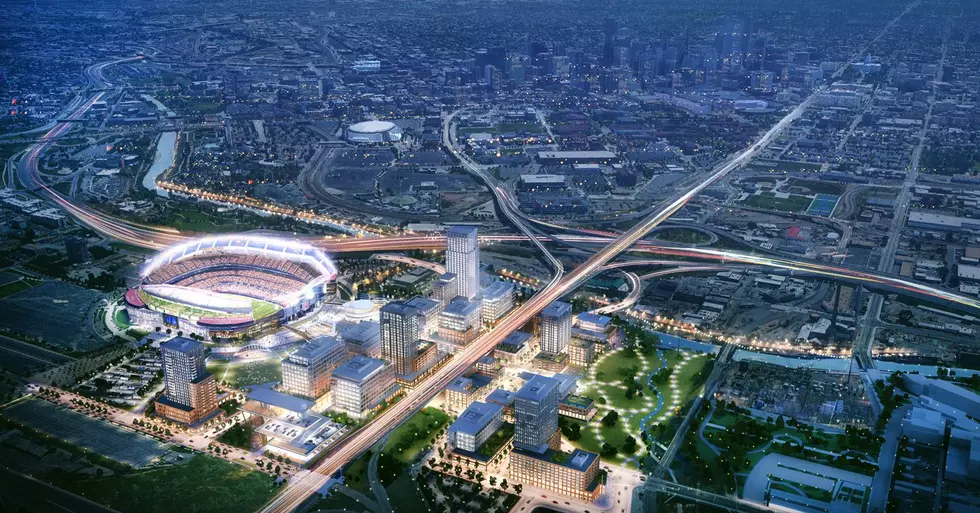 What Colorado's Mile High Stadium Could Look Like in the Years to Come
Sararch.com
Change. It's something you embrace or fight. The Denver Broncos have seen plenty of changes as of late. Russell Wilson is the new quarterback, John Elway is no longer the General Manager, and a Walmart heir is expected to purchase the team.
Those are just a few of the changes that I can mention right off the top of my head. But there are many, many more. The scenery around Empower Field has changed a bit, but not a lot. The majority of the landscape the south of the stadium are parking lots.
However, that could change in the near future. Parking lots around Mile High Stadium could soon be replaced with mixed-use neighborhoods sprawling over 58 acres. The plans show the development known as the "Stadium District"  starting on the south side of Mile High Stadium and developing further south past Colfax Avenue.
Sararch states the parking lots remain dormant for the majority of the year. Development of this land would create a one-of-a-kind game day and unique event experiences. I do have to admit, the renderings of what could be the Stadium District are quite nice. See the photos for yourself:
Find out more about the Stadium District on Sararch.com.
See What the Area Around Mile High Stadium Could Look Like
These are the latest renderings of what has been named the "Stadium District" to the south of Mile High Stadium.
$4 Million Loveland Home Comes With an Epic Barn
Sure. The home is beautiful, but the barn is the real showstopper.
Former Broncos Player Orlando Franklin Selling Cherry Hills Mansion for $9.9 Million
The former Denver Broncos player is selling a stunning Cherry Hills mansion for $9.95 million.