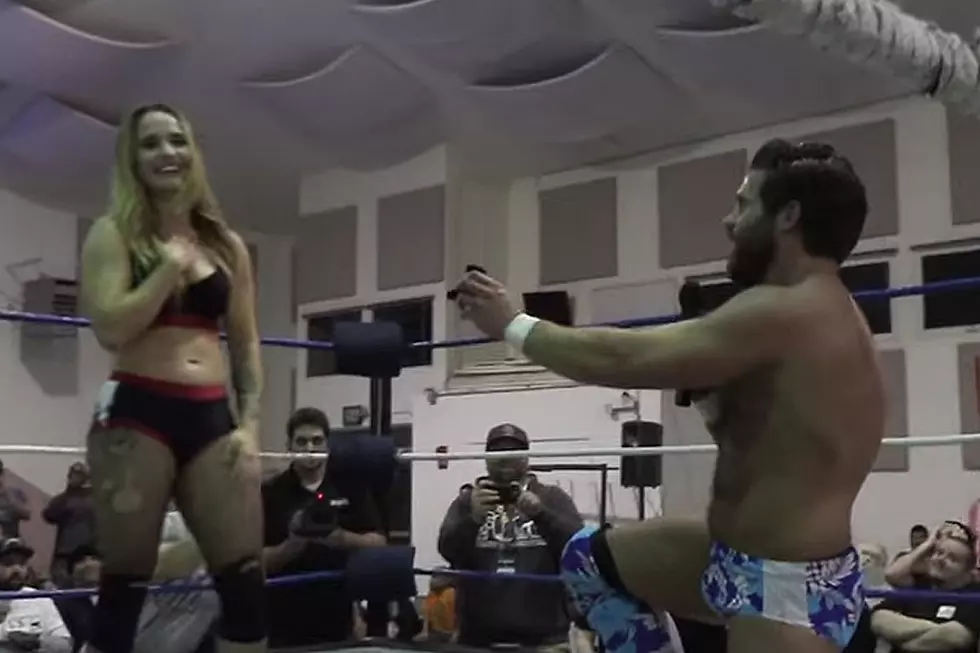 Wrestler Proposes to Opponent in Middle of Match
Joey Ryan, YouTube
Looks like this guy has finally found his better half-nelson.
He gave her a ring while in the ring.
We wonder if they met on wrestling-match-dot-com.
You can use whatever lame joke you want to describe how Joey Ryan -- who once used his penis to beat an opponent -- popped the question to girlfriend Laura James while they fought during a recent match in San Diego (yes, it was a match between a man and a woman with fives of people taking it in).
We've been talking about this so much that I feel like this was the only way to surprise you. Laura Clare James, I love you with all of my heart."
Ryan took out the ring and James said "yes" before he could even he ask whether she'd marry him.
The crowd loved it and expressed its enthusiasm by enhancing a beautiful moment with a lovely chant of "Holy ****." Ryan then put a bow on the day's festivities by pinning his new fiancee before they smooched to the adoring crowd, comprised of pretty much all men, who we can only assume went home to Google what exactly a "fiancee" is.