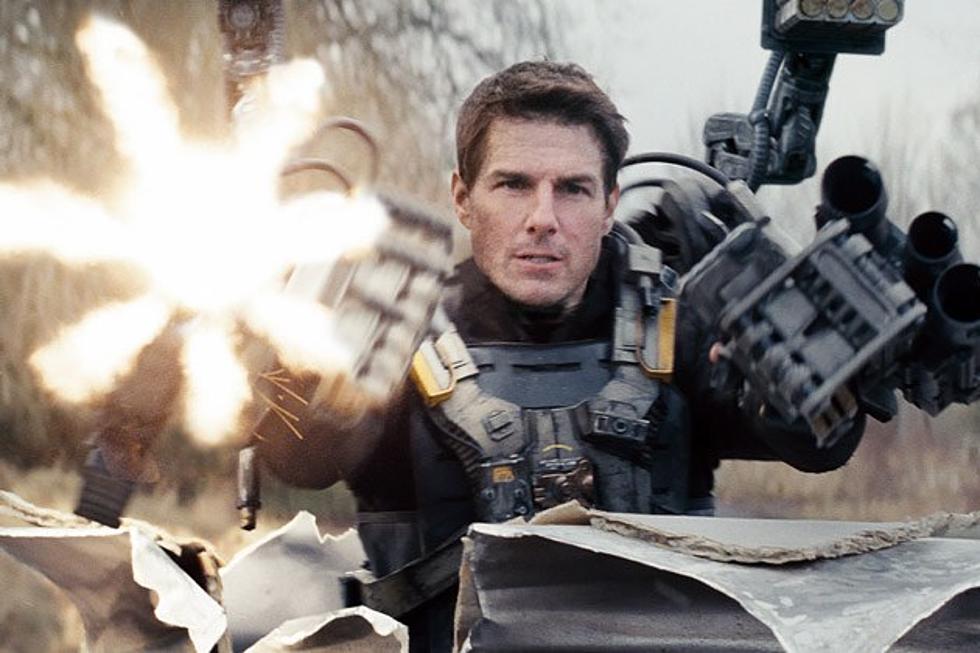 20 Facts You Probably Didn't Know About Tom Cruise Movies
Warner Bros.
Say what you want about Tom Cruise, but you keep seeing his movies. We all do. Mostly because he has a knack for picking starring roles in fun, if not always good, popcorn movies -- like 'Edge of Tomorrow,' which opens today. He may have jumped Oprah's couch, but he's yet to jump the shark at the box office. Even if you've seen most of his movies, there's a good chance we'll surprise you with some little-known facts we dug up about the legendary leading man. Can you handle the truth?!
1

'Eyes Wide Shut' holds the world record (according to Guinness) for longest principal photography shoot (400 days!) in the history of cinema. It's also the likely catalyst for Cruise's split from wife and co-star Nicole Kidman.

2

After publicly voicing her disapproval of Cruise being cast as Lestat in 'Interview With the Vampire,' author Anne Rice did a 180 after seeing the flick, heralding it a 'masterpiece.'

3

Cruise has been nominated three times for an Oscar but has never won one. But his costars -- including Paul Newman, Dustin Hoffman and Cuba Gooding Jr., all Oscar winners in Cruise movies -- have fared much better.

4

Tom Cruise's most financially successful movie in the U.K. is 'Austin Powers in Goldmember.'

5

Since 2006, October 10th has been set aside as Tom Cruise Appreciation Day in Japan.

6

In 'Magnolia,' the F-bomb is dropped no less than 190 times -- the majority of them by Cruise as a misogynistic self-help guru.

7

Cruise proposed making 'Valkyrie' after seeing a picture of the the true story's historic hero, Colonel von Stauffenberg, and noted his own physical resemblance.

8

Emily Blunt, Cruise's co-star in 'Edge of Tomorrow,' once told an interviewer: "I'd rather do badly paid theater for the rest of my life than be a spear carrier in a Tom Cruise movie." She's since retracted the sentiment.

9

Cruise has been arguing with Brooke Shields since his first movie, 'Endless Love' in 1981, in which the two starred. They continue to butt heads on topics ranging from Scientology to psychiatry.

10

The timeless popularity of the basic black model of Ray Ban sunglasses owes a lot to Cruise, who wore them in 'Risky Business.' After the movie's release, Ray Ban sales increased by 2,000 percent.

11

You'll never see a 'Mission: Impossible' Ethan Hunt action figure or a Jack Reacher Halloween mask. Cruise takes his image seriously and does not allow his likeness to be used for toys, video games or anything else.

12

Cruise has flexed his dancing prowess in everything from 'Risky Business' to 'Tropic Thunder.' Where'd he get those moves? A youth spent memorizing dance routines on 'Soul Train.'

13

Jerry Maguire was originally developed as a movie for Tom Hanks and Winona Ryder.

14

Cruise improvised his impersonation of Jack Nicholson in a scene for 'A Few Good Men.' Director Rob Reiner found it so entertaining, he insisted it make the final cut.

15

Cruise filmed many of his scenes with Cameron Diaz in 'Knight and Day' standing on a platform to fudge his height. The 5'7" actor has spent much of his career utilizing everything from selective editing to platform shoes to hide his short stature.

16

Already well known for doing many of his own stunts (particularly in the 'Mission: Impossible' series) Cruise did ALL of his own stunt driving in 'Jack Reacher.'

17

Kenny Loggins was third choice to perform 'Danger Zone' on the 'Top Gun' soundtrack behind REO Speedwagon and Toto. The ripple effect would rob FX's 'Archer' of its best running gag.

18

'Rock of Ages,' Cruise's first musical, required voice lessons for four months and intense study of the stage behaviors of Axl Rose and Jim Morrison.

19

Most of the racecars in 'Days of Thunder' were actually simple Chevrolets retro-fitted with phony fiberglass race car bodies.

20

In 1996, 'Mission: Impossible' was the first U.S. feature film to open in more than 3,000 theaters. It was also the last movie by a major studio to be released in the already antiquated Betamax format.