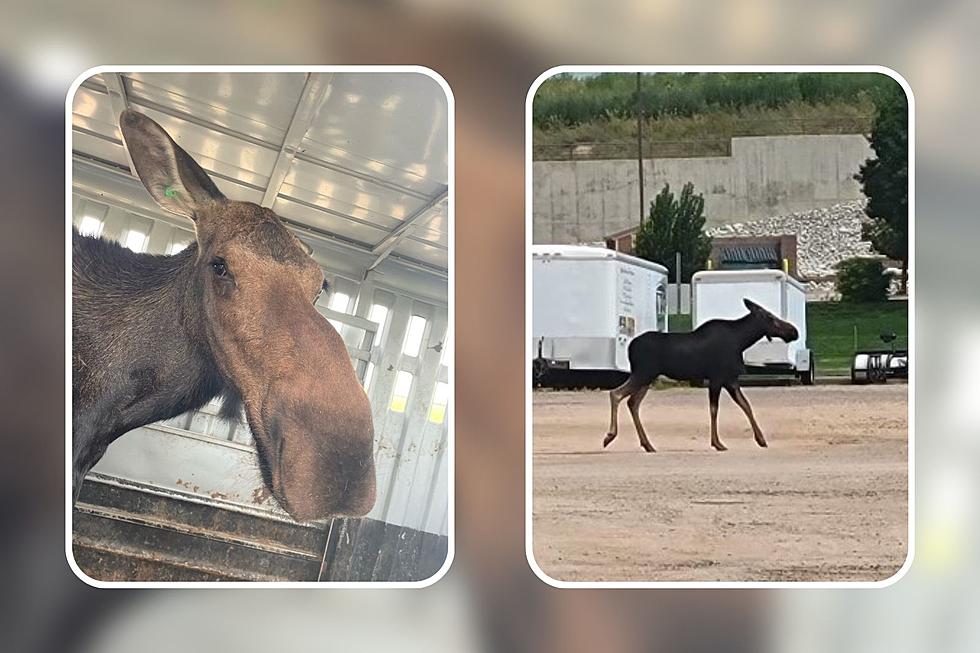 The Wandering Weld County Moose has Been Captured and Relocated
Weld County Sheriff's Office/Canva
A cow moose that's been spotted around Weld County over the past few days has been relocated according to the Weld County Sheriff's Office. On Wednesday, the Weld County Government Facebook page posted a photo of the moose at the Weld County Administration Building located at 1150 O Street.
Sunday morning, a moose that very much looks like the wandering moose in Greeley was spotted by numerous people in Johnstown. Could this be the same moose? No one really knows for certain, but it is probably very likely.
A joint effort between the Weld County Sheriff's Office, Weld County Public Works, and Colorado Parks and Wildlife to herd the moose into a safe area led the moose throughout the Weld County Government campus.
The moose got to venture around Weld County car wash bays before going behind the Work Release Center and then proceeded to the Weld County Human Resources Building. The moose then crossed O Street into a cornfield. Once the moose was safely into the cornfield, Colorado Parks and Wildlife tranquilized the moose and she was then moved into a transporting trailer to be relocated. Colorado Parks and Wildlife say that the cow moose is approximately three years old and will be released back into a mountain habitat.
The Weld County Sheriff's Office wished the moose well on her next adventure on Facebook and closed the statement with "We just hope it isn't here, on our campus" and a couple of photos of the Weld County moose saga.
Amazing Wildlife Viewing At Colorado Drive-Thru Refuge
The
Rocky Mountain Arsenal National Wildlife Refuge
actually isn't all that new, but there are plenty of folks in Colorado who are yet to make the discovery. With more than 15,000 acres of land, it's one of the largest urban wildlife refuges in the country.
National Park Service Pics of Wyoming's Most Iconic Wildlife