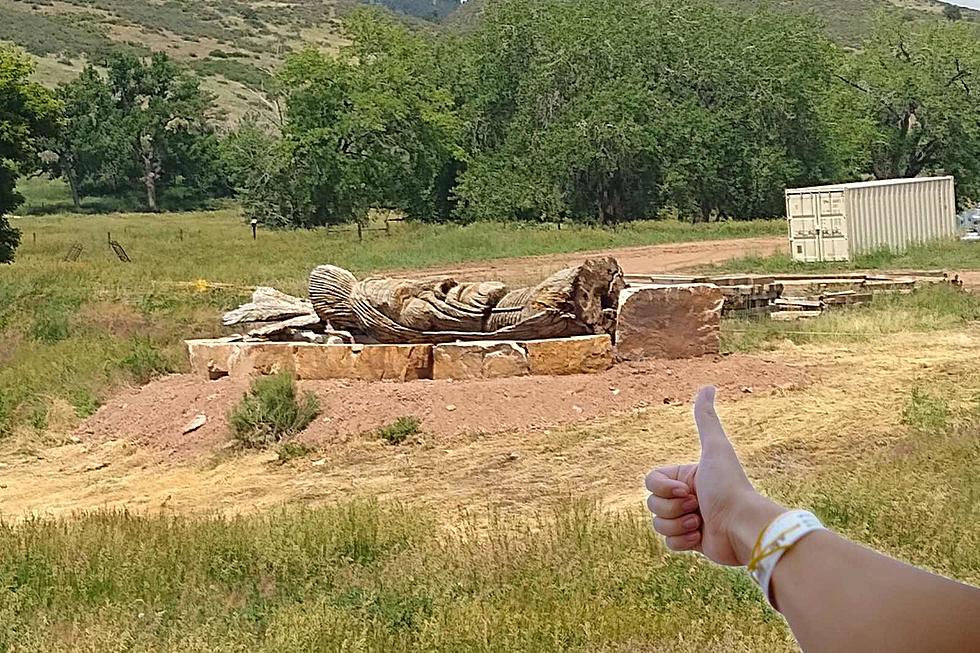 Large, Famous 'Redman' Sculpture in Colorado Gets Thoughtful Upgrade
TSM/Dave Jensen, Canva.com
A carved wooden sculpture that used to stand tall on the south shore of Lake Loveland now rests on its back west of town. 'Redman' now has a spot on private property where we can all see it and a little shrine.
Ever since it first stood along Lake Loveland, until where it is now, hundreds of thousands of cars have passed by the giant, one of about 75 'Whispering Giants' that you can find across America. Its place in Loveland's history can't be denied, it's good to see that it is still cared after.
From around 1980 until 1993, 'Redman,' created by Peter Toth, brought wonder and majesty to the south shore of Lake Loveland. Being wooden, however, the Colorado weather took its toll on the giant, and they took him down in 1993. A local ranch owner, Pat Block offered up her property for the sculpture to be placed.
Then, in late 2022, 'Redman' was too unstable to remain upright, so they lowered him onto his back. Travelers can still see the sculpture from the road, just west of County Road 29.
In June of 2023, according to the Reporter-Herald, a local quarry donated some large stones to create a half-circle around 'Redman,' giving his resting place a more fitting look of grandeur.
Getting a picture of 'Redman' like above is not too difficult, but you are close to Highway 34, so that can make it a bit unnerving.
I wonder how long 'Redman' will last. How many more years out in the elements will we find that he's split in two, or some act of nature finally ends his time?
MORE Colorado Art: 11 Great Chainsaw Crafted Sculptures Made in Colorado
Pieces of art carved out of a log with a chainsaw, has to be one of the most-unique forms of woodworking you'll find. Colorado is a perfect state to put those talents to the test.
MORE Colorado Art: The 2 Giant 'Muffler Men' in Colorado
Dating back to the 1960's these two men are only 40 miles apart.