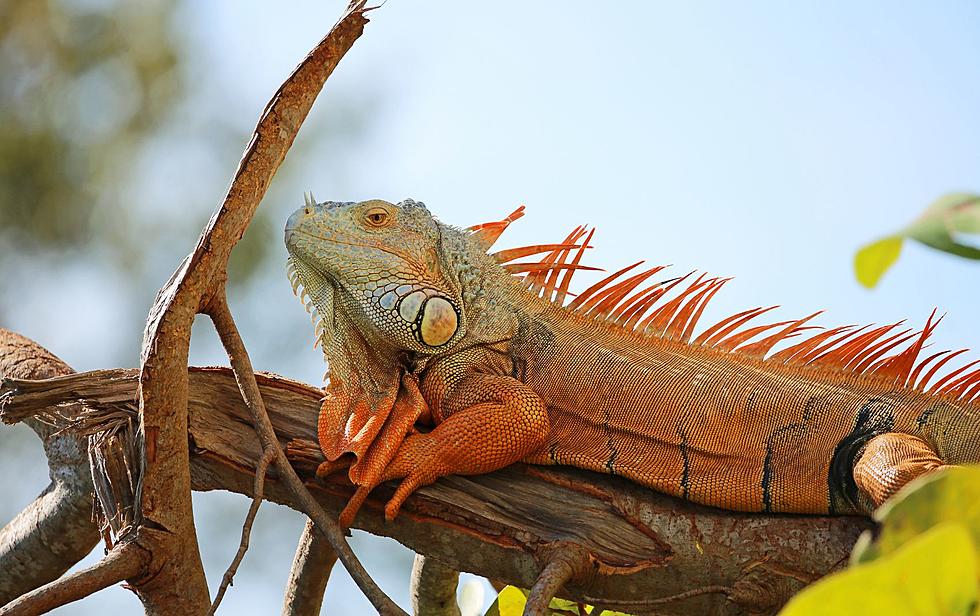 Random: Anyone in Colorado Missing Their Huge Orange Iguana?
Canva
Dogs get out of the yard or the cat slips out your front door... you pretty much know what to do and who to call. Or even better, if you see a random dog or cat trotting past your house without their person, most of us stop and call them over to check for tags on their collar. Surely someone's pet has gone missing, right?
Well, here's one you don't see every day. A massive orange iguana was found hanging around Cherry Creek State Park in Arapahoe County on Friday.
Animal control received a call from someone at the park who spotted the reptile hanging out in some trees. When they responded, they found this guy living his best life, no doubt having escaped from someone's home - or worse, left to roam in the wild on purpose.
Fortunately for the iguana and his/her owners, if indeed it's accidentally gone missing, the officer who responded knows exactly how to handle one of these guys as she herself used to have one as a pet. In an ironic twist of events, the officer's name is Wylde - as in Officer Cori Wylde - and the county followed up with another pic after the safe capture of the curious iguana.
While I'm sure he loves hanging out with Officer Wylde and the fine folks at Arapahoe County Animal Services, he's probably going to be getting homesick soon. If you or someone you know is missing an orange iguana - this is probably him - and you should contact the county ASAP.
Uncommon Animals of Colorado
It's pretty rare to see these types of wildlife in Colorado.
Sound Off: Animals that Scare These Coloradans the Most
We asked Colorado residents which animal scares them the most, and the top answer might surprise you.