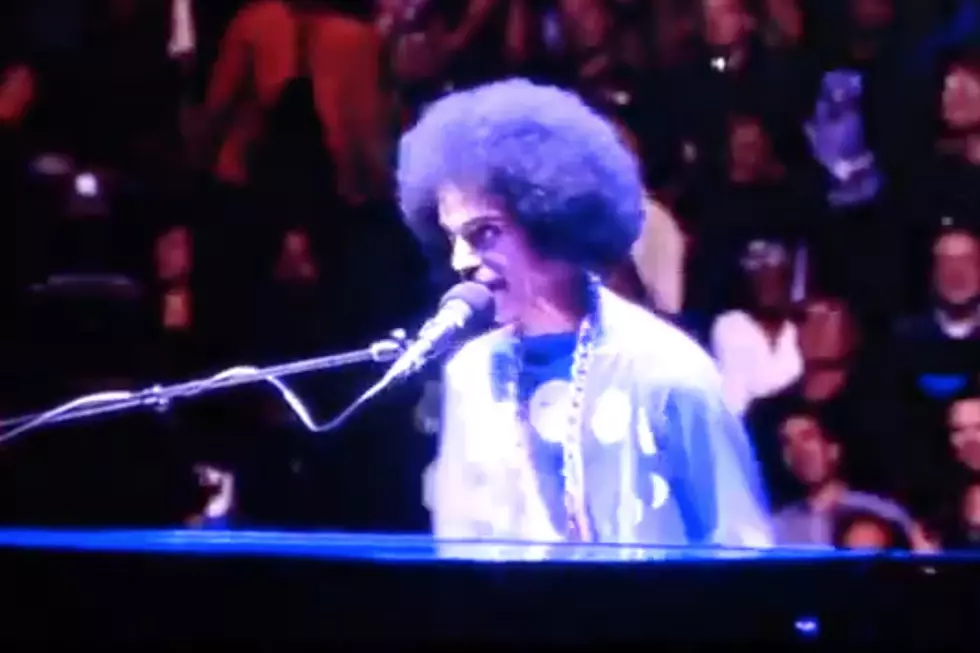 Five Years Ago: Prince Plays the First Show of His Final Tour
YouTube
Prince's last tour was a series of solo shows that featured just him, a purple piano and his incredible catalog of songs.
The first two performances of the Piano & a Microphone tour took place on Jan. 21 in front of about 1,000 fans at Paisley Park, his complex in Chanhassen, Minn. Rolling Stone was on hand for the 21-song opening show, noting that it focused heavily on the first decade of his career and was more or less sequenced chronologically. He began with For You's "Baby" and concluded with Lovesexy's "Anna Stesia."
"This is what I usually do this time of night," Prince told the audience. "It's better with you all present." It was one of a few times he addressed those in attendance. After "Free," he briefly spoke about David Bowie, who had passed away less than two weeks earlier. "I only met him once," Prince said. "He was nice to me. He seemed like he was nice to everybody."
From there it was on to one of his all-time covers, Joni Mitchell's "A Case of You," which was one of three songs not written by him performed on the night, with the others being the spiritual "Sometimes I Feel Like a Motherless Child" and Ray Charles' "Unchain My Heart." The latter gave him an opportunity to talk about his father, John L. Nelson. "I thought I would never be able to play like my dad," he said. "And he never missed an opportunity to remind me of it."
The Piano & a Microphone tour began properly nearly a month later, on Feb. 16 at the State Theatre in Melbourne, Australia. He wrapped up the Australia and New Zealand dates nine days later at the Perth Arena in Perth, one of only two stops over the course of the tour where he didn't play two shows.
He then returned to the U.S., beginning Feb. 28 at the Paramount Theater in Oakland, and hitting that city's Oracle Arena a few days later (the other date with only one show). Dates in Montreal and Toronto followed, but he postponed the April 7 date at Atlanta's Fox Theatre, citing the flu. He made up the night a week later; however, on the flight home, his plane was forced to make an emergency landing in Moline, Ill., where he was taken to a hospital and treated with Narcan, a drug usually given to those who suffer opioid overdoses.
Prince returned to Paisley Park the next morning. Less than a week later, on April 21, he was found dead in the building's elevator. With hindsight, it seems possible that in addition to finding a a new way to challenge himself creatively, the solo piano tour was designed to reduce wear and tear on Prince's body.
While there had been no other shows announced, the St. Louis Post-Dispatch reported that Prince had made plans to play the Fox Theatre in St. Louis on April 18. The date was never announced, however, because Prince wasn't sure if he would be well enough to perform.
Piano & a Microphone was later used as the title for the first posthumous release comprised of material from Prince's vault. It was a demo tape of songs he recorded at his home in 1983.
Hear "I Wanna Be Your Lover" and "Dirty Mind" From Paisley Park in 2016
Prince, Jan. 21, 2016, Chanhassen, Minn., Set List
1. "Baby"
2. "I Wanna Be Your Lover"
3. "Dirty Mind"
4. "Do Me, Baby"
5. "Something in the Water (Does Not Compute)"
6. "Free"
7. "A Case of You"
8. "Sometimes I Feel Like a Motherless Child"
9. "The Beautiful Ones"
10. "U'r Gonna C Me"
11. "Condition of the Heart"
12. "Raspberry Beret"
13. "Paisley Park"
14. "Sometimes It Snows in April"
15. "I Love U, But I Don't Trust U Anymore"
16. "The Ballad of Dorothy Parker"
17. "Unchain My Heart"
18. "Baltimore"
19. "Rock and Roll Love Affair"
20. "Starfish and Coffee"
21. "The Breakdown"
22. "Anna Stesia"
Prince Year by Year in Photographs