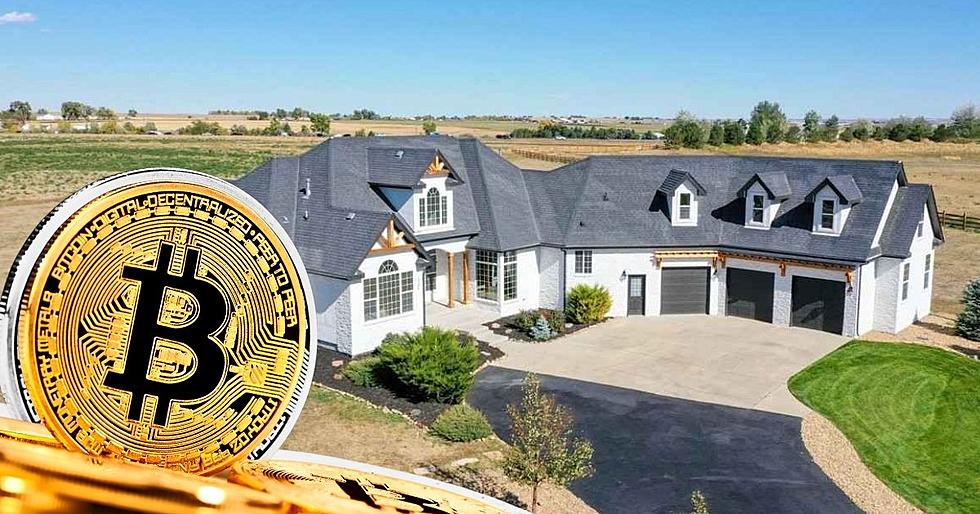 You Could Buy This $1.39 Million Home in Colorado with Cryptocurrency
Ricky Johnson Brokered by: RE/MAX Alliance Fort Collins South Office-Canva
Did you happen to invest in cryptocurrencies and are now looking to cash some of your Bitcoin in for a Colorado home? There is an opportunity for you to purchase a home located in Mead for $1.399 million, and you can buy the home with Bitcoin.
The home, listed on Realtor, is located at 3796 Vale View Drive and offers are being accepted to purchase with cryptocurrency. The four-bedroom, two-and-a-half-bathroom home has a total of 6,030 square feet of living space on 3.79 acres of land.
The home, built-in 2007, has been recently renovated and comes with a loft located above the garage. The listing states that the ceilings are high enough that you will probably have to purchase a new ladder after you purchase the home.
Don't want to pay in Bitcoin? According to Realtor's Monthly Payment Calculator, a twenty percent down payment of $279,800 plus closing costs would give you an approximate monthly payment of $5,961. This monthly payment is based on a thirty-year, fixed-rate loan of 3.248 percent. The monthly payment includes principal, interest, property tax, home insurance, and homeowner's association fees.
If you would like to learn more about this $1.399 million Mead home that can be purchased with Bitcoin, you can see the listing in its entirety HERE.
Source: Realtor
You Could Buy This $1.39 Million Home in Mead, Colorado With Cryptocurrency
Want to trade some of your Bitcoin for a home in Colorado? We have found a home that will accept Bitcoin as payment.
Colorado Adobe Ranch Style Home on 20 Acres Selling for $899K
You could own a rustic adobe ranch-style home in Parker for $899K
Take a Look Inside a $16.9 Million Vail Townhome
Take a peek inside a multi-million dollar Vail townhome that is only a few steps away from Gondola One.
This is What a $13.8 Million Penthouse in Cherry Creek Looks Like
The listing states this $13.8 million penthouse in Cherry Creek is for the privileged few that seek only the finest that life has to offer.
This Retro Colorado Home Has a Ton of Shag Carpet
If you are looking for an affordable, retro-style home, check out this home listed for $298k.