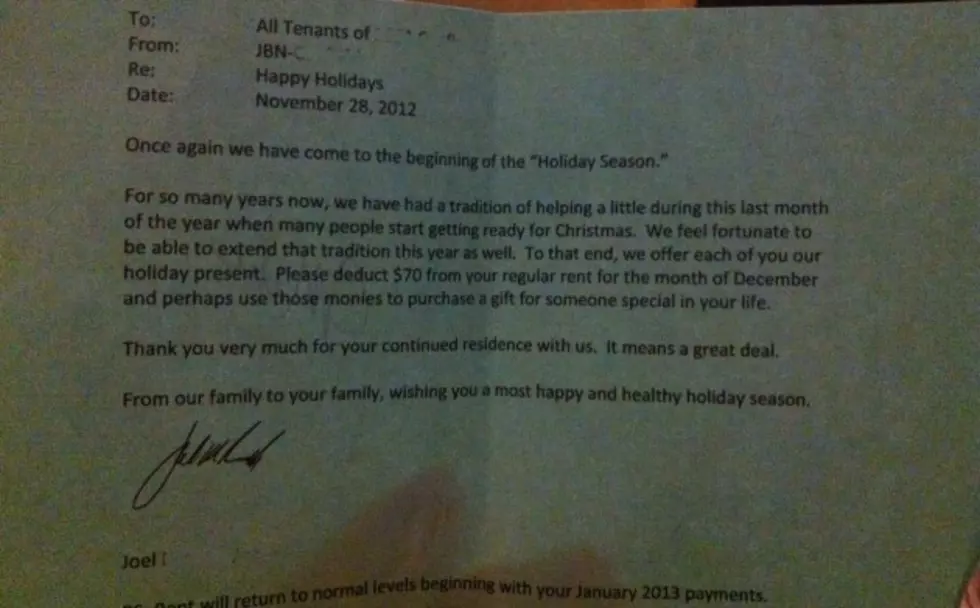 Landlord's Generous Christmas Gesture Goes Viral
Reddit
When you hear a story about a landlord, it's usually an angry tale concerning neglect or some kind of funny business with a security deposit. Instead, this holiday season we present a tale that will make any heart grow three sizes.
Joel, who owns a Los Angeles Apartment building, is clearly one of the good landlords. Last week he sent a letter to all of his tenants which requested that they "please deduct  $70 from your regular rent for the month of December and perhaps use those monies to purchase a gift for somebody special in your life."
Reddit user mikeoley snapped a photo of the generous note and it quickly went viral. In the discussion that followed, many of the posters told similar tales about good landlords.
Have you ever had a landlord that went above and beyond to make you feel welcome? Apparently there are a lot more of them out there than you'd expect. Now, thanks to Joel and his letter, they're getting the internet credit they deserve.