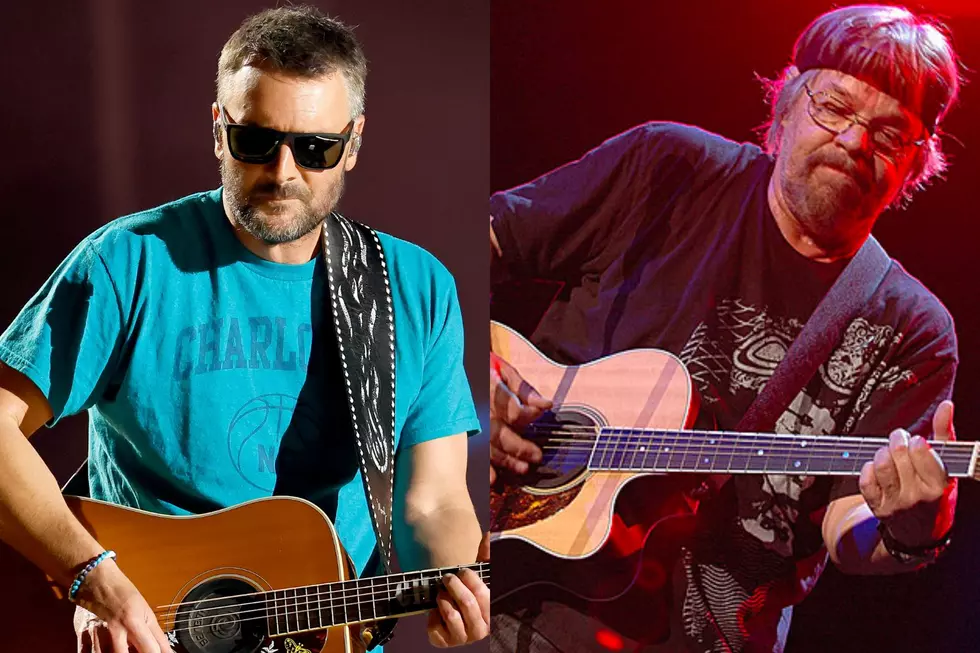 Eric Church Pays Tribute to Bob Seger With Eight-Song Cover Set
Jason Kempin, Getty Images / Patti Ouderkirk, Getty Images
Eric Church honored Bob Seger in his home town on Friday night, playing an eight-song medley of some of the now-retired Detroit rock icon's favorites during a concert at the Pine Knob Music Theatre.
Playing Seger in Detroit has become a habit for the country star, and with good reason. Church reminded the sold-out crowd that Seger came to his rescue back in 2006, when Church was "vehemently replaced" on a Rascal Flatts tour, ostensibly for showing up the headliner. "The next phone call we got was Bob Seger," Church, wearing a Seger T-shirt, recalled, "and it went something to the effect of, 'You can't open for them, but you can open for me,' so that's what we did...I would not be here at all if it weren't for Bob Seger." Ever since then Church has repaid the favor by including Seger material in his Detroit shows.
On Friday he also noted that the last time he was at Pine Knob was on June 21, 2019 to watch Seger's final performance at the amphitheater. "[Sitting] right there, right by the sound board, I watched Bob Seger burn this son of a bitch down," Church said. "So tonight...it just feels like the right thing to do. We're gonna try something we haven't tried..."
The 12-minute medley, which Church and his 12-member band worked up during the afternoon sound check, began with "Turn the Page" then rolled through "Like a Rock," "Roll Me Away," "Mainstreet," "Get Out of Denver," "You'll Accomp'ny Me," "Ramblin' Gamblin' Man" and "Night Moves," adding horns to several of the songs and, not surprisingly, delighting the highly partisan Pine Knob crowd.
Watch Eric Church's Bob Seger Medley
Seger has been largely unheard from since wrapping his Roll Me Away: The Farewell Tour on Nov. 1, 2019 in Philadelphia.
Friday was the second show of Church's The Outsiders Revival Tour and also included a cover of Little Feat's "Sailin' Shoes" and acoustic encore rendition of his first hit, "Springsteen."
The Most Awesome Live Album From Every Rock Legend
Some of these concert recordings sold millions of copies, while others received little fanfare. Still, they remain the best of the best.