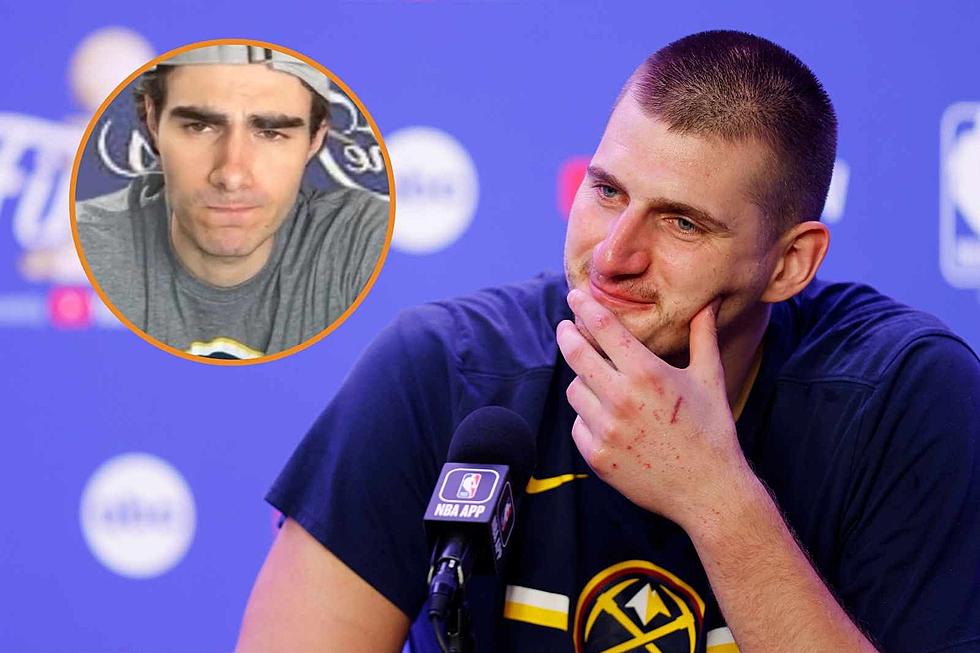 Denver Nugget Jokic's Humbleness Gets Made Fun of in Glorious Video
Getty Images, Tik Tok/@AndreaAngioLillo
You can say a lot of things about Nikola Jokic of the Denver Nuggets: MVP, NBA Finals Champion, Serbian, father, husband; one of the most-loved things about Nikola is how humble he is.
A TikTok performer has put together a great parody of how Nikola shrugs off any accolades during press conferences. While the questions thrown at this "Nikola" are far-fetched, you can absolutely see Jokic answering them the way the performer does.
The performer does a great job of nailing Jokic's accent, for sure. He must have watched at least of few of his press conferences, as well, to come up with not only the "questions" but the "ah, shucks" attitude.
PREMISES IN THE VIDEO
Nikola scores every point in the game while also having 35 assists.
Nikola saves a fan from choking on a pretzel while also nabbing three rebounds.
Nikola carries every fan to safety when a fire breaks out.
Michael Porter Jr. almost makes a 3-pointer.
Nikola has one extra gift for everyone before leaving the press conference.
In the video, "Nikola" is very "no big deal" about all the things that make him so great while being super excited for Michael Porter Jr., which tracks, as Nikola is always supportive of his teammates.
It's a great video highlighting how very humble Nikola Jokic is when it comes to his basketball talents. He'll go down as one of the best to ever play the game and one of the most likable humans that the sport could hope for.
MORE Nuggets: Pictures From the Championship Parade
The 2023 NBA Championship Parade for our Denver Nuggets was absolutely spectacular. Firetrucks from all over Colorado loaded up with Nuggets players and staff and took over 17th Street in Downtown Denver. Here are some pix of the action that we caught at 17th and Wazee just outside of Union Station.
MORE Nuggets? $5M Castle Rock Home Has a Nuggets Court
We don't know who lives here, but we're pretty certain that this home belongs to a Denver Nuggets basketball player.