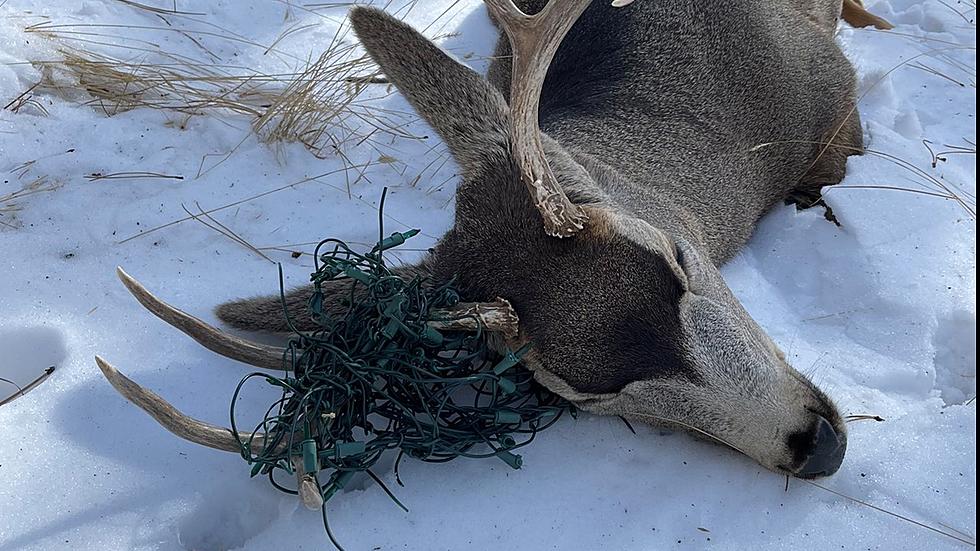 Colorado Buck Gets Rescued From Tangled Up Christmas Lights
Twitter/CPW NE Region
The holidays can be hard on us all, between picking the perfect presents to have to spend all that time with relatives. On the bright side, you weren't this buck.
A lot of folks in Colorado wait until the National Western Stock Show concludes to take down their holiday decorations. It would seem that this buck in Jefferson County would have preferred sooner than that.
Colorado Department of Wildlife Northeast Division (CPW NE) was able to help out this guy on January 5, 2022. The buck got himself into a pretty big mess of Christmas lights. Maybe, the lights were on and he got curious; next thing he knows, he's being tranquilized to alleviate the situation.
Sounds like a couple of Christmas parties I've been to.
If only Christmas didn't happen until after March, because CPW NE reminded folks that deer shed their antlers from mid-January to March.
It's fun to see the joy on the Wildlife Officer's face after freeing the buck from the string of lights. You have to wonder how many times they come upon situations that are nowhere near as 'pleasant,' out in the wild; so to help out this buck, really looks like it made his day.
You Might Be A True Coloradan If You Do These 25 Things
It Gets Cold in the Wild - Check Out the Coldest January Days in Fort Collins Over the Last 25 Years
Over the last 25 years, dating back to 1997, Fort Collins has seen some frigid years as well as some not-all-that-bad years when it comes to how low it's gotten.