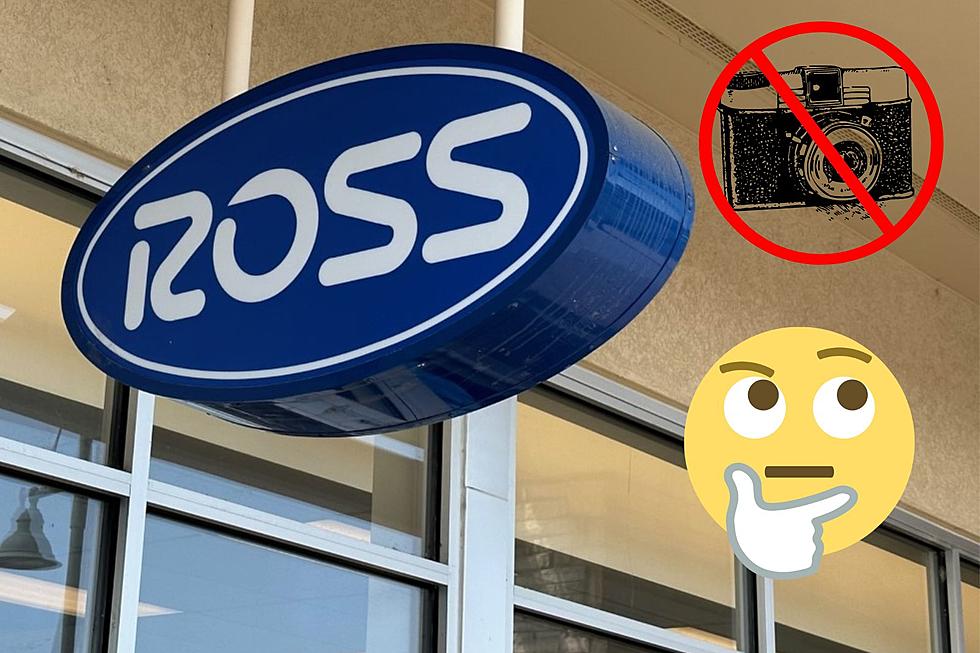 You Cannot Take Pictures Inside Colorado Ross Stores? Is This True?
Big Rob TSM
Is there really a rule that says you cannot take photos or selfies on your cellphone while inside Ross Dress for Less stores in Colorado? Apparently... Here's what happened.
Is Taking Pictures Inside Of Ross Dress For Less Stores Against Store Policy?
I've come across some pretty crazy rules in my time, but this rule, which I didn't even know was a rule, truly takes the cake. My family and I were shopping at the Ross Dress for Less in Longmont on Hwy 119 last week to start to gear up with shorts etc. for summer. I was with my little guy and my wife when my oldest daughter came up and said that she just got in trouble in the store with a staff member and wanted to let us know.  The reason was pretty crazy...
She said she was taking a selfie of her and her sister for their "be real" social media account when they were approached by a Ross staff member asking them if they just took a picture, to which they confusingly answered yes. At that point, the Ross associate told them that taking photos inside the store was not allowed and that they needed to delete the photo. I wasn't there when it happened but they described the interaction as fairly aggressive as far as how close this person got when they were telling her to delete the photos, watching her do it. Wait, is this really a rule?
My wife went to speak to the associate who told her that it in fact was against store policy to take photos inside of the store, even if the picture was of them and nobody else. I would maybe understand if they were taking pictures of staff or other customers but that was not the case here. The associate asked if we needed to speak to the manager, which we did, mostly because we figured this had to be some sort of a mistake.
The Ross store manager confirmed that this was a store policy per their district manager, and you cannot take any photos while inside this Ross store. Mind you, there is no warning of this or any sort of signage whatsoever at the entrance (as shown above). I reached out to Ross to see if I could confirm this policy but never received a reply back.
My wife is under the impression that they saw two high school kids and just assumed that they were up to no good, which happens all of the time. That scenario would make way more sense than a policy that says they cannot take pictures while inside their store. I still don't buy that this is a legit policy.
Funny side note, my son is 6 and is starting to get worried. I asked why, and he goes "We were taking pictures of your shoes, we're going to be in trouble too." Poor kid was freaking out. Have you ever heard of this policy or any other similar policy in any store, anywhere? It's for sure new in my world, especially in a world where people are constantly taking photos and videos for social media, etc. I just don't get it.
We've shopped there for years and years and this was our first really bad experience, but this was a really odd one for sure. If Ross does get back to me with an update, I'll add to this odd story with whatever it is they say. I just can't imagine there is any truth to this, but until then, do not take any pictures if you find yourself inside a Ross Dress for Less store anytime soon...
13 Crazy Colorado Laws That Make No Sense
There are laws everywhere - a lot of them we know about and abide by every day. But, there are others I'm willing to bet you knew nothing about.
Strangest Laws in Colorado You're Probably Breaking Right Now
We all try our hardest to follow the law, even when we don't agree with them. We took a look at some of Colorado's laws and discovered a few that make no sense at all.
We know drinking and driving is illegal, but did you know riding a horse while intoxicated is illegal. Or take a mule or donkey into a building could get you in trouble.
And whoever threw a missile at a car is someone we'd like to meet.
Take a look at Colorado's most outrageous laws on the books.