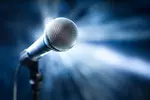 Two Comedy Legends Come to Denver
nikkytok
Two early 2000s comics are back on tour and making Denver a stop!
Happy Gilmore himself, is on a tour, but not on a golf tournament. The Waterboy himself is touring for a his stand up tour that is making a stop in Denver, at the Bellco Theater. Tickets are going fast to see the movie and comedy legend, so loved by all those that grew up in the early 2000s. You can catch the legend, Adam Sandler , Februrary 5th, in Denver. I would get tickets fast to catch him though because he will for sure be sold out quick.
Get ready to take off your shoes and put them in the middle of the dance floor because all girls want to do is just dance. The most memoriable and quoted stand up comedians of the early 2000s is back on tour for all those that missed out on seeing him before he became an actor along side Jessica Simpson and Jessica Alba. The two finger hand signal that is difficult to master will be in Denver at the Bellco this next year. Dane Cook is coming to Denver April 13th. Don't miss out on seeing these once in a lifetime comedy shows!