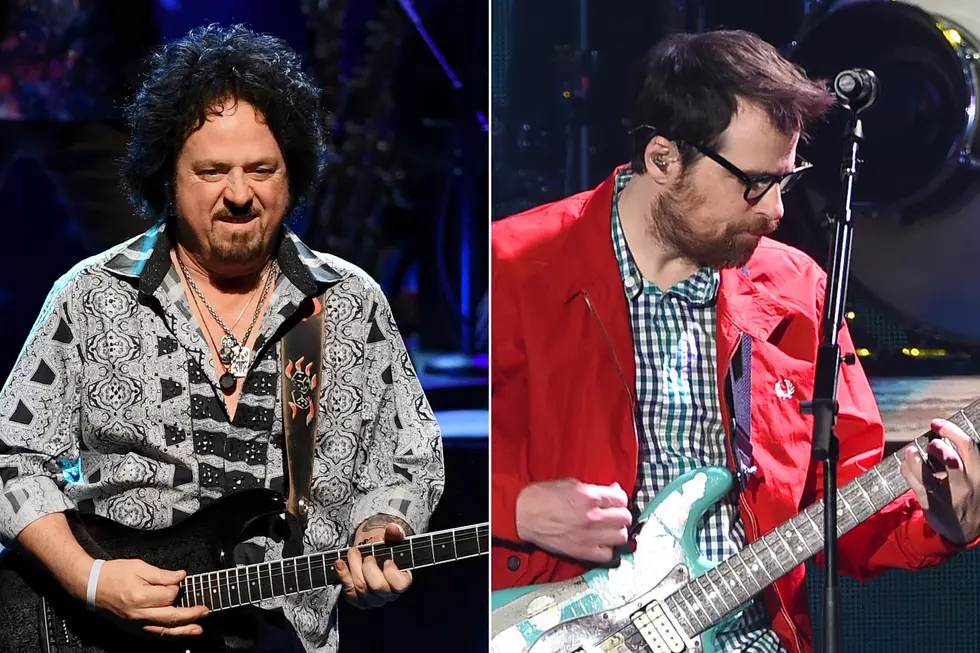 Watch Toto Cover Weezer's 'Hash Pipe'
Ethan Miller / Kevin Winter, Getty Images
Toto premiered their version of Weezer's 2001 hit "Hash Pipe" last night at the Centre in Vancouver for Performing Arts. The veteran band recently recorded a studio version of the song to pay back Weezer for covering their own smash song, "Africa."
"We figured since we were smoking hash before they were born, that's what we should do," guitarist Steve Lukather quipped when introducing the song onstage.
"I'm not condoning this sort of behavior, but we were young once. Anyway, so we've never done this before. This is our tribute to Weezer, God bless and thank them, and see what you think of our version of their song."
You can watch the performance below.
Last week, Lukather and Toto keyboardist Steve Porcaro appeared on Los Angeles' KROQ to discuss their "Hash Pipe" cover, which is set to be released in a few weeks. Porcaro reveled that it took them a while to figure out which Weezer song to tackle.
"You know, we listened to 'Beverly Hills,'" he said. "I wanted to maybe even do a real 'Africa'-type version of that, I was thinking about for a minute. But you know what? We wanted to make it different, but we wanted to do something rock 'n' roll. I wanted to show everyone what a good rock 'n' roll band we can be. I love the band. I love their music. [Toto singer] Joseph [Williams] and I were listening to different ones trying to figure out which ones he'd like to sing, and we settled on 'Hash Pipe.'"
"I thought 'Hash Pipe' had a better melody," Lukather added. "I love the message, you know what I mean? ... And we wanted to do it justice. We wanted to do our thing to it, but still pay respect to it. And we added a couple of our kitschy little things to it, which I hope that they laugh [at]. We wish we could be in the room when they hear it."