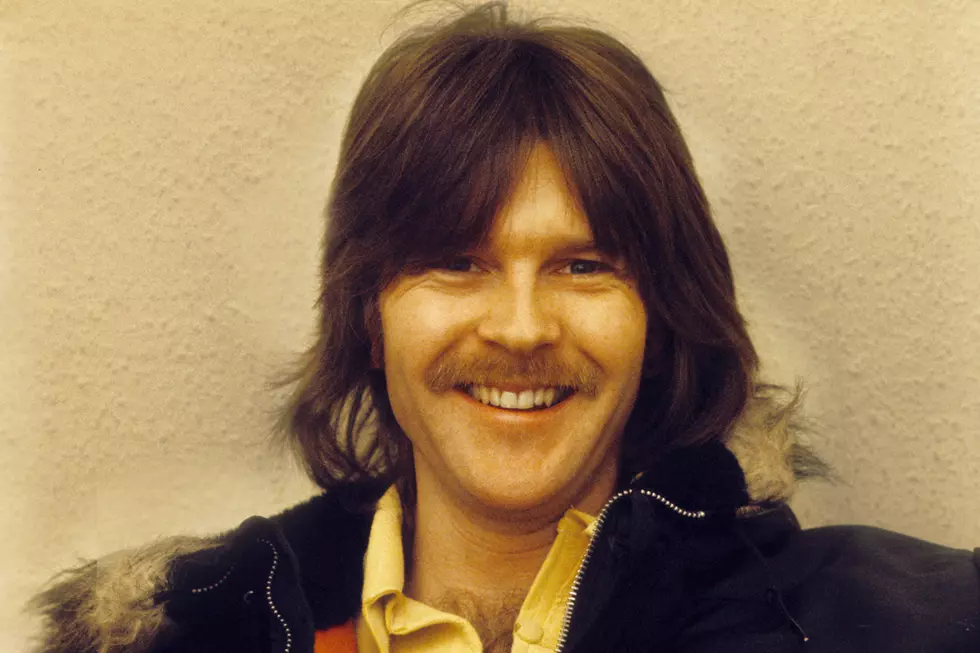 Top 10 Randy Meisner Songs
Gijsbert Hanekroot, Getty Images
Not so surprisingly, the Top 10 Randy Meisner Songs are dominated by music from his 1971-77 tenure with the Eagles. But Meisner also collaborated with Poco before he joined the Eagles, with Ann Wilson from Heart, Black Tie (who charted with their cover of Buddy Holly's "Learning the Game") and various former members of his old bands in a second career that began with great promise in the late '70s.
Meisner first crossed paths with his future replacement in the Eagles when both he and Timothy B. Schmit auditioned for Poco in the late '60s. Meisner got the gig, and later played on the band's debut album, Pickin' Up the Pieces. But Meisner quit the group before the record was released in May 1969, only to find his vocals had been replaced by George Grantham's. He wouldn't get back together with Jim Messina and Richie Furay – both former members of Buffalo Springfield – until Poco reunited for 1989's Legacy.
By then, he'd worked with James Taylor and Linda Ronstadt, then co-founded the Eagles with Don Henley and Glenn Frey. Over a six-album tenure, Meisner notably took the lead on "Take It to the Limit" – the Eagles' first million-selling single – before he tired of fame's white-hot spotlight and departed.
Meisner released a trio of solo albums through 1982, including two self-titled releases, but none could get higher than the No. 50 finish of 1980's One More Song. Meisner then returned to sideman work, occasionally touring until health issues forced him off the road in the late '00s. Our list of Top 10 Randy Meisner Songs touches on every part of that rich, if often underrated legacy.
10

From: 'Legacy' (1989)

This was a make-good moment for Meisner, whose vocals were unceremoniously erased from Poco's 1969 debut album after an acrimonious split. Twenty years later, he was singing with that same reunited lineup, and they hit the Top 40 with this song, co-written by Richard Marx for what would become Poco's second gold-selling album.

9

"Too Many Hands"

The Eagles

From: 'One of These Nights' (1975)

Co-written with Don Felder, who'd just become an official member of the Eagles, "Too Many Hands" includes a smart twist on an old religious trope – and, in keeping with Felder's arrival, one of the final long strides away from the pastoral country-rock sound that had previously dominated the band's albums. Felder tangles with Glenn Frey on a dueling guitar-dominated outro, while Don Henley happily bangs away on the tablas.

8

From: 'Randy Meisner' (1978)

A mini-Eagles reunion of sorts, "Bad Man" was co-written by Meisner's longtime former bandmate Glenn Frey and the group's regular collaborator J.D. Souther. It was also featured on the soundtrack to 1978's FM, which included their onetime boss Linda Ronstadt, too. Elsewhere on his debut solo release, Meisner makes another pass at "Take It to the Limit" (which shows up later on our list of Top 10 Randy Meisner Songs).

7

"Strangers"

Randy Meisner (With Ann Wilson)

From: 'Randy Meisner' (1982)

Heart's Ann Wilson joins Meisner on a gorgeous reworking of "Strangers," a hard-to-find cut from Elton John's lightly regarded years working with Gary Osborne instead of Bernie Taupin. (This song originally appeared as the B-side of the title-track single from John's disco-focused 1979 album Victim of Love.) But "Strangers" couldn't push Meisner's second self-titled album any higher than No. 94, and he hasn't released an album of new material since.

6

"Try and Love Again"

The Eagles

From: 'Hotel California' (1976)

A soaring anthem about believing against all odds, this was Meisner's final co-writing credit (and his final lead vocal) with the group he co-founded. "Try and Love Again" is also reportedly the only Hotel California cut that's never been performed live by the Eagles, a sign of things to come. Meisner was always uncomfortable with fame, and as his band went supernova in the late '70s, he made an inevitable dash for the exit.

5

From: 'On the Border' (1974)

Meisner seems to be channeling George Harrison to great effect as part of an album that also included his banjo-driven take on Paul Craft's "Midnight Flyer." There's an interesting juxtaposition between light and dark on this cut, (which served as a B-side to the Top 40 hit "Already Gone"), as Glenn Frey's scalding turn on slide works in contrast to the melancholy sweetness of Meisner's vocal.

4

"Daughter of the Sky"

Randy Meisner

From: 'Randy Meisner' (1978)

A heartfelt song of romantic confusion, "Daughter of the Sky" reanimates the gentle shyness of Meisner's earliest Eagles songs – pointing the way for what could have been a successful solo career. But Meisner never took to the spotlight, instead spending much of the era before his retirement working as a sideman. His best-known work was alongside the likes of James Taylor, Dan Fogelberg, Richard Marx and former bandmates Joe Walsh and Richie Furay.

3

"Saturday Night"

The Eagles

From: 'Desperado' (1973)

Meisner co-wrote the twilit "Saturday Night" along with Don Henley (who sings lead here), and memorably steps forward for his own turn at the mic during the song's lonesome bridge ("She said tell me; oh, tell me ..."). Glenn Frey and Bernie Leadon, who add some lush backing vocals, are also credited as co-writers.

2

From: 'Eagles' (1972)

This final track on the Eagles' country-tinged debut album does more than hint at where they'd eventually land toward the end of Meisner's tenure. "Tryin'" -- with its rumbling hook, eruptive guitar and brief closing vocal reference to the Rolling Stones' "You Can't Always Get What You Want" -- was a palette-clearing blast of harder-edged rock.

1

"Take It to the Limit"

The Eagles

From: 'One of These Nights' (1975)

Any hopes Meisner had of staying safely in the shadows ended with the No. 1 track on our list of the Top 10 Randy Meisner Songs. "Take It To the Limit" rose to No. 4, the Eagles' highest-charting position at the time, putting additional pressure on him to hit the song's emotional high note onstage night after night. Panic apparently began to creep in, and Meisner reportedly asked that the song – despite its massive popularity – be removed from the band's sets. When the rest of the Eagles refused, Meisner quit. The vocal was later taken over by Glenn Frey.