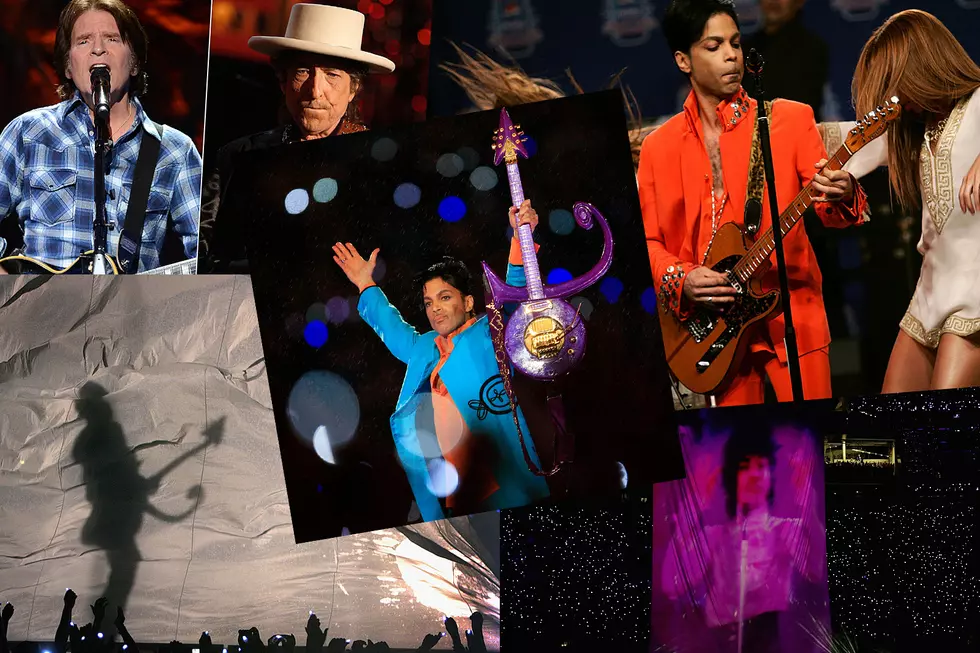 10 Coolest Prince Super Bowl Stories
Getty Images
In one of the most dazzling Super Bowl halftime performances of all time, Prince took fans from around the world on a journey through his musical persona -- all in the pouring rain.
Though the Purple One's Feb. 4, 2007 performance at the big game lasted just 12 minutes, it took months to prepare. "He said he wanted to do the greatest Super Bowl show ever done," keyboardist Morris Hayes later recalled to the Ringer. "He just said, 'We really want to think about what we do and not be like everybody else.' We kind of sat in the studio and talked it out. ... He just started thinking about the show and piecing it together in his head."
Through stormy weather, unexpected complications and a setlist that included a few surprises, Prince delivered one of the defining performances of his iconic career. We're looking back on 10 of the most unforgettable Prince Super Bowl stories below.
1. Prince's Hair 
Known for his sex symbol status, Prince very rarely did not look good on stage. But at the 2007 Super Bowl, the onset of torrential rain threatened to ruin his entire ensemble -- including his hair.
"We had just finished his hair, his hair was gorgeous...and then right before, it started to pour down raining," recalled Kim Berry, Prince's longtime hair stylist. She was floored when, despite her objections, Prince emerged for the show wearing a durag. "He comes up out of the stage through the elevator and he has a durag on and I'm like, [gasps]. Where did he get that from?"
But the audience, in any case, was more enamored by Prince's apparent ability to dodge between rain drops.
"That man is just magic," Berry said. "He's the only man that we know that can dance under water and not get wet."
2. The Show Must Go On: How One Man Kept the Lights on in the Rain
In its 41 years of operation, the Super Bowl had never been played in the rain. With dozens of moving parts and hundreds of electrical wires, Prince's stage miraculously stayed lit after a cable was accidentally cut thanks to the quick thinking of one member of the team.
"There was a man on our lighting crew whose name was Tony Ward," said executive producer of the show, Don Mischer. "And Tony, realizing we were now counting down to going on the air, took his pliers and stripped the insulation off the three cables. And he inserted them into a plug, just raw, and held that for the entire 12-and-a-half-minute duration, in the rain. To keep the lights and all that working."
Read More: How One Man Risked Electrocution to Save Prince's Super Bowl Show
3. Prince Gives a Pre-Super Bowl "Press Conference"
Traditionally, Super Bowl halftime performers sit down for a press conference the day before the game, but Prince, known for his aversion to interviews, decided to take things in an entirely different direction.
"We hope we don't rock your ears too much," he said to the room as he took the small stage with his guitar and backing vocalists. "Contrary to rumor, I'd like to take a few questions right now."
A reporter began to speak but was then cut off by Prince launching into a cover of Chuck Berry's "Johnny B. Goode."
Read More: When Prince Rocked His Super Bowl Press Conference
4. Prince Surprises the Foo Fighters with a Cover of "Best of You"
As he played his way through his 12-minute set, Prince seamlessly transitioned from one song to the next, eventually landing on "Best of You," the lead single off the Foo Fighters fifth album, In Your Honor. The band members were completely thrown off guard, but ecstatic to hear it, given the somewhat rocky relationship the band had with Prince leading up to the performance.
"Dude, I have no idea why he did it, but I'd love to find out," drummer Taylor Hawkins told MTV News shortly after the show.
Read More: Prince Denies, Then Surprises, Then Ghosts the Foo Fighters
5. Prince Covers CCR, Queen and Bob Dylan
The Foo Fighters weren't the only cover of the evening. Prince also tore through part of Queen's "We Will Rock You," snippets of Creedence Clearwater Revival's "Proud Mary" and fellow Minnesota native Bob Dylan's "All Along the Watchtower."
"Honored that Prince chose to perform 'Proud Mary' at the Super Bowl halftime show in 2007," CCR's John Fogerty wrote on Facebook on the day of Prince's death in 2016. Prince once noted that "Proud Mary" was the first song he ever played on guitar. "You were truly one of a kind. Rest in Peace."
Read More: How Prince 'Made History' at the Super Bowl Halftime Show
6. Cyndi Lauper Was Among Those Inspired by the Performance

Cyndi Lauper, watching the show live on TV, was amazed watching Prince battle the elements as he performed.
"And all of a sudden, I saw how he accepted and worked with the rain and the wind," she wrote on Facebook. "I thought, 'This is God's child, right in front of us, live.' It was one of the most inspirational performances I'd ever seen. So in 'Same Ol' Story,' the lines 'People slipping in the rain, I watch them get up again / It makes me feel like I can too' are about him."
Read More: How Prince's Super Bowl Halftime Show Inspired Cyndi Lauper
7. Justin Timberlake Pays Tribute to Prince at the 2018 Super Bowl
In 2018, two years after Prince's death and 14 after his own unfortunate 2004 Super Bowl incident involving Janet Jackson's exposed breast, Justin Timberlake returned to the halftime show, which was being held in Prince's hometown of Minneapolis. But this time he came with a touching tribute to Prince. A digitized duet of "I Would Die 4 U."
"It's a moment for me, if I'm being quite honest," Timberlake said on Jimmy Fallon's The Tonight Show. "Because he's always been the pinnacle of musicianship for me...I just wanted to use that opportunity to do something special for this city but, most of all, for my favorite musician of all-time."
Read More: Remembering Justin Timberlake's Super Bowl Tribute to Prince
8. Prince Takes His Super Bowl Prep Seriously
When Prince was initially approached by representatives from the NFL to do the 2007 halftime show, he knew straight away that he wanted his performance to be a cut above the rest.
"...he had a little portable DVD player, because that's what you had at the time," said Prince's tour promoter, John Meglen. "He recalled a dinner Prince hosted with himself and David Saltz from the NFL. "We weren't going online at that point. He had a bunch of the previous Super Bowl halftimes. And he basically was critiquing them, saying, "This was good but I wouldn't have done this."
Prince got the job.
9. Post-Game Complaints for Prince and Snickers
After the game, the Federal Communications Commission received roughly 150 complaints, some for Prince, some for a Snickers commercial. With the Timberlake/Jackson wardrobe mishap from three years earlier still fresh in their minds, those who filed complaints against Prince were chiefly concerned with one moment: the guitar solo in "Purple Rain." As a sheet rose from the stage floor, the shadow of Prince and his Love Symbol guitar offered up a considerably suggestive, phallic image.
10. Proud of his Performance
Now hailed as one of the greatest Super Bowl shows of all time, Prince's performance meant the world to not only his fans, but to himself. Years later, he would note that evening as one of the most important in his career.
"I was thinking we could start the book with the Super Bowl," his biographer Dan Piepenbring remembered Prince saying to him in March, 2016, one month before his death, "What it feels like to get to that moment."
"You could tell he was very happy with his performance," said Ruth Arzate, Prince's personal assistant. "I was like, 'You made history.' And he was like, 'I always make history.'"
Where Are Prince's Bandmates Now?