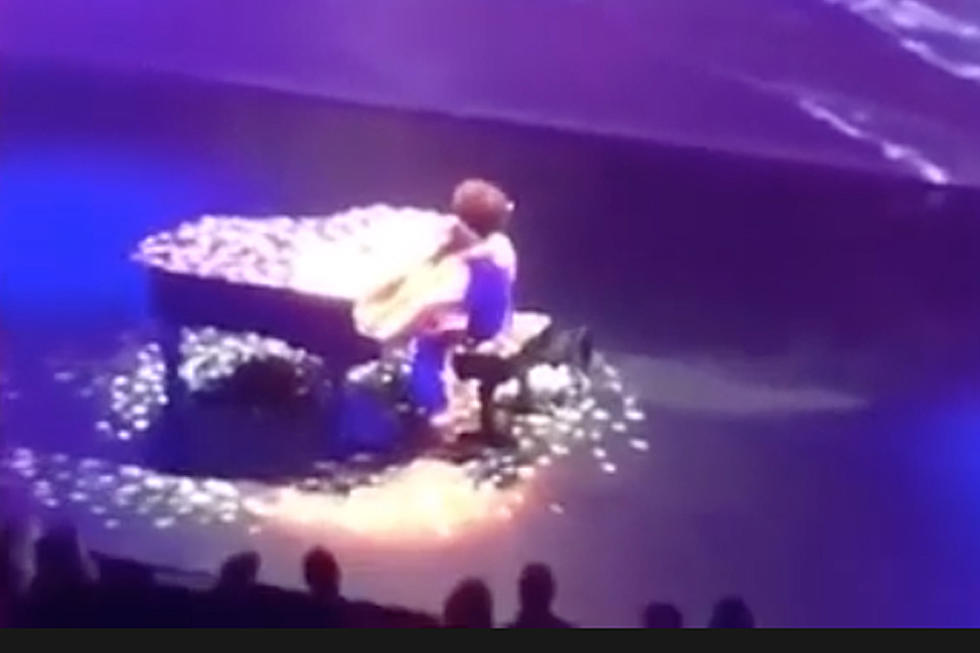 5 Years Ago: Prince Plays His Final Concert
YouTube / Instagram
On April 14, 2016, Prince performed two concerts in Atlanta. The second, which began at 10PM local time, would be his last.
After spending much of his career fronting mass ensembles - including the Revolution, New Power Generation and 3rdEyeGirl - Prince had elected to hit the road as a solo artist. His Piano & a Microphone tour was designed to be an intimate affair, giving fans the experience to relish in Prince's unmatched musical force.
"I'm doing it to challenge myself, like tying one hand behind my back, not relying on the craft that I've known for 30 years," Prince explained to the Guardian, noting that he'd be abandoning the guitar for the piano. "I won't know what songs I'm going to do when I go on stage, I really won't. I won't have to, because I won't have a band. Tempo, keys, all those things can dictate what song I'm going to play next, you know, as opposed to, 'Oh, I've got to do my hit single now, I've got to play this album all the way through,' or whatever. There's so much material, it's hard to choose. It's hard. So that's what I'd like to do."
The tour had kicked off that January at Paisley Park with a pair of warm-up shows before Prince headed to Australia. He returned to North America at the end of February, playing Oakland, Toronto and Montreal before his stop in Atlanta.
Prince's performance in the Peach State capital had originally been scheduled for April 7, however health issues forced the musical icon to postpone his concerts by a week. As he took the stage on the 14th, Prince apologized for the rescheduling. The enraptured audience didn't seem to care.
"It was more like a church service than a concert," Jake Reuse, a fan who was in the crowd for Prince's final performance recalled to Variety. "It was such a racially diverse crowd. Everyone was singing and dancing."
Besides using a cane - something he had been doing on and off for several years - Prince showed no signs of failing health. His voice was as strong as ever and he displayed a youthful exuberance while on stage.
"He put a lot of energy into it," recalled Alba Anthony, another fan who was there that night. "He'd jump up and do piano tricks where he'd turn to the side and sort of cross his legs."
Prince opened his final set with a cover, his rendition of the Staples Sisters' "When Will We Be Paid." From there, he moved into deeper album cuts "The Max," "Black Sweat" and "Girl." Later, he'd deliver such legendary tracks as "I Would Die 4 U," "Little Red Corvette" and "Nothing Compares 2 U." He even found time to mix in a cover of "Linus and Lucy," the classic jazz standard made famous in the Peanuts cartoons.
Always the consummate entertainer, Prince would not be limited to just one encore. Instead, he returned to the stage three times after initially saying goodbye. His final performance of the evening was a medley of three legendary tunes - "The Beautiful Ones," "Diamonds & Pearls" and "Purple Rain."
And then, in a swirl of piano notes and thunderous applause, it was over. Prince took his bow, thanked the crowd and exited the stage for the last time.
On April 15, Prince's plane was forced to make an emergency landing at Quad City International Airport in Moline, Ill. He was rushed to the hospital, where he was treated for dehydration, influenza and complications from opioids. Doctors advised him to stay, but the musician returned home instead. He died on April 21 after being found unconscious in an elevator at Paisley Park.
Though Prince's final concert has never officially been released by his estate, bootlegs of the performance have been circulated online. Listen to the closing songs of his last show below.
Prince's History at the Grammys