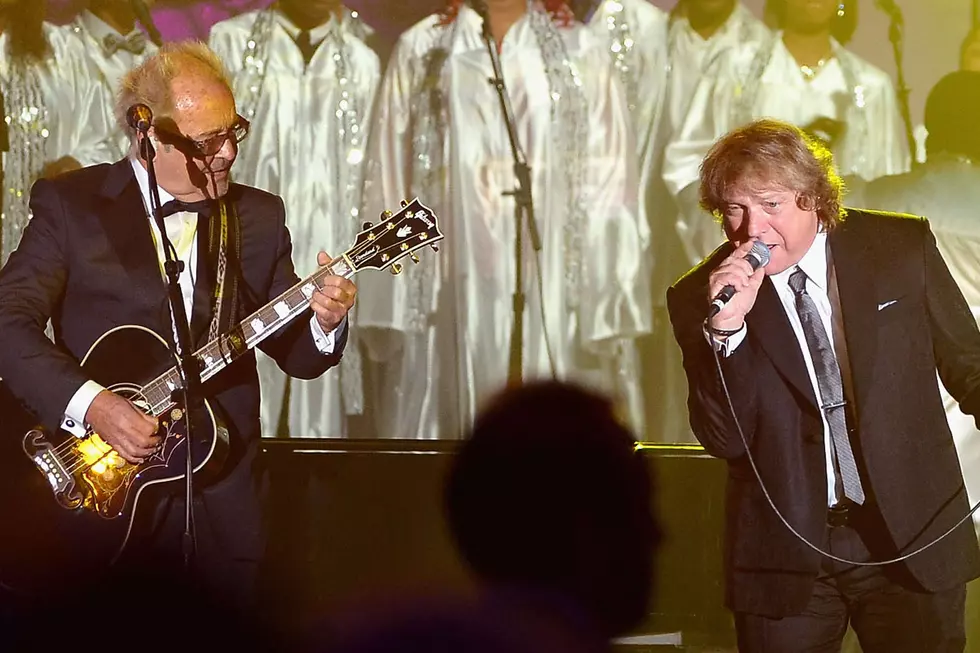 Lou Gramm Would Like to Finish 'Rough Ideas' With Mick Jones
Theo Wargo, Getty Images
Foreigner's Mick Jones has been considering rekindling his songwriting partnership with singer Lou Gramm for a possible EP. As the duo prepares to take the stage together for a special reunion concert, Gramm spoke about the possibility of working on some new songs with the guitarist.
"I hope that it happens, because I have those rough ideas to the songs that he's speaking of," he said on a new episode of Rock Talk With Mitch Lafon. "The song ideas that we have are really, really, really different and interesting. I would like nothing more than to complete those with him."
Gramm added that he's had these ideas since 1999-2000, roughly five years after 1994's Mr. Moonlight, his last album as a member of Foreigner. Earlier this year, Jones gave us a little more detail on those songs, but couldn't commit to a time frame for when the two would be able to work on them.
"There's about 10 or 12 [tracks], which I've been listening to," he said. "I don't quite know when we're going to have a chance to do that, but it wouldn't be before the fall. I'm aware that they're there, but I think we have to concentrate on one thing at a time. You know, otherwise the projects … it's not good to be thinking of three or four different things at once."
The reunion featuring Gramm, the other three surviving original members -- Dennis Elliott, Al Greenwood and Ian McDonald -- and bassist Rick Wills, who took over for the late Ed Gagliardi in 1979, is set for Aug. 4 at the Buffalo Chip Rally in Sturgis, S.D. It follows a pair of dates during last year's 40th anniversary tour where the older members joined the current lineup for a handful of songs. Gramm added that he's "really looking forward" to the Sturgis show and that more will be forthcoming, but nothing has been determined yet.
"I don't know where there's any more coming up," he said, "but I know there's going to be some coming up. Not 30 shows, I'm talking about maybe about five or six shows."
Gramm's second stint with Foreigner ended in 2003; the band's current singer, Kelly Hansen, joined two years later. Admitting that he "didn't feel good" about Jones going on without him at first, Gramm has since come to accept it, although he still has a few reservations.
"As time went by, I understood why he did that, and I think they play the hits very well too," he said. "I'm not real thrilled with their own songs. They lack that certain something. But when they play our old hits, they do it well. Kelly sings it good, the band plays it well, and you put Mick right in there and you're good."