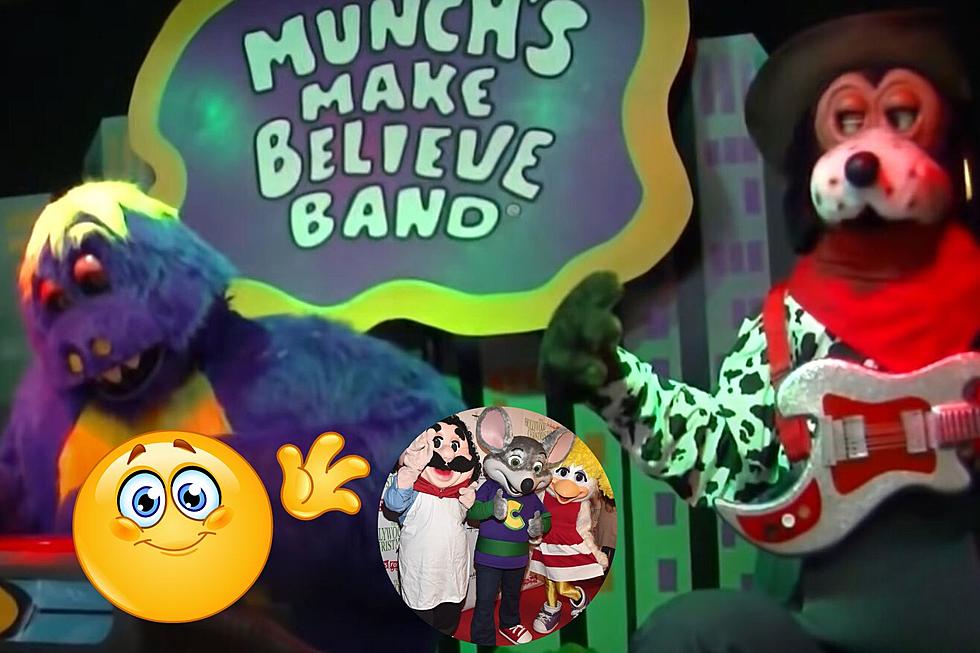 Every Colorado Chuck E. Cheese To Remove Animatronics. What Happened?
YouTube Screenshot / Getty / Canva
Going to a Chuck E. Cheese in Colorado almost feels like a tradition that everybody participates in at one time or another. Now, the company has announced a major change with its famous animatronics that will change the landscape of every single location in Colorado.
No More Animatronics At Colorado Chuck E. Cheese Restaurants
We all know the jingle... "Chuck E. Cheese's..." Finish it...
It's a place where we could all as kids, even as adults, be a kid. I have many fond memories of going to different Chuck E. Cheese's around Colorado growing up.
The games, the rides. Remember their ball pits? As a kid, those always seemed like the biggest ball pits in the world. They also had the pizza and salad bar, but that was always the second-best reason to go there.
Chuck's was all about the fun environment. Part of that magical experience as a kid was their famous animatronics... And now, those are officially a thing of the past in Colorado.
Big Changes Coming To Colorado Chuck E. Cheese Restaurants
As a kid, you didn't live until you got to experience a live Anatronics show from Chuck E, Cheese, and Munch's Make Believe Band. Each Chuck E. Cheese location featured a stage with these loveable characters including Mr. Munch who played the keyboard, Pasqually who played the drums, Jasper T. Jowls who rocked on the guitar, and Helen Henny who took care of the vocals.
It was truly tough to beat a birthday party at Chuck's. I remember, for whatever reason, peaking under the curtain in between acts to see the "sleeping" animatronics. For an 8-year-old, it was pretty terrifying. Is that the reason that they're removing all of the robots from Colorado locations?
Why Is Chuck E. Cheese Removing Its Animatronics?
It doesn't appear to have anything to do with any certain incidents or complaints, and contrary to popular belief, it also has nothing to do with the new "Five Nights At Freddy's" that dropped a few weeks ago, which was inspired by CEC.
These beloved character animatronics are "starting a residency" which means they will be an exclusive attraction to a Chuck E. Cheese location near Los Angeles California, as explained right from the mouse's mouth in this recent "press conference."
The Northridge, California location will be the exclusive home of this updated and modern version of the famous Make Believe Band. In place of the band nationwide, the company has already begun upgrading many locations, including Greeley's Chuck E. Cheese, with state-of-the-art dance floors, giant video walls, and more as seen in the pictures below.
The new interactive dance floor and giant video walls look fantastic!
I loved the old robot band, but kids in 2023, they'll probably dig these upgrades way more, as they're super interactive and fun. Will you miss the old CEC animatronics? I guess we could all road trip it to LA if we wanted...
Colorado's Newest Fun Center Is Now Open And It's Fantastic
While this Colorado Fun Center sat abandoned for nearly 15 years, the Harper Family has re-stored and re-opened one of Northern Colorado's most favorite pastimes. The newly named "Rush Event Center" on Highway 85 in Evan's Colorado, is back, and better than ever! Let's take a look around this beautiful local family fun center.
Gallery Credit: Big Rob TSM
This Colorado Slide & Action Park Is One Of The Best In The Country
We got to visit Colorado's newest action park and it was so much fun. These slides get some serious air!
Gallery Credit: Big Rob TSM
All the Businesses Colorado Sadly Lost This Year, So Far
While the list is much longer, here are some of the Colorado businesses that we were most sad to see go in 2023.
Gallery Credit: Big Rob