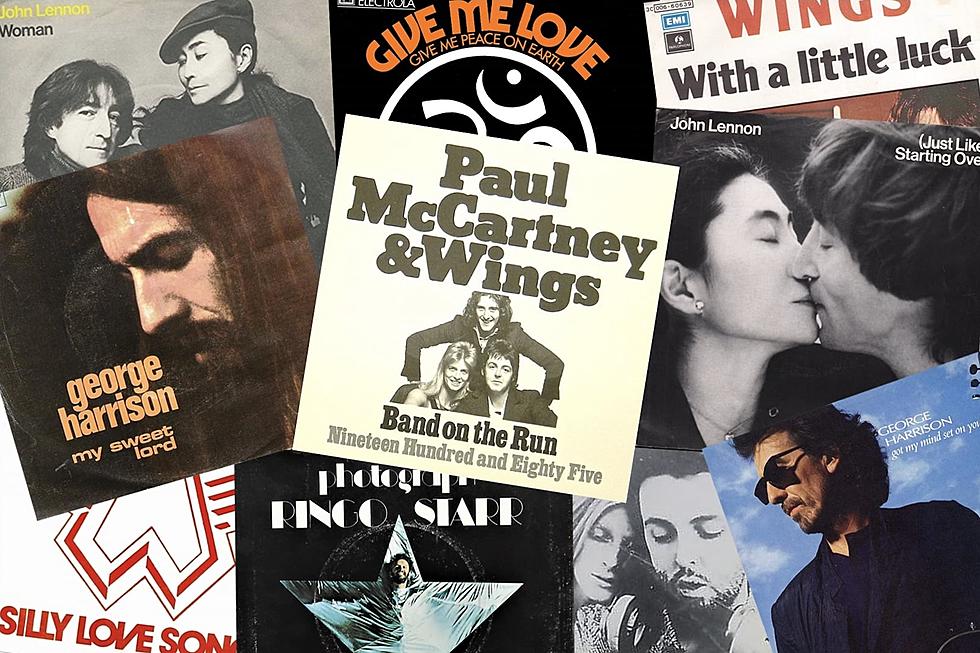 Top 10 Beatles Solo No. 1 Singles
UCR
The Beatles released almost 20 chart-topping singles after their turn-of-the-'70s demise, but they aren't all created equally.
Spanning a period of roughly a decade, John Lennon, Paul McCartney, George Harrison and Ringo Starr each made their way to No. 1, on either or both of the U.K. and Billboard charts. Narrowing them down to a list of Top 10 Beatles Solo No. 1 Singles required leaving aside some treasured favorites. But also some head-scratchers that were probably only so popular because of the star power attached to them.
Those that ended up outside of the Top 10 include "My Love" and "Listen to What the Man Said" by Wings, "Whatever Gets Your Thru the Night" by John Lennon and "You're Sixteen" by Ringo Starr. Also left out were "Mull of Kintyre" and "Pipes of Peace," two Paul McCartney songs that were simply huge in the U.K., but didn't do much stateside. Finally, "Imagine" wasn't considered, because it hit No. 1 in the U.K. only upon re-release following Lennon's awful murder.
No. 10. "Uncle Albert/Admiral Halsey," Paul and Linda McCartney
From: Ram (1971)
Paul McCartney's first solo No. 1 single actually harkened back to the way he worked toward the end of his time with the Beatles. He'd been the principal architect of a medley that dominated the second side of 1969's Abbey Road, the last album completed by McCartney's old group. Originally titled "The Long One," it featured a series of joined song snippets. John Lennon would later trash the concept as nothing more than a desk-clearing exercise, but something clearly sparked for McCartney creatively: "Uncle Albert/Admiral Halsey" would become a technicolor outburst of sewn-together ideas with ever-shifting cadences, styles, collaborators and melodies. So, basically, it was the Abbey Road assemblage, taken to a fizzy kitchen-sink zenith.
No. 9. "Got My Mind Set On You," George Harrison
From: Cloud Nine (1988)
George Harrison discovered James Ray's version of this song while browsing record shops during a 1963 visit with his sister in rural Illinois – months before the Beatles first appeared on Ed Sullivan's show. He didn't return to "Got My Mind Set on You" for decades, but Harrison's timing was impeccable: The Jeff Lynne-produced update gave Harrison a third chart-topping single just as his old band was inducted into the Rock & Roll Hall of Fame.
No. 8. "Silly Love Songs," Wings
From: Wings at the Speed of Sound (1976)
Long accused of focusing too much on the romantic, McCartney finally copped to it. This being McCartney, however, he made "Silly Love Songs" into an irresistible earworm rather than an angry Lennon-like counter punch. That's largely thanks to its jaunty vocal harmonies, driving brass and an endlessly entertaining bass line that bears a passing resemblance to "Sha La La" by Al Green. "Silly Love Songs" became the best-selling single of 1976 and yet, even decades later, McCartney still felt the need to justify its existence: "The nice payoff now is that a lot of the people I meet who are at the age where they've just got a couple of kids and have grown up a bit, settling down," McCartney told Billboard, and "they'll say to me, 'I thought you were really soppy for years, but I get it now! I see what you were doing!'"
No. 7. "Photograph," Ringo Starr
From: Ringo (1973)
Ringo Starr, the ultimate glue guy, orchestrated the closest thing we ever got to a Beatles reunion – and together they created his bestselling album. Home to a pair of chart-topping songs, Ringo featured game contributions from his old pals George ("Photograph," "You and Me [Babe]"), John (the superlative "I'm the Greatest") and Paul ("Six O'Clock"), completed with a cover that brought to mind their classic Sgt. Pepper's Lonely Hearts Club Band. "Photograph" was written during a holiday when Harrison and Starr were joined by singer Cilla Black, among others. Black said she hoped to make it her next single, but Starr refused: "No, it's too bloody good for you. I'm having it myself."
No. 6. "With a Little Luck," Wings
From: London Town (1978)
After keeping a lineup together for the first time through two studio projects, Wings promptly began falling apart. By the time sessions for London Town were complete, the group was reduced once again to a trio – but five years later, they couldn't pull off another Band on the Run. Instead, London Town often feels small-scale and too precious, save for this synth-driven, R&B-influenced U.S. smash. "With a Little Luck" taps into a well of emotion not heard elsewhere, hinting at McCartney's feelings as a homesick Joe English returned to the U.S. and guitarist Jimmy McCulloch left for a stint with the reformed Small Faces. In truth, this project desperately needed a jolt of punky attitude. McCartney must have realized it, as he subsequently set about restructuring Wings for a final time.
No. 5. "Give Me Love (Give Me Peace on Earth)," George Harrison
From: Living in the Material World (1973)
For Harrison, there wasn't any other direction to go but smaller. He'd already reached No. 1 in both the U.S. and the U.K. with the expansive "My Sweet Lord," then organized a huge Bangladesh benefit concert. So he gathered a tightly knit quartet of confidants – only Gary Wright, Klaus Voormann, Jim Keltner and Nicky Hopkins were on hand – to record something Harrison later described as "a prayer and personal statement between me, the Lord and whoever likes it." Turns out everybody did. Harrison's ever-expressive slide took center stage on "Give Me Love (Give Me Peace on Earth)," rather than a tsunami of sidemen, while his message became more direct. All of it worked in tandem to render universal truths about healing and forgiveness. Oh, and it was another No. 1 song.
No. 4. "Woman," John Lennon
From: Double Fantasy (1980)
A grownup's look at the role women play in our lives, John Lennon's first posthumous single underscored the journey he'd made since cutting "Girl" with the Beatles. It sounded like a Beatles song, too. There are several reasons: "Woman" was written quickly, unlike many of the other slow-gestating tracks on Double Fantasy, and recorded using an old beat-up Gibson. They started with a group of female singers, but they were dismissed one by one. By the end, their contributions had been overwritten by Lennon and the McCartney-esque Eric Troyer. "Woman" was halted at No. 2 on the Billboard Hot 100 in America, behind REO Speedwagon's "Keep On Loving You" and Blondie's "Rapture," but reached the top spot in the U.K. "Woman" was then succeeded at No. 1 by the re-release of "Imagine."
No. 3. "My Sweet Lord," George Harrison
From: All Things Must Pass (1970)
An intensely emotional, career-making song, "My Sweet Lord" unfortunately will always be associated with a court case that Harrison famously lost. A court ruled that Harrison "subconsciously plagiarized" the track, after an American publishing company claimed that it sounded too much like the early '60s hit "He's So Fine." Oddly, Harrison countered that he had, in fact, stolen it – but not from the Chiffons. Instead, he said it was originally inspired by Edwin Hawkins Singers' "Oh Happy Day." Bright Tunes Corporation was nevertheless awarded a $600,000 judgment. What most don't remember is what happened next: Harrison ended up buying the publishing company, and then downplayed the offending parts in a remake of "My Sweet Lord." It topped the U.K. charts, too.
No. 2. "(Just Like) Starting Over," John Lennon
From: Double Fantasy (1980)
Lennon had been cramming song scraps together forever, with notable examples including "I Am the Walrus" and "Happiness Is a Warm Gun" with the Beatles and "God" from his solo debut. "(Just Like) Starting Over" was actually a compendium of three separate ideas, dating back to 1979. A demo called "My Life" formed the introduction, followed by ideas from "Don't Be Crazy." A rough draft called "The Worst Is Over" was adapted to create verses and the chorus. (One version of "My Life" included the line, "life is something that happens while you're making plans," which Lennon inserted into the Side One closer on Double Fantasy, "Beautiful Boy [Darling Boy].") The throwback '50s feel came in the studio, where Lennon told engineer Lee DeCarlo he wanted to sound like "Elvis Vincent" – a mash-up of Elvis Presley and Gene Vincent. He added mentions of Eddie Cochran and Buddy Holly in a winking dedication before one take.
No. 1. "Band on the Run," Wings
From: Band on the Run (1974)
Wings was suddenly whittled down to just a core group of three, and it put McCartney in a fighting stance. You hear it right away, as a torrent of emotion synthesizes on this album-opening title track. "Band on the Run" skillfully weaves a desire to break free of the Beatles with an age-old outsiders mythology, setting a tone for everything that follows. This restlessness, a sense of destiny unfulfilled, pushed McCartney to new creative places – and he used every tool in his pop-music shed. That's true for this episodic triumph, but also the whole LP. No McCartney project has held together so well, and none showcases his many strengths so successfully.
Classic Rock Artists Who (Allegedly) Ripped Somebody Off
These thefts have been described as a form of tribute or as an accident of creation. Whatever you call it, this form of borrowing is far from infrequent.
Gallery Credit: Nick DeRiso
Why the Beatles Hated One of Their Own LPs