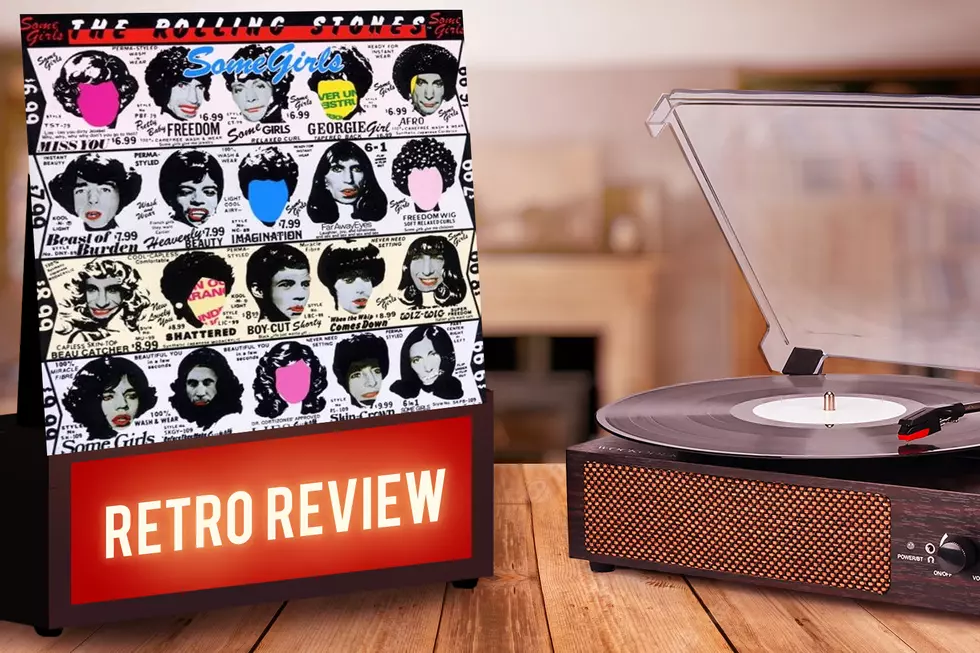 Rolling Stones, 'Some Girls': Retro Album Review
Rolling Stones Records / Adrian Borromeo, UCR
Just when fans were about to give up on the Rolling Stones, the old rock dogs showed they could indeed learn some new tricks with Some Girls, which was released on June 9, 1978.
After the band's blast of brilliance between 1968-72 (from Beggars Banquet to Exile on Main St.), the Stones lapsed into comfortable inconsistency on efforts such as It's Only Rock 'n' Roll and Black and Blue - even Goats Head Soup although that generally holds up better than its immediate successors. Perhaps we can blame the drugs or the inter-band turmoil that led guitarist Mick Taylor to depart in 1974. Or maybe it was simply fatigue: from prolific writing and recording at a very high level, from constant touring or just from the pressure of living as the Rolling Stones. Whatever the case, this was not a band at the top of its game for quite a few years.
The throbbing dance gait of "Miss You" that kicks off Some Girls makes all reports of the band's demise seem overstated. It may sound like "dreaded" disco, but the hip-swaying song, with its meaty bass groove and Sugar Blue's sweet harmonica, sends up a flare that the Stones are revived and excited, if not re-staking the nefarious claim as the World's Greatest Rock 'n' Roll Band then certainly making a case that it belongs in the discussion.
Disco may have given us "Miss You" but it's clear that punk rock - whose bands lambasted the Stones' bloat while stealing their attitude and licks - pushed the forebears this time. On tracks such as "When the Whip Comes Down," "Lies," "Respectable" and especially the album-closing "Shattered," there's more snarl and bite in Mick Jagger's vocal performances while guitarists Keith Richards and Ron Wood fully realize their potency as a tandem, sounding like kids in a basement trying to squeeze one more song out before their parents shut them down for the night. And don't overlook the rhythm section of bassist Bill Wyman (on seven of the 10 tracks) and drummer Charlie Watts, who even in their "advanced" early 40s and late 30s, respectively, create a bedrock that lets their bandmates fire on all cylinders.
Watch the Rolling Stones' 'Miss You' Video
There's an urgency, in other words, a cracking, ferocious one that we haven't heard from the Stones over, arguably, the better part of a decade. And it's welcome.
The band isn't in blast furnace mode all the time here. Their soulful, slightly drawling take on the Temptations' "Just My Imagination (Running Away With Me)" is aces, among the finest covers the Stones have put on record. The smoothly defiant "Before They Make Me Run" - which Richards reportedly recorded over five sleepless days - offers one of the guitarist's strongest vocal contributions to the Stones' catalog. And "Beast of Burden" has a slinky, teasing strut that lets Jagger play the part of a male suffragette, misunderstood and slightly vulnerable, but still no pushover.
With all of this going for it, Some Girls doesn't need gimmicks - still, it does have a couple and not to good effect. The laconic title track just doesn't measure up musically even before we get to the lyrical aside about the sexual proclivities of Black and other women; it's gratuitous and seems aimed simply to court controversy and in the process undermines the song's intended satire. "Far Away Eyes," similarly, is a parody of classic country (Bakersfield division) that, despite Wood's estimable pedal steel, comes off as more sendup than homage.
Those tracks are certainly talking points, but the others are what keep us listening to Some Girls. An 80% batting average is tremendous for any band, and in this case, it represents a bona fide return to fighting form for a group that was on the verge of dropping to a lower division.
Rolling Stones Albums Ranked
Ready to journey through the past (darkly)? Check out Rolling Stones Albums Ranked Worst to Best.