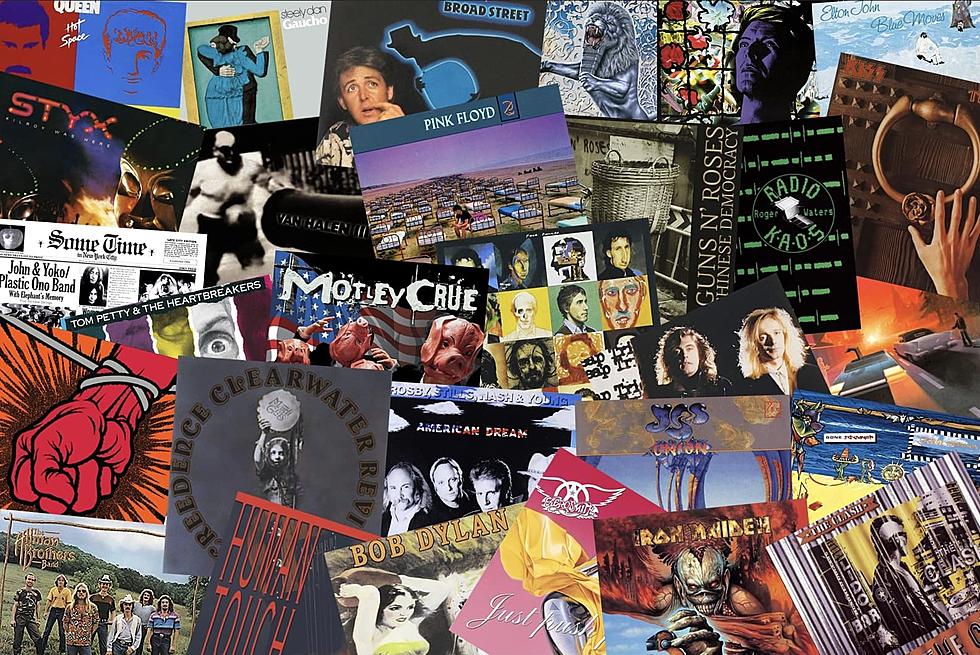 The One Great Song on These Terrible Albums
UCR
Maybe you bought the single, but hated the rest. Maybe you hated the single, but found something worth salvaging elsewhere.
Maybe you purchased an album because you loved the classic rock legend whose name is on the front – only to discover all but one track was garbage. That singular moment is what we're here to celebrate.
The following list focusing on great songs from terrible albums doesn't necessarily deal with the very worst LPs – though usually, yeah, they really are. Instead, these are simply projects from some of rock's best-known acts that are unquestionably very bad but somehow still have a noteworthy moment to recommend.
But only one.
AC/DC, "Landslide"
From: Flick of the Switch (1983)
What if Ted Nugent had joined AC/DC?
Aerosmith, "Beyond Beautiful"
From: Just Push Play (2001)
An Aerosmith LP defined by vapid modernity. Same here, but with a cool riff.
The Allman Brothers Band, "Things You Used to Do"
From: Brothers of the Road (1981)
There were clumsy outside co-writers, even a keytar. But also this classic put-down song: "You've got a million dollar smile," Gregg Allman growls, "and a half-a-dollar soul."
Black Sabbath, "Never Say Die"
From: Never Say Die (1978)
Too late.
Bob Dylan, "Brownsville Girl"
From: Knocked Out Loaded (1986)
Even an epic 11-minute triumph of sharp-elbowed Americana storytelling couldn't save this dud.
Bruce Springsteen, "Human Touch"
From: Human Touch (1992)
He starts out with a well-constructed title track, and you think: This E Street-less LP is maybe going to be OK. It's not going to be OK.
Cheap Trick, "Never Had a Lot to Lose"
From: Lap of Luxury (1989)
On an insufferably "modern" album, Cheap Trick remembers for a moment that they are, you know, Cheap Trick.
The Clash, "This Is England"
From: Cut the Crap (1985)
Literally, the only time they cut the crap.
Creedence Clearwater Revival, "Sweet Hitch-Hiker"
From: Mardi Gras (1972)
John Fogerty let the others write most of the songs on this LP after being criticized for hogging the creative spotlight. What did their fans do to deserve that?
Crosby, Stills, Nash and Young, "This Old House"
From: American Dream (1988)
It's all processed to the point of being plasticine, but check out the tangled guitars on Neil Young's darkly effective song about surviving tough economic times.
David Bowie, "Blue Jean"
From: Tonight (1984)
You know it's going to be bad when five of the other nine songs are covers.
Elton John, "Tonight"
From: Blue Moves (1976)
On an album marked by jazzy musical interludes, Elton John starts with yet another jazzy musical interlude. Then something amazing happens.
Fleetwood Mac, "I Do"
From: Time (1995)
No Lindsey Buckingham or Stevie Nicks? No problem! Actually, lots of problems. Thankfully, Christine McVie could still provide a reliably joy-filled chorus.
Genesis, "No Son of Mine"
From: We Can't Dance (1991)
Tony Banks sampled a riff from Mike Rutherford, and then lowered the pitch to create a keyboard stab dubbed "elephantus." It perfectly encapsulated this song's grinding sense of defeat.
George Harrison, "Unknown Delight"
From: Gone Troppo (1982)
Written for his newborn son Dhani, the utterly remarkable "Unknown Delight" reflects an emerging focus on life's personal joys. Good thing, because the album tanked.
Guns N' Roses, "Better"
From: Chinese Democracy (2008)
On a project sunk by ego and studio tweaking, a lonely guitar groove emerges.
Iron Maiden, "The Clansman"
From: Virtual XI (1998)
There's a reason this is the rare Blaze Bayley song that stayed in the setlist even after Bruce Dickinson and Adrian Smith returned.
John Lennon, "New York City"
From: Some Time in New York City (1972)
On a doctrinaire project concerned with long-forgotten news of the day, we somehow find an effortless Chuck Berry-esque romp.
Journey, "Faith in the Heartland"
From: Generations (2005)
Journey decided to share the microphone with everyone on this LP – even the bass player. There was no better argument for letting Steve Augeri keep it.
King Crimson, "Cirkus"
From: Lizard (1970)
"Cirkus" is the first, best thing on a project that even Robert Fripp says is "unlistenable." (Furthermore, he's "unable to recommend that anyone part with their hard-earned pay for this one, unless they want to take it to parties and play it at unwelcome guests.")
Kiss, "The Oath"
From: Music From 'The Elder' (1981)
"The Oath" is its own argument against making this completely wrongheaded off-brand concept album.
Metallica, "Some Kind of Monster"
From: St. Anger (2003)
So, there was this band called Black Sabbath – and they were super cool.
Mick Jagger, "Lucky Day"
From: Goddess in the Doorway (2001)
On a too-slick retrenchment that was defined by needless celebrity hand-holding, Mick Jagger pauses for this lip-smackingly salacious aside.
Motley Crue, "Afraid"
From: Generation Swine (1997)
Motley Crue gets all moody, and it somehow works.
Neil Young, "Hold On to Your Love"
From: Trans (1982)
Forget, for a moment, the dippy Farfisa. We know. But try.
Paul McCartney, "Not Such a Bad Boy"
From: Give My Regards to Broadstreet (1984)
Yes, he re-recorded Beatles songs; no, that's not a good idea.
Pink Floyd, "On the Turning Away"
From: A Momentary Lapse of Reason (1987)
So, that thing about the speechless uniting in a silent accord. How would they know where to meet?
Queen, "Under Pressure"
From: Hot Space (1982)
There's a reason this David Bowie collaboration stands out amid the dance-y emptiness of Hot Space. "Under Pressure" emerged from a separate impromptu jam session.
R.E.M., "I Wanted to Be Wrong"
From: Around the Sun (2004)
Elsewhere, that was no problem.
Roger Waters, "Home"
From: Radio K.A.O.S. (1987)
A prescient message that rings true, despite being part of a sad synth-laden bid for MTV acceptance.
Rolling Stones, "Saint of Me"
From: Bridges to Babylon (1997)
Written in tribute to bad-boy keyboardist Billy Preston, "Saint of Me" can read like a rap sheet for Mick Jagger, Aging Lothario. Avoid the rest of the LP, which is more like Bridges to Bullshit.
Rush, "Working Man"
From: Rush (1974)
This doesn't sound much like Rush. Thankfully, it doesn't sound anything like the rest of Rush.
Smashing Pumpkins, "Stand Inside Your Love"
From: Machina / The Machines of God (2000)
A rock 'n' roll preacher lost in this unacceptably long sermon digs deep into the hymnal for college-station salvation.
Steely Dan, "Babylon Sisters"
From: Gaucho (1980)
Steely Dan's sleaziest single – and that's saying something – somehow appeared on their most groove-starved album.
Styx, "Just Get Through This Night"
From: Kilroy Was Here (1983)
Speaking for millions, Tommy Shaw sings: "This could be the longest night in recorded history." And we were only about halfway through the album.
Tom Petty, "Runaway Trains"
From: Let Me Up (I've Had Enough) (1987)
There's this tender beauty amid dated studio tricks and other surprisingly spotty material.
Van Halen, "Without You"
From: Van Halen III (1998)
The only concrete indication we have of why anyone thought this terrible, terrible idea could possibly work.
The Who, "You Better You Bet"
From: Face Dances (1981)
Permission is given right there in the lyric: "I don't really mind how much you love me – a little is alright."
Yes, "The More We Live – Let Go"
From: Union (1991)
The best song on a reunion album that wasn't a reunion album is so on brand. "The More We Live – Let Go" didn't come courtesy of Yes at all, but instead was something Chris Squire and Billy Sherwood brought in.
Why These Classic Rock Acts Hate Their Own Records
Over a lengthy career, certain pitfalls also present themselves: Band members leave, songs become one-hit wonders, sounds go out of style. Then you start to hate your own records.
Gallery Credit: Nick DeRiso
The Rock Supergroups You Totally Forgot