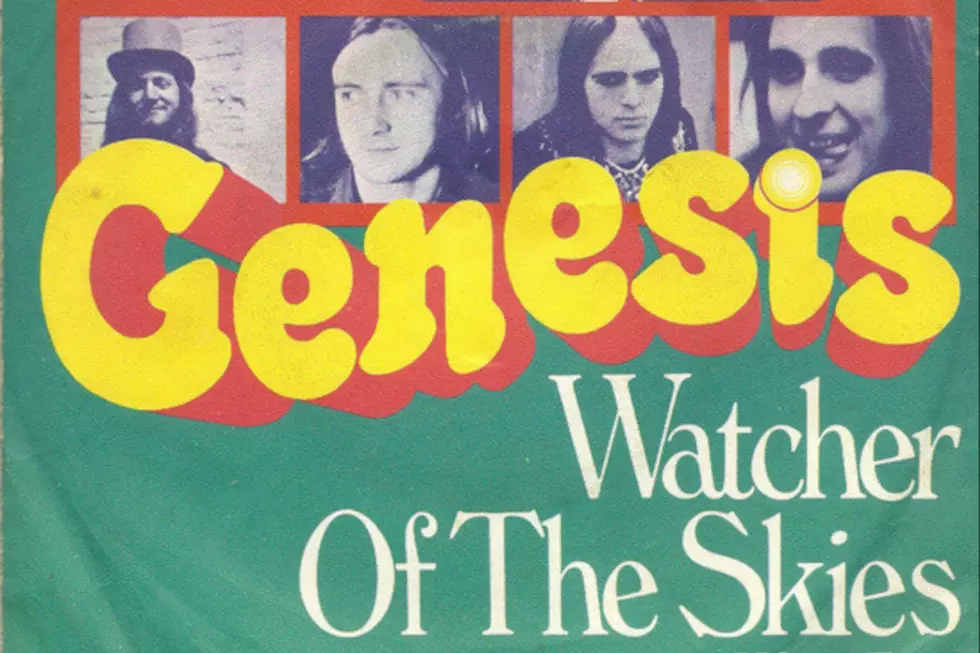 50 Years Ago: Genesis Goes Sci-Fi Prog in 'Watcher of the Skies'
Charisma
The year is 1972. You're a high-level employee at the British record company Charisma. One of the acts on your roster, the prog rock quintet Genesis, has just submitted their fourth LP, Foxtrot, which includes "Supper's Ready," a 23-minute opus stacked with Biblical allusions, kooky voices and a mind-boggling section accurately titled "Apocalypse in 9/8." You, my possibly baffled friend, are tasked with picking out a candidate for radio.
There aren't many promising options. But the most likely — in terms of immediacy, imagery and digestibility — is "Watcher of the Skies," which Genesis scaled back, re-recorded and released as the only Foxtrot single in February 1973.
Genesis didn't have any of this in mind when they created the album, which built on the proggy ambition of the previous year's Nursery Cryme: The production is more expansive; the epics are more epic; the playing is more virtuosic, with the recent recruits (drummer Phil Collins and guitarist Steve Hackett) now seamlessly integrated into the lineup. "Watcher of the Skies" checks every box, though at a slightly less intimidating 7:23.
The prog classic originated during a Genesis sound check in Italy when keyboardist Tony Banks started fiddling around with the opening two chords on his Mellotron. From there, it was a bit of a jigsaw puzzle, pulling inspiration from all over the map: The lyrics, written by Banks and bassist and guitarist Mike Rutherford, allude to Arthur C. Clarke's 1953 sci-fi novel, Childhood's End, envisioning what aliens might think of a post-apocalyptic wasteland on Earth. The frenetic rhythm track, meanwhile, reflected Collins' admiration for prog peers Yes.
"It seems funny to say it now, but I was still going to see [them] every Wednesday at the Marquee and still trying to bring a little of that musicianship into the band — those tricky arrangements they used to have," Collins said during an interview for the album's 2007 reissue DVD. "I used to say, 'It's a shame we can't do stuff like that.'"
Hear the Single Version of Genesis' 'Watcher of the Skies"
Some, but not all, of those colors survive into the single take, which completely removes Banks' signature Mellotron intro, uses a sloppier Peter Gabriel vocal and ends with a more straightforward drum pattern that neutralizes the original's breathless energy. None of these adjustments helped on a commercial level: "Watcher of the Skies" dodged the charts completely. Rutherford, for one, thinks the lyrics didn't "sing well," using the crammed opening section to illustrate: In his 2014 memoir, The Living Years, he wrote, "'Watchers' was a prime example of the fact that you can write great lyrics that read well but are hard to sing: 'Watcher of the skies, watcher of all / His is a world alone, no world of his own.'"
Still, the single made for a fun future collector's item. (For some random reason, longtime Genesis associate and technician Richard Macphail, who receives the Foxtrot credit of "Equipment & Stage Sound [Sound Friend]," appears on the German single cover sleeve alongside the band members.)
And "Watcher of the Skies" — the original version — has endured regardless. The band played the track 262 times, up through Sept. 30, 1982, and jam band legends Phish even took a stab during Genesis' Rock & Roll Hall of Fame induction. As Trey Anastasio cranked out a climactic guitar solo, his bent notes engulfed in Mellotron, the men who recorded that piece of music gazed on from their fancy tables. It's easy to imagine them thinking, "Who in their right mind tries to make this a single?"
Top 50 Progressive Rock Albums
From 'The Lamb' to 'Octopus' to 'The Snow Goose' — the best LPs that dream beyond 4/4.