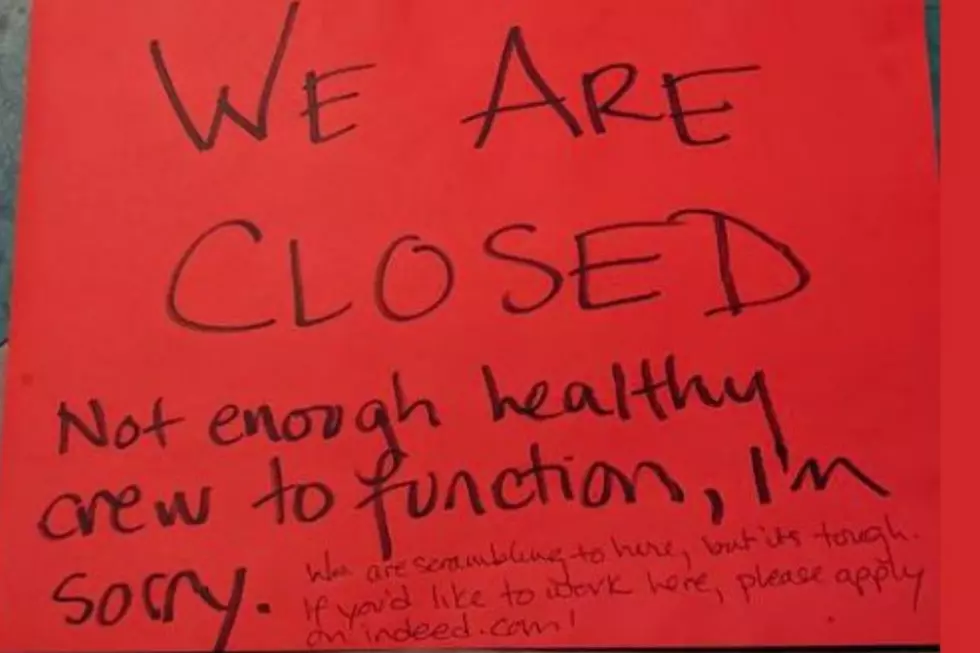 Rough Monday When Awesome Grand Junction Colorado Coffee Shop Can't Open
Octopus Cofee Inc. via Facebook
What a terrible way to start the week. A very popular Grand Junction, Colorado coffee shop was unable to open this morning, Monday, April 25, 2022, due to a shortage of staff.
As you've no doubt witnessed firsthand, many businesses are struggling to maintain staff. Due to extraordinary circumstances, this local business will have to remain closed for the day.
Extremely Well-Liked Coffee Shop in Grand Junction
We've done several posts over the years asking you, "What's your favorite place for coffee in Grand Junction." This particular business always finishes high on the list.
Octupus Coffee, Inc., at 759 Horizon Drive in Grand Junction, Colorado, posted the following message on their Facebook page at 5:39 this morning:
We are very sorry if this just made your Monday worse.
We try so hard to never not be here for you, but today we just don't have enough bodies. We are so sorry. - Octupus Coffee Inc.
Sign In The Window
If you visit their location on Horizon Drive, you'll see a sign in the window that reads, " WE ARE CLOSED. Not enough healthy crew to function, I'm sorry." The message continues, "We are scrambling to here [sic], but it's tough. If you'd like to work here, please apply on indeed.com!"
This Would Be a Fascinating Business
Growing up in Grand Junction, we had "coffee shops." In the 70s you would go to The Oasis at 4th and North, or maybe even Sambo's on Horizon Drive. You would sit at the counter or in a booth, and drink coffee.
Before long Grand Junction began to see shops such as this offering gourmet coffee. Octopus Coffee has proven to be a very popular business in Grand Junction. Several of our staff visit this location because they enjoy the excellent crew.
Checking Out the Job Opportunities
The sign mentioned checking out job opportunities at Octopus Coffee via the job listing at Indeed.com. If you visit the site, you'll see a post that reads:
Barista
Octopus Coffee
$13 to $20 per hour
Part-Time
8-hour Shift
Oh, and one final item to consider:
Free personal coffee/beverages on shift
That does it. I'm sold. Imagine getting paid to make coffee, and getting to enjoy free coffee during your shift. Hey, that kind of sounds like my job in radio.
Did You Ever Think We Would See This?
I've mentioned this a time or two, but do you remember when the bottom fell out in Grand Junction back in the early 1980s? I can remember driving past a convenience store east of town and seeing a line of at least 75 people outside wrapped around the building. They were in line to apply for precisely one part-time job. People were desperate for work.
Fast-forward roughly forty years, and suddenly businesses struggle to maintain adequate staffing. Staffing agencies used to advertise on our station in hopes of attracting workers in need of jobs. Nowadays, agencies are running ads for businesses in need of employees.
Things have changed. in the meantime, an excellent Grand Junction business will be open again soon, offering their amazing product. From what I know of their people, this would be a fantastic place to work.
Grand Junction Restaurants That Should Be on the Food Network
Here are some of the Grand Junction restaurants that should be featured on The Food Network.
Grand Valley Businesses Praised With the Best Customer Service
Here's a list of 30 Grand Valley businesses that are being praised for having the best customer service.
Grand Junction Having a Rough Day on the Job - Bob Grant Photos