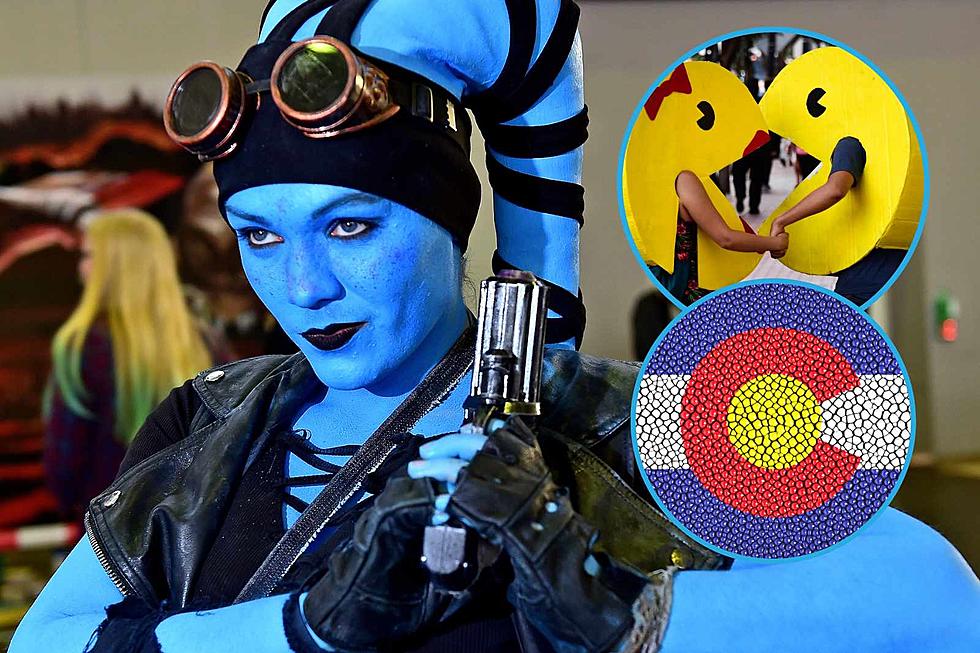 One of Colorado's Best, Cheap and Fun Comic-Cons Returns in August, 2023
Getty Images, Canva.com
Before Coloradans start bundling up again for a chilly fall, Fort Collins will be hosting a Comic Con that won't cost you an arm, leg, or a droid.
Just north of the hustle and bustle of Downtown Fort Collins, you'll find the hustle and bustle of one of the state's best comic cons, the FoCo Comic-Con. Badges for entry aren't expensive and there'll be a ton of things going on, the last weekend of August.
This is going to be a great summer weekend to let your geek side out. Lots of exhibitors, toys & games, cosplay, special guests (including scientists), and a general vibe that "Art comes in all different fashions."
The term "comic con" generally refers to a comic book convention; these days, the term is applied to all sorts of pop culture events.
WHAT IS THE FORT COLLINS, COLORADO COMIC-CON ABOUT?
Our goal is to bring together geeks of all ages and types into an affordable Con experience. Whether you appreciate comics, Star Trek, Star Wars, Firefly, Buffy, Harry Potter, zombies, gaming, steampunk, or something else – we've got something for you and you can have a great time near your hometown.
FoCo Comic-Con was created to be a con that is easier to attend, in both its location and its pricing (for attendees and vendors.)
An average of 3,000 people have attended the FoCo Comic-Con each year since it began in 2014. Since its inception, the event has donated over $120,000 to the Poudre River Library District.
FoCo Comic-Con 2023 will feature:
Food trucks.
Funky vendors.
"Cosplay Catwalks"
Authors, scientists, artists, podcasters, game makers, and more.
Event spaces are named after famous starships like 'Millennium Falcon' and 'Enterprise.'
Seminars on subjects from self-publishing to 'Traditional Cosplay vs. Yarn Cosplay.'
Fort Collins Ghostbusters on-site.
No alcohol.
WHERE IS FOCO COMIC-CON IN COLORADO BEING HELD AT?
The Northside Aztlan Community Center, as it has for every year (minus non-attended events.) NACC is a great venue for all sorts of these events. One year, our stations held a 'Best Pizza' event there.
WHEN IS THE 2023 FOCO COMIC-CON IN COLORADO?
Saturday, Aug. 26

: 9 a.m. - 7 p.m.

Sunday, Aug 27

: 10 a.m. - 6 p.m.
HOW MUCH ARE BADGES/TICKETS FOR THE FOCO COMIC-CON IN COLORADO?
The event, which strives to make things affordable, succeeds when it comes to the cost to attendees; badges/tickets are only $25 for adults, $10 for kids 6-12; kids 5 and under are free.
This year, all ticket sales will benefit the Alliance for Suicide Prevention of Larimer County.
MORE Colorado Sci-Fi: The 2023 UFO Sightings in Colorado
In 2023, Coloradans reported well over 40 UFO (or UAP) sightings.
MORE Comics: Every DC Comics Movie Ever Made: RANKED Worst to Best
From Superman and the Mole Men to The Suicide Squad, we ranked every movie based on DC comics.
The Weirdest Marvel Comics Ever Published
Of all the thousands of comics published by Marvel, these are far and away the strangest.