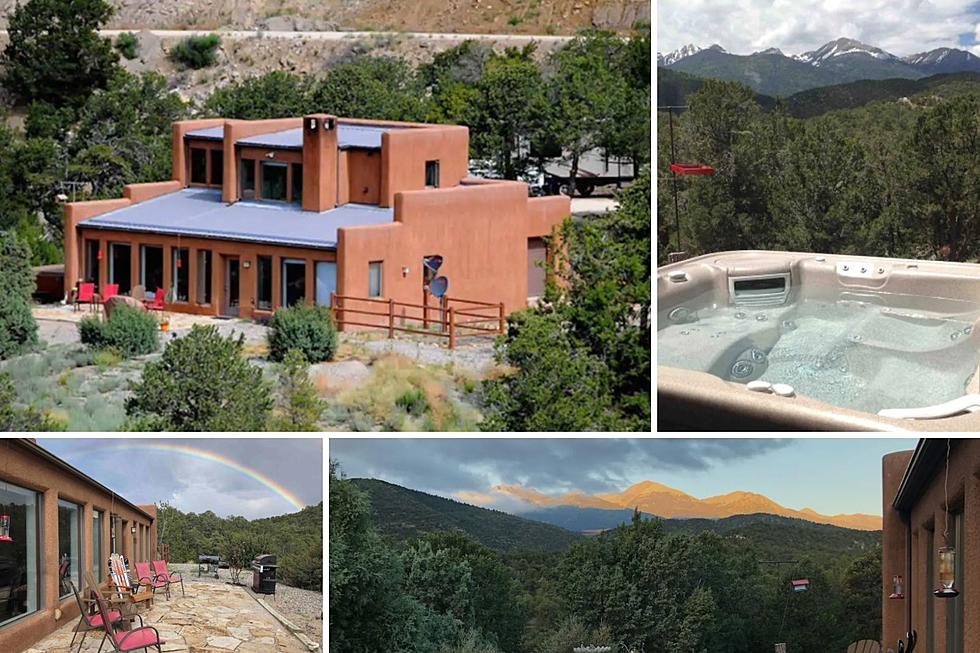 Enjoy Whitewater Rafting and Gold Medal Fishing at Coaldale Colorado's Airbnb
Airbnb.com/Canva
Have you ever had a chance to watch the incredible phenomenon of seeing the Sangre de Christo mountains turn to a reddish tint during a morning sunrise?
Spanish settlers marveled at this occurrence centuries ago and we have a chance to see the same thing all while staying in this fantastic rental with a birds-eye view of this impressive Colorado mountain range. 
Why Do the Sangre de Christo Mountains Turn Red in the Sunrise?
Watching the mountains turn red during the sunrise is the result of something called Alpenglow. This happens in a few spots around the world, as well as in Colorado's Sangre de Christo range. It causes a red glow near the horizon opposite the sun before it rises above the horizon.
What Activities are Near the Sangre de Christo Airbnb in Coaldale?
Your stay in Coaldale will put you inside of 40 acres of rolling hills between Royal Gorge and Salida. Both whitewater rafting, gold medal fishing, and amazing hiking trails are less than two miles from the front door. This Airbnb is about 210 miles from Grand Junction or a four-hour drive.
See Inside the Coaldale, Colorado Sangre de Christo Airbnb
Scroll through the photos below that show off the view of the Sangre de Christo mountains from this wide back porch complete with your very own hot tub. This is a smoke-free property. You'll find the link to contact Superhost Rick at the end of the photo gallery. Enjoy!
Enjoy Whitewater Rafting and Gold Medal Fishing at Coaldale Colorado's Airbnb
Explore the incredible Sangre de Cristo Mountains from this Coaldale, Colorado Airbnb. Enjoy a weekend of gold medal fishing or bring some friends and take on some Colorado rapids.
PHOTOS: Tour One of Colorado's Oldest Ghost Towns in St. Elmo
Founded in 1880, it was said the residents of St. Elmo took the last train out of town and never came back.
WARNING: Under no circumstances should you enter this property. By doing so you risk bodily harm and/or prosecution for trespassing on private property.
Cute & Cuddly Clifton Airbnb is Inside a Colorado Animal Sanctuary
Play alongside the alpaca, goats, pigs, emu, and the chickens at this Clifton, Colorado Airbnb. You'll stay in the guest house on this cute little boutique animal sanctuary located on the Colorado River in Clifton.