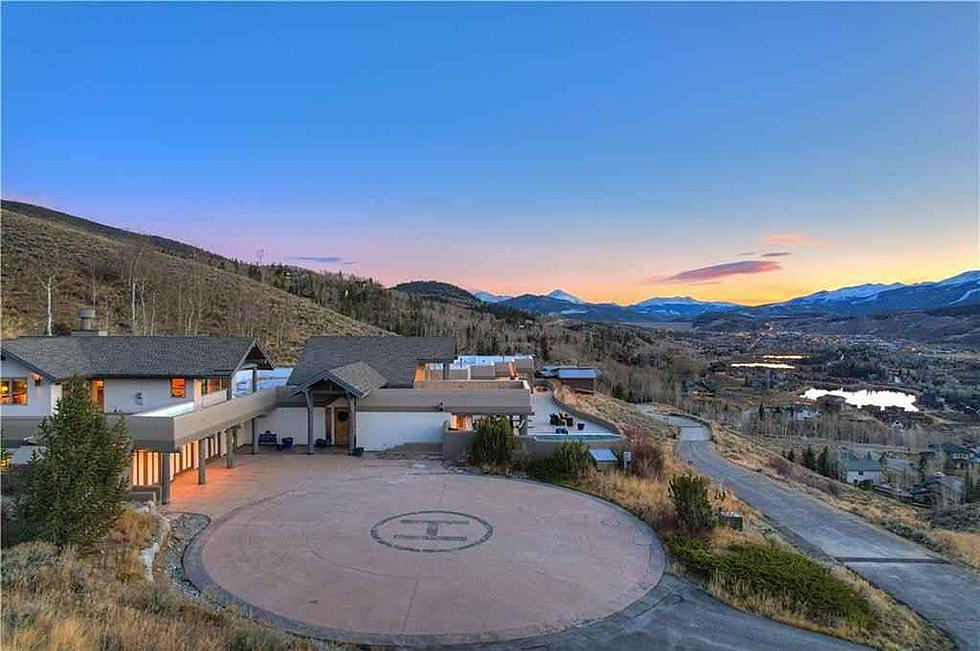 This $3.5 Million Colorado Mountain Home Has a Helipad
Marty Frank with Christie's International Real Estate CO LLC
Need a place to get away in the mountains but at the same time a place to park your helicopter? Look no further than this Colorado home located in Silverthorne.
This six-bedroom, six-and-a-half-bathroom home has a total of 7,445 square feet of living space on a 4.85-acre lot. The ranch-style home in Summit County has been listed on Realtor for $3.5 million and is surrounded by national forest.
One of the key features is the giant helipad located at the front of the home marked with a large "H". The home also features a home theater, outdoor pool, views of the Gore and Ten Mile mountain ranges, as well as a caretakers unit that is located above the six-car garage.
The Silverthorne home located at 160 Hamilton Creek Trail was last sold on May 10, 2016, for $2.45 million according to Realtor. How much would you be paying for this house monthly in 2022? According to the monthly payment calculator on Realtor, a twenty percent downpayment of $700,000 would result in an approximate monthly payment of $14,473 per month. This payment is based on a 30 year fixed rate mortgage of 3.156 percent and includes principal, interest, property tax, home insurance, and homeowner's association fees.
If you would like to learn more about this ranch-style home located in Silverthorne that is equipped with a helipad, check out the home's listing in its entirety on Realtor.
This $3.5 Million Colorado Mountain home has a Helipad
This Colorado mountain home has a place to park your helicopter.
Colorado's Most Expensive House Ever Just Sold for an Outrageous Price
This little number comes in at just over 22,000 square feet. It features 11 bedrooms, 17 bathrooms, and 40 foot ceilings. Make your way to Aspen, Colorado, for the real estate adventure of a lifetime.
14 of the 22 Most Expensive Houses on the Market in Colorado Can Be Found in Aspen
I know, it's hard to believe, but if you search real estate in Colorado you'll discover 14 of the 22 most expensive houses currently on the market can be found in Aspen. Imagine that. Here they are, in no particular order, for you to tour.
Take a Guided Tour of and Unbelievable Quarter-Billion Dollar Colorado Ranch
This is the property you've heard about for years, the one belonging to the "Discovery Channel Guy." Take a quick guided tour.