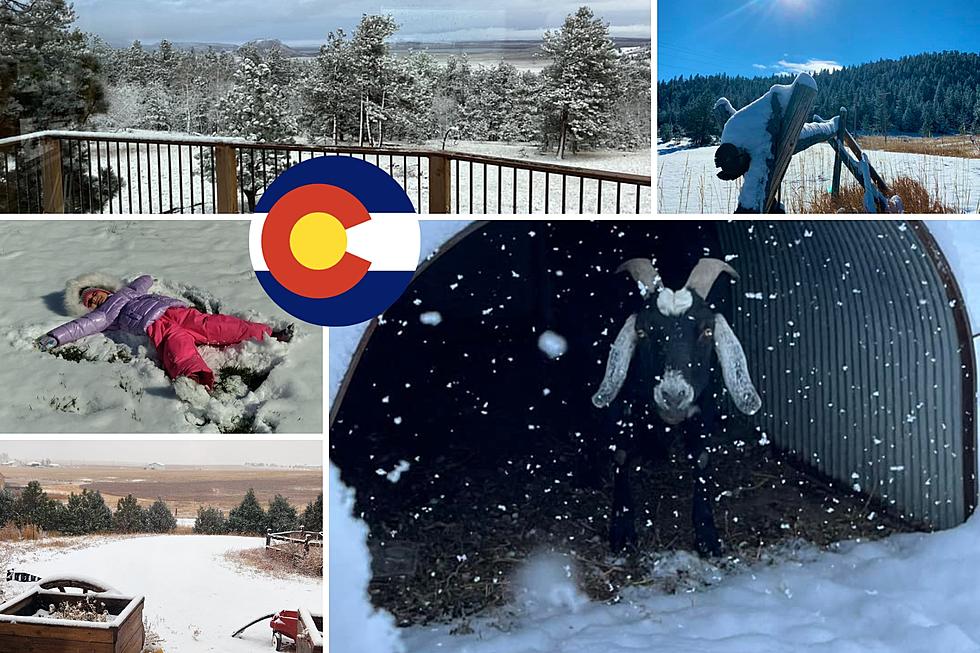 Take a Look at the Amazing Photos from Colorado's First Major Snowstorm
Canva, Facebook
Northern Colorado received its first snowfall for the 2023-2024 snow season. In Fort Collins, the snow began around 6:00 a.m. Saturday morning. By 6:00 PM Sunday night, there was over five inches of snow.
Some cities received more snow than others. According to Denver 7, while Fort Collins got five inches, Greeley and Loveland both had under four inches. Estes Park had over 10 inches of snow.
We asked you on Facebook to submit your snow day pictures and here is what the first snowfall of the 2023-2024 season looked like backyards of Northern Coloradans.
LOOK: The First Snowstorm of 2023-2024 Comes to Northern Colorado
We asked to see your view of the first snowstorm of the season on Facebook. Here are the sights and views of Northern Colorado.
Gallery Credit: Tanner Chambers
Here's Where the Most Snow Fell in Colorado
Denver 7 reported that Breckenridge had the most snowfall across all of Colorado. 16 inches of snow fell over the weekend.
Plans Changed for Many During Halloweekend
Since Halloween was on a Tuesday this year, many of us were planning on celebrating the spooky holiday over the weekend. Due to the snow, there were many canceled events because of the road conditions.
I want to give a shoutout to all of the workers who were focused on making our roads safe over the weekend. I had no issues on the road, thanks to you all.
No Snow is Expected on Halloween
The Townsquare Media weather forecasts that the snowstorm is officially over in Northern Colorado. Don't forget to bring your jackets though! There will be a low of 24 degrees. On Friday, there will be a high of 64 degrees.
Indoor Vs. Outdoor Snow Days
Are you the type of person who likes to adventure when there is snow? Or are you the type of person who likes to use the snow as an excuse to nap all day?
How to Keep Your Pets Safe in the Snow/Freezing Weather
5 ways to keep your pet safe in freezing weather and snow according to
mass.gov
.