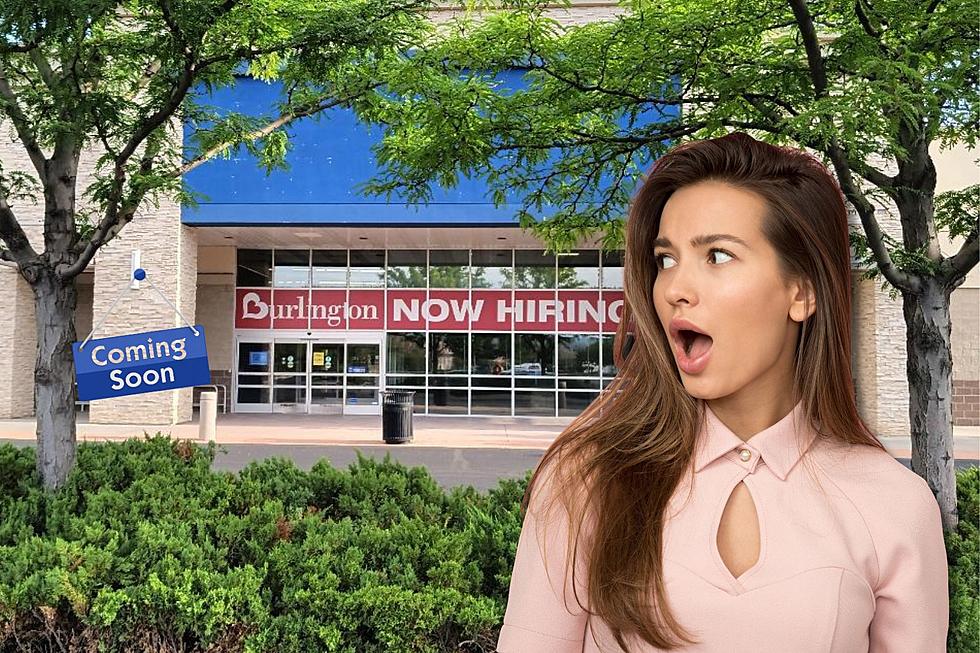 This is When Burlington Will Open in Grand Junction Colorado
Waylon Jordan / Canva
A new store is moving into Grand Junction, Colorado, and it's time to start planning ahead. That applies to both shoppers and those looking for new career opportunities. When will Burlington open their new store in Grand Junction?
You've probably seen the "Burlington Now Hiring" sign at the plaza on the northeast corner of 25 Road and Highway 6&50. Burlington is coming soon. Here's a quick look at their plans for the Grand Opening.
Burlington In Colorado
If you've lived in Colorado long, you know all about Burlington. The statement on their official webpage reads:
Over the past 50 years, value has been at the heart of all that we do. Whether it is offering low prices on brand name merchandise every day, impacting those within our local communities, or providing an inclusive culture for our associates.

 
What Do They Sell?
Do you remember a time when they were called Burlington Coat Factory? According to Wikipedia, Burlington is the third largest off-price retailer after TJX Companies and Ross Stores.
View Burlington's website, and you'll see they sell everything from coats to ladies' jackets, men's button-downs, junior sweatpants, boys' 2-piece sets, handbags, beauty supplies, shoes, housewares, plus-size clothing, and baby clothing and accessories.
How Many Burlington Stores Are There
According to ScrapeHero, as of July 26, 2023, there are a total of 935 Burlington stores in the United States. California leads the way with 103 stores, making up a total of 11% of Burlington stores in the United States.
Store Opening In Grand Junction Colorado
Looking at the Grand Openings page at Burlington.com, the Grand Opening for the Burlington store at 2464 US-6 & 50 in Grand Junction is scheduled for November 4, 2023.
Other Burlington Stores Opening In November 2023
If you count the number of Burlington stores opening this November (2023), you'll come up with an impressive 34 stores. All 34 will be opening between November 3, 2023, and November 17, 2023. Those stores include:
Huntington, New York
Farragut, Tennessee
Staten Island, New York
Hermitage, Tenessee
Weatherford, Texas
Aguadilla, Puerto Rico
Kissimmee, Florida
Lawrence, Kansas
Milwaukee, Wisconsin
Attleboro, Massachussettes
Holly Springs, North Carolina
Knoxville, Tennessee
Plymouth, Massachusetts
Rapid City, South Dakota
Tuscaloosa, Alabama
Warner Robins, Georgia
Washington DC
West Babylon, New York
Job Opportunities at Burlington in Grand Junction, Colorado
Search the Jobs page at Burlington.com, and you'll find they are hiring for a number of management positions.
The Store Manager position in Grand Junction offers a salary of $68,750 - $90,300 per year. Operations, Service, and Merchandise Manager positions pay between $22.05 and $30.45 per hour.
Opening Soon In Grand Junction, Colorado
While November 4, 2023, may seem like a long way down the road, keep in mind, it's almost September. Wasn't it just June yesterday?
40 Grand Junction Businesses with the Friendliest Employees
There are plenty of Grand Junction businesses that love seeing you walk through their door to shop. It's a great feeling when someone repeatedly earns your business. Sometimes it's just a big smile and a friendly staff that seem to win everyone over. Scroll on to see all the Grand Junction businesses you told us about that feature great customer service.
Downtown Grand Junction Businesses of Yesterday
If you stop and think about it, several of the business pictured above are still up and running. Most of these photos were taken in the 1950s. Almost 70 years later, many are still going strong. Sure, some have moved to new locations, but others, Quincy's for example, are right where they've always been.
25 Grand Junction Businesses We Wish Could Come Back to Town
Stroll down memory lane with us as we look at Grand Junction businesses from yesteryear that we wish we could bring back to town here in 2021.