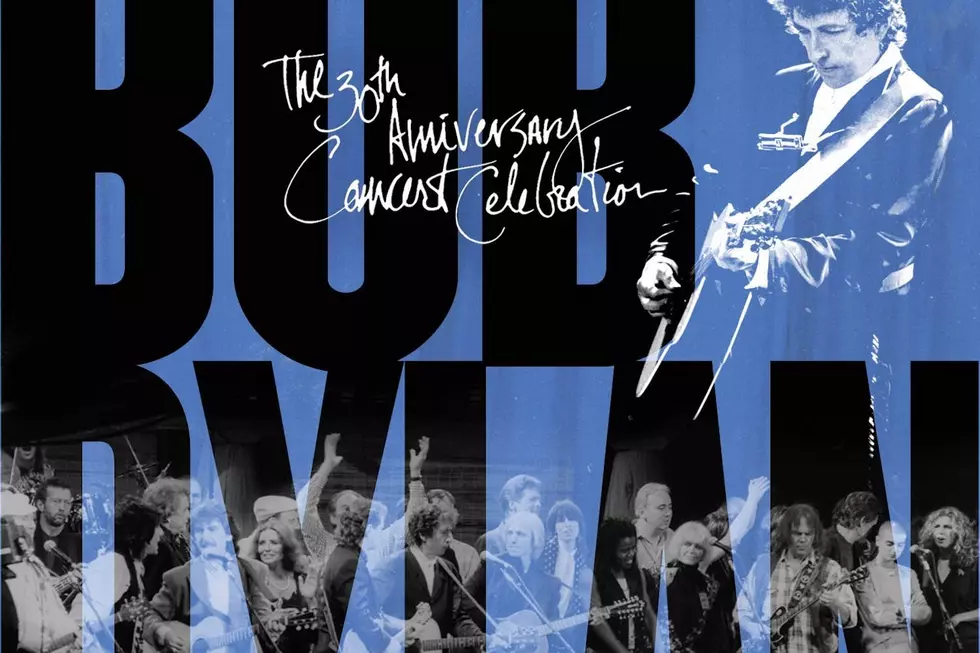 When Bob Dylan Joined the Massive '30th Anniversary Concert Celebration'
Columbia
Three decades in, it might have been easy to start overlooking Bob Dylan. His unusual songwriting hiatus in the early '90s perhaps obscured things, too. Then a huge commemorative concert was held on Oct. 16, 1992. Later released as The 30th Anniversary Concert Celebration, this show served as an all-encompassing reminder.
"Time has a way of making everything look bigger than it really is," Rick Danko, a long-time Dylan collaborator with the Band, said during rehearsals at Madison Square Garden. "Thank God for time."
Going in, nobody knew if Dylan himself would show (par for the course with one of rock's most mercurial figures), but the lineup of featured guests promised to tell his story: The Clancy Brothers represented the old master's root system. Richie Havens started out knocking around the same Greenwich Village folk bars. Dylan had later collaborated with or been covered by Eric Clapton, the Byrds, George Harrison, Johnny Cash, Ron Wood, Stevie Wonder, Willie Nelson, Johnny Winter, the O'Jays, John Mellencamp, Tom Petty and, of course, the Band. Tracy Chapman and Pearl Jam's Eddie Vedder and Mike McCready represented the next generation.
Dylan's late arrival – he played "It's Alright, Ma (I'm Only Bleeding)" and the encore "Girl From the North Country" by himself, after being joined by everyone for raucous takes on "My Back Pages" and "Knockin' on Heaven's Door" – ended up putting everything into perspective.
It would be lovingly referred to "Bobfest" by Neil Young, who performed a scorching version of "All Along the Watchtower" with Booker T. and the MGs. Along the way, The 30th Anniversary Concert Celebration became more than a sold-out event played before 18,000 people, and more than a pay-per-view concert later released in a variety of formats. It was a chance to take stock, as Dylan prepped for the next phase in his amazing career.
Performances spanned a gamut from the faithful to the intriguing, from the familiar to the obscure. For instance, Mellencamp covered "Like a Rolling Stone" alongside singers Pat Peterson and Sue Medley, paying homage to the song by remaining loyal to the sound and intent but including a gospel element through passionate female vocals.
Listen to Eric Clapton Perform 'Don't Think Twice, It's Alright'
Wonder provided another-stand out performance, entertaining the audience with a soulful rendition of "Blowin' in the Wind" – a song he'd updated in 1966, earning a Top 10 hit. Lou Reed then dug out "Foot of Pride," an outtake from 1983's Infidels that was consciously chosen to help promote an understanding of the depth of Dylan's vast catalogue. Vedder and McCready helped demonstrate Dylan's continuing impact with an acoustic version of "Masters of War."
Dylan famously shifted toward country music at the turn of the '70s, and an impressive contingency of that genre's biggest stars reciprocated on this incredible night. Cash and his wife June Carter teamed up for a down-home rendition of "It Ain't Me, Babe." Nelson covered "What Was It You Wanted," and remained on stage to back up Kris Kristofferson as he offered a mellow update of "I'll Be Your Baby Tonight." Nancy Griffith performed "Boots of Spanish Leather," the year before she included it on 1993's Other Voices, Other Rooms. Mary Chapin Carpenter, Rosanne Cash and Shawn Colvin formed an instant supergroup to take on "You Ain't Goin' Nowhere," a deep cut from The Basement Tapes.
Clapton, who sang a duet with Dylan on "Sign Language" from 1976's No Reason to Cry, gave "Don't Think Twice, It's Alright" a new blues persona that, of course, included an iconic guitar solo. Harrison and Petty, who memorably worked with Dylan in the Traveling Wilburys, gave separate salutes to their bandmate. Harrison charmed the crowd with his rollicking take on "Absolutely Sweet Marie," while Petty and the Heartbreakers shook the house with "Rainy Day Women #12&35."
Dylan paid a moment of tribute on his own, performing "Song for Woody" in honor of his early influence, Woddy Guthrie – though technical issues kept the song off the officially released versions of The 30th Anniversary Concert Celebration. That wasn't the only mix up: Elvis Costello was supposed to perform "Positively 4th Street," but couldn't make it because of visa problems. Sinead O'Connor went rogue, singing Bob Marley's "War" instead of the previously rehearsed "I Believe In You," from 1979's Slow Train Coming.
Nothing could knock this historic evening off track, however. The 30th Anniversary Concert Celebration remains a remarkable moment in music history, and a testament to the cross-genre, cross-generational genius of Bob Dylan.
 
 
Ranking Bob Dylan's 'Bootleg Series' Albums
Bob Dylan Released One of Rock's Most Hated Albums