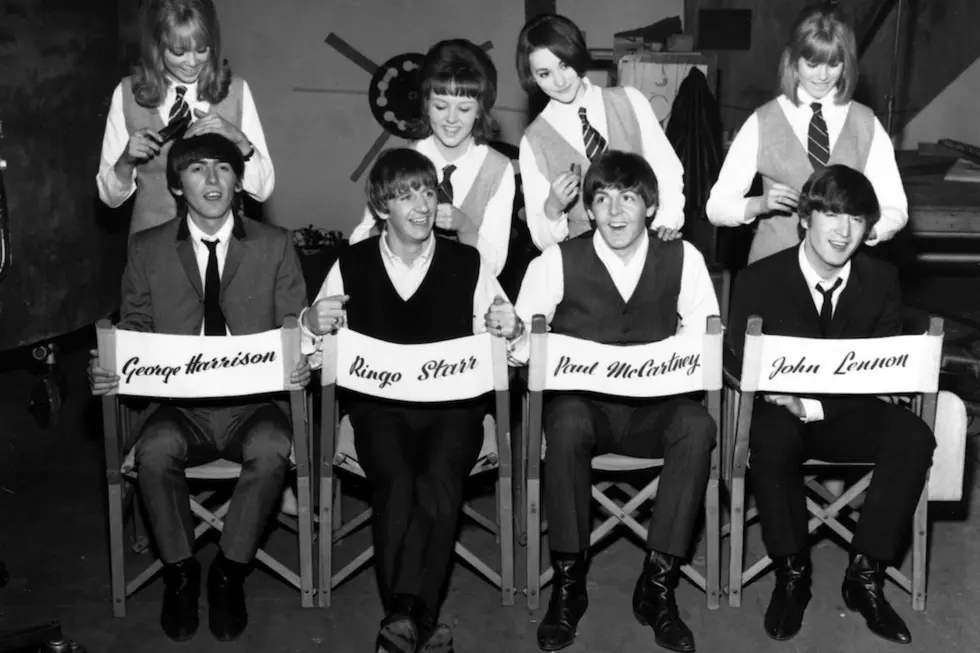 When the Beatles' First Movie, 'A Hard Day's Night,' Premiered
United Artists
"This is going to surprise you — it may knock you right out of your chair — but the new film with those incredible chaps, the Beatles, is a whale of a comedy." So began Bosley Crowther's New York Times review of the Beatles' first film, A Hard Day's Night, which premiered on July 6, 1964 at London's Pavilion Theatre. Coincidentally, it was seven years to the day that John Lennon met Paul McCartney.
The movie didn't turn Crowther into a Beatles fan. In the same review, he referred to their music as "moronic monotony" and admitted he had trouble distinguishing them from each other "except for Ringo Starr, the big-nosed one." Still, he praised the movie's self-aware, comedic take on Beatlemania, and, for a country that was generationally divided on the group, such words from someone so entrenched in polite society carried significant weight.
And, for the upcoming generation of film critics, the movie was pivotal in their development. "I remember I walked into the theater," Roger Ebert said in the 1995 documentary You Can't Do That! The Making of 'A Hard Day's Night.' "I had a short hair cut. I was dressed kind of 'fraternity-boy' style, and I came out with my idea about how to carry and express myself really influenced. I started to let my hair grow. While I was watching that movie, my hair started to grow. ... I've seen A Hard Day's Night at least 25 times, and on at least five occasions, I've taught it to film classes one shot at a time."
The most shocking thing about A Hard Day's Night was that rock n' roll movies weren't supposed to be this good. Despite showing promise in his first few films, by 1964 Elvis Presley's movies had been neutered by Col. Tom Parker, who wanted family entertainment with rapidly decreasing budgets. And although the Frankie Avalon-Annette Funicello beach party movies were very popular with teenagers, they weren't winning any awards either. The bar was set very low and, by taking the necessary steps to not make those same mistakes, the Beatles raised it higher than anybody could have expected.
Much of the critical praise was justly reserved for director Richard Lester. The Beatles hired him because they had been fans of an 11-minute short he had made with Peter Sellers and Spike Milligan of the Goons, The Running, Jumping & Standing Still Film. Inspired by the French New Wave, his use of hand-held cameras and jump cuts, particularly in the "Can't Buy Me Love" sequence, would later prove to be a major influence on music video.
"MTV gave me a very nice diploma at one time, or something on vellum, saying that I was the putative father of MTV," Lester said in You Can't Do That. "But I've insisted on taking a blood test."
And even if Bosley Crowther couldn't tell them apart, Alun Owen's Oscar-nominated screenplay nonetheless solidified the Beatles' individual personas. "Alun picked up lots of little things about us," McCartney said in Anthology. "Little jokes, the sarcasm, the humor, John's wit, Ringo's laconic manner, each of our different ways. The film manages to capture our characters quite well, because Alun was careful to try only to put words into our mouths that he might have heard us speak."
But for all the talent involved in the crew (and let's not forget the great performances by the late Victor Spinetti, Norman Rossington and John Junkin), A Hard Day's Night inevitably succeeds because of its stars. Although they weren't actors, they — except for a few awkward line readings by McCartney — acquit themselves well on screen. Part of it was because it was a comedy, something that came natural to them.
"Everyone in Liverpool thinks they're a comedian," George Harrison explained. "Just drive through the Mersey Tunnel and the guy on the toll booth will be a comedian. We've had that born and bred into us. And in our case the humor was made even stronger by the fact that there were four of us bouncing off one another. If one dried up, somebody else was already there with another fab quip."
Watch George Harrison Deflate an Ad Executive in 'A Hard Day's Night'
That group dynamic reminded some — including Crowther — of the Marx Brothers, an analogy with which John Lennon strongly disagreed. "When people start comparing us to the Marx Brothers," he said. "That's a load of rubbish! The only similarity is that there were four of them and there are four of us."
Lennon was right. The Marx Brothers drew their comedy from introducing anarchy into organized society, but A Hard Day's Night is a fictional-but-rooted-in-fact tale about how the Beatles were reacting to a chaos they didn't intend to cause. They weren't rebels looking to overthrow the establishment or scheme their way into high society; if anything, they were trying to stay sane by poking fun at everything. The only troublemaker in their party was Paul McCartney's shifty, but lovable, grandfather (Wilfrid Brambell), who wasn't as "clean" as everybody suspected.
Still, Ringo Starr's performance during his walkabout drew comparisons to Charlie Chaplin which eventually led to starring roles in movies like Son of Dracula and Caveman. But, as he would later disclose, there was a reason why he was so convincingly morose in that scene. "I had come directly to work from a nightclub (very unprofessional) and was a little hungover, to say the least. Dick Lester had all his people there, and the kid that I was supposed to be with, but I had no brain. … And why I look so cold and dejected is because I felt like shit. There's no acting going on; I felt that bad.'
Watch Ringo's Star Turn in 'A Hard Day's Night'
And of course, there was the soundtrack, which featured seven new Beatles songs (and three existing ones) that showed just how quickly Lennon and McCartney were growing as songwriters, particularly in the ballads "And I Love Her" and "If I Fell." Famously, Harrison's use of his brand-new Rickenbacker 360/12-string, a present from the guitar manufacturer on their trip to America that February, proved influential when the Byrds saw the movie together and realized what the missing piece to their equation was.
Filmed in seven weeks on a budget of only $500,000, A Hard Day's Night shattered expectations – not the least of which was the studio, United Artists. According to Bud Orenstein, the head of European production at U.A., the movie was expected to be a loss-leader, with the soundtrack being used to break the band in America. Seems when the deal had been signed in October 1963, Capitol still had no interest in the Beatles. "Our record division wants to get the soundtrack album to distribute in the States," he said, "and what we lose on the film, we'll get back on this disc."
The Most Shocking Rock Star Fashion Reinventions
From David Bowie to Metallica, these are the most shocking rock star fashion reinventions.
Who Was the Fifth Beatle?